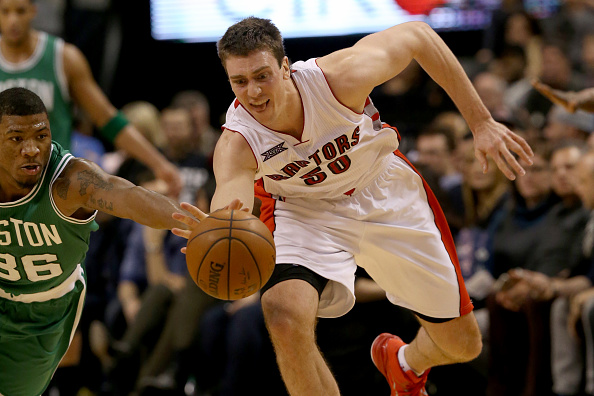 What Happened to Former Star North Carolina Player Tyler Hansbrough?
Tyler Hansbrough had an amazing college career with the North Carolina Tar Heels. After an NBA career, he's still involved in basketball.
Every year, a handful of players rise to stardom during March Madness. It becomes either their admission into the NBA or their 15 minutes of fame — usually the latter.
One player who dominated during his college basketball career was North Carolina star, Tyler Hansbrough. The Tar Heels star achieved tremendous success playing under Roy Williams, but his NBA career wasn't so great. Here's what Hansbrough is doing over a decade after he led North Carolina to a national title.
Tyler Hansbrough's basketball career at North Carolina
Hansbrough came to North Carolina in 2005 and immediately made an impact on the basketball program. The freshman averaged 18.9 points and 7.8 rebounds per game, as Sports Reference reports. Hansbrough was a unanimous selection for ACC Rookie of the Year. He also earned First Team All-America honors. North Carolina had a gem in Hansbrough, who only improved during his time in Chapel Hill.
In his sophomore season, Hansbrough received first-team All-American honors again and was voted North Carolina's MVP by his teammates and coaches. The college basketball world watched North Carolina closely due to the success Hansbrough experienced in his first two years.
During his junior year, Hansbrough was named the consensus National Player of the Year. The awards kept racking up. He became the 11th North Carolina player to win the award and the fourth player in ACC history to win the National Player of the Year, ACC Player of the Year, ACC Tournament MVP, and NCAA Regional MVP, all in the same season.
Senior year was the icing on the cake for the Tar Heels star. Hansbrough broke the all-time career scoring record at 2,872 points. He also led North Carolina to a national title in 2009, defeating Michigan State. His North Carolina career was one of the best in college basketball history. His jersey was retired by North Carolina in 2010.
Tyler Hansbrough played in the NBA for seven seasons
After an impressive college career, Hansbrough entered the NBA draft. In 2009, the Indiana Pacers selected him with the No. 13 pick. He missed a lot of his rookie season due to multiple injuries and struggled with his role as a power forward, reports Yahoo Sports. As Hansbrough entered the league, the NBA preferred "mobile, athletic big men" and emphasized three-point shooting.
After four seasons with the Pacers, he spent two with the Toronto Raptors and one with the Charlotte Hornets. That was the end of his NBA career. Once a terrific college player, Hansbrough found himself out of the league after seven years. He has not played in the NBA since the 2015-16 season.
"I do think if the league isn't as 3-point-driven and small-ball-driven, I'd probably still be playing right now," Hansbrough told Yahoo Sports. "I still think I can play very competitive basketball, but the NBA has changed in a way that doesn't fit my game."
Hansbrough has retired from basketball and started a Tar Heelss podcast
From 2017-21, the Missouri native played in the Chinese Basketball Association, representing three teams — Guangzhou Long-Lions, Zhejiang Golden Bulls, and Sichuan Blue Whales — during that time.
After the COVID-19 pandemic shut down sports, Hansbrough ceased to appear in basketball games overseas. In 2021, reports SB Nation, the former NBA player joined the ACC Network and began doing color commentary for UNC. Hansbrough received generally positive reviews as a broadcaster, with many viewers noting his insightful observations.
Hansbrough launched Sleephawk Worldwide during this time. The podcast is described as "your home for unfiltered Carolina coverage," which he co-hosts with author/photographer Brandon Staton.
Now living in Poplar Bluff, Missouri, Hansbrough is available on Cameo, where fans can pay $50+ for a personal video from the retired basketball player. In early 2023, the 37-year-old was inducted into the Missouri Sports Hall of Fame and the National Collegiate Basketball Hall of Fame's Class of 2023.