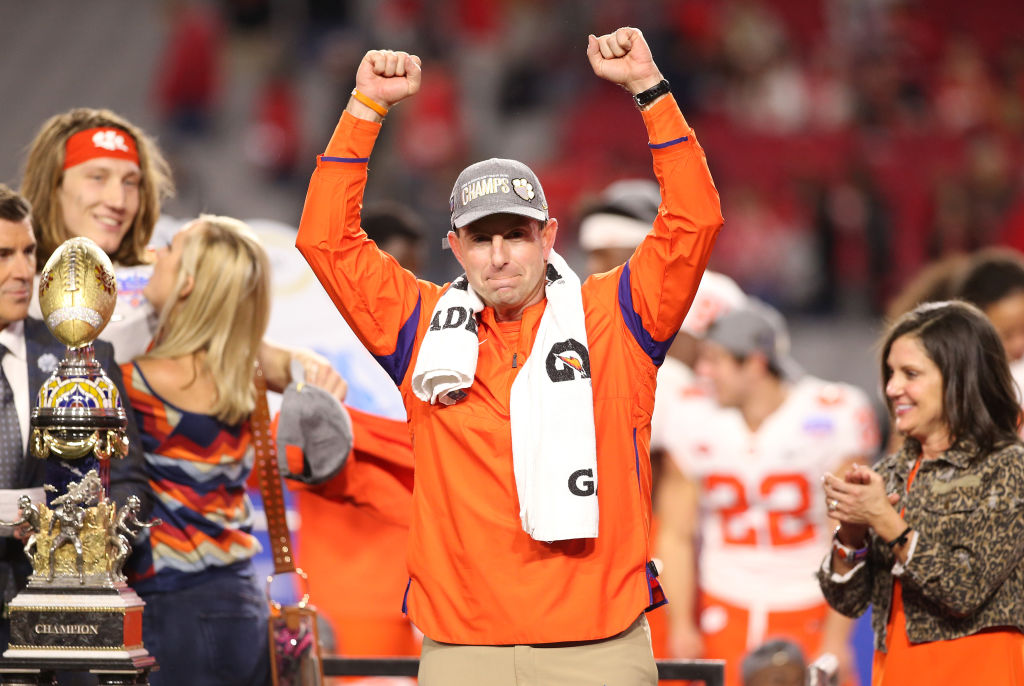 Dabo Swinney Defies Stay-at-Home Guidelines; Upset Fans Respond
In an interview this week Clemson head coach Dabo Swinney expressed confidence in 2020 season starting on time and mentioned how he's been traveling with family against experts guidelines.
Clemson head coach Dabo Swinney sounded positive about the 2020 college football season starting on time in an interview this week. But it's what Swinney said about his recent vacation and upcoming travel plans for Easter that has many questioning why Swinney thinks the guidelines on preventing the spread of COVID-19 don't apply to him.
Dabo Swinney confident about 2020 season happening
No one will deny Dabo Swinney is a top-level college football coach and leader of young men. Since his arrival at Clemson in 2009, the Tigers have a 126-28 record, have appeared in the national championship game four times in the last five years, and won it twice. 
Due to his success in South Carolina, Swinney's voice resonates throughout the college football landscape. In a recent interview with Dennis Dodd of CBS Sports, Swinney said he is certain college football will be played in the 2020 season.
"I have zero doubt [we're going to play]. This is America, man. We've stormed the beaches of Normandy. We've sent a car and drove around on Mars. We walked on the moon. This is the greatest country and greatest people in the history of the planet."
The Mars comment aside, Swinney's confidence in our scientific and medical communities and their ability to overcome the virus is uplifting. In a time where there is so much uncertainty, his positive and encouraging voice helps us maintain hope for a bright future, and one that includes college football.
Swinney reveals past and future travel plans despite guidelines
While Swinney's conversation with Dodd focused mostly on the upcoming season and the coach's confidence it would happen, one particular comment Swinney told Dodd has raised eyebrows.
Swinney noted he and his family had traveled to Florida for vacation in March when the pandemic was rapidly spreading and people were being encouraged to stay home. 
"The plane was sanitized. We don't have any concern," Swinney said.
The coach also said they were thinking about using the same private jet and traveling next week for Easter. While Swinney believes the sanitization of his plane keeps his family safe, at the very least, his decision does not follow the general guidelines top-level officials have been telling the country for almost a month. And Swinney's single decision put the health of others involved in the aircraft operations at risk.
Swinney's decision was understandably met with frustration and anger by many in the college football community.
Swinney's decision to travel upsets many
The responses to Swinney's decision and upcoming plans were not as positive as the coach. 
"When there is no college football in 2020, it will be in part because too many people acted like Dabo Swinney for too long and didn't listen to experts. Remember that, not his lil speech about Normandy and iPhones," Alex Kirshner wrote.
Another comment mocked the two-time national championship-winning coach.
"It's okay guys, the private plane he took on a completely unnecessary vacation, while the rest of the world sits at home, was sanitized."
One LSU fan took the opportunity to take a shot at Swinney while complimenting Tigers head coach Ed Orgeron, whose LSU team defeated Clemson in the national title game earlier this year.
"Coach O doing PSAs and showing up to press conferences with the governor > Dabo vacationing and defying stay at home order. O is better on the field and off."
Swinney's travel decisions reveal a clear disconnect. As multiple comments suggested, everyone is supposed to be following guidance from the health experts. No exceptions. Anyone who doesn't follow those orders risks getting infected and infecting others, which in turn delays the end of this national nightmare for everyone.
If Swinney wants to be a true team player, he should act like the rest of us and not do what's right for himself or his family, but the nation as a whole. That's the only true winning strategy and who knows, if done properly, the college football season might start on time.