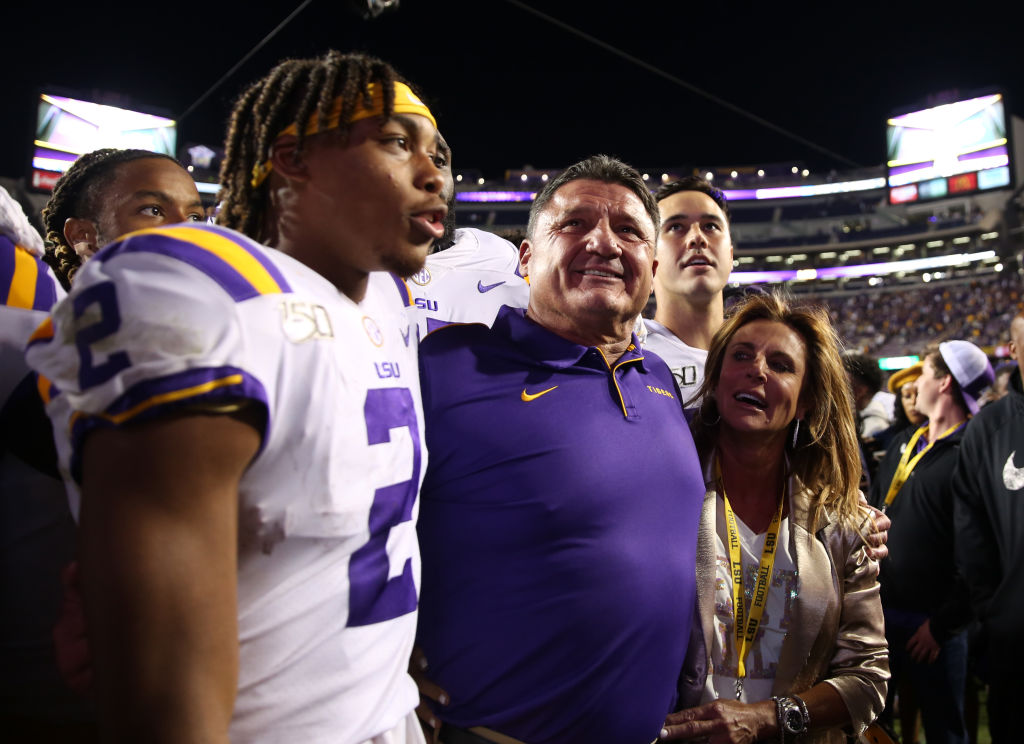 Ed Orgeron Filed for Divorce 1 Month After Signing $42 Million Contract at LSU
Ed Orgeron just finished up the most successful season in his coaching career, but he filed for divorce from his wife Kelly shortly after.
LSU head football coach Ed Orgeron had one heck of a start to 2020. "Coach O" led the Tigers to a national championship in January and was named the AP Coach of the Year shortly after. Two weeks later, Orgeron inked a new six-year, $42 million contract to remain LSU's head coach. During his Coach of the Year speech, Orgeron's wife Kelly was the first person thanked. Just a month after that day, though, Orgeron filed for divorce after 23 years of marriage. The documents were just released publicly on Wednesday. Orgeron's wildly successful start to the year came to a screeching halt.
Ed and Kelly Orgeron splitting after 23 years of marriage
Ed Orgeron married his wife Kelly on Feb. 19, 1997. A year later, the couple had twin boys, Parker and Cody. They are now 22. The Orgeron's also raised Kelly's first son, Tyler Spotts-Orgeron, who was born from her first marriage.
All three of Orgeron's sons followed him into the world of college football. Tyler, now 28, is an offensive analyst for Oregon's football program. Parker and Cody both attend McNeese State. Cody is the returning starting quarterback and Parker is a former wide receiver, but he served as a student assistant last season.
Court documents show Orgeron is requesting sole occupancy of the couple's new home in Baton Rouge. He has no issues with Kelly taking sole occupancy of their home in Mandeville.
Orgeron just led LSU to a historic 2019-20 season
LSU's meteoric rise under Orgeron took its biggest step forward last year. The Tigers went 15-0 and finished the year with a national championship trophy. Joe Burrow also won the Heisman Trophy and Orgeron took home AP Coach of the Year honors.
Orgeron led LSU to its greatest offensive season in school history. The Tigers' offense scored the most points and put up the most yards in a single season in LSU's 115-year history. Joe Burrow and co. steamrolled even the most elite competition they faced last year.
Orgeron was rewarded for his incredible season with a big pay raise. The former interim head coach signed a six-year, $42 million contract two weeks after the national championship. The LSU position had been Orgeron's dream since he was young, and now he's locked into his dream job for six more years.
Divorce rates in the coaching profession are high
Orgeron isn't the first head coach of a major program that will deal with divorce, and he certainly won't be the last. Coaching isn't just a stressful job on the field, but inside the home as well.
Coaches work long hours and have virtually no offseasons. Once the season ends in January, coaches can't just take a vacation. There's still recruiting to be done and summer workout to prepare for. The same goes for NFL coaches or coaches in any high-level sport. That can't be easy for the wives.
According to a Bleacher Report story from 2013, it was estimated that the divorce rate for NFL coaches is around "60 to 70 percent." Another study showed the divorce rate in high school coaches is around 50 percent, and it only gets higher as you move up to higher levels.
Orgeron has a bright future at LSU, but he'll now be tackling his next chapter as a bachelor.