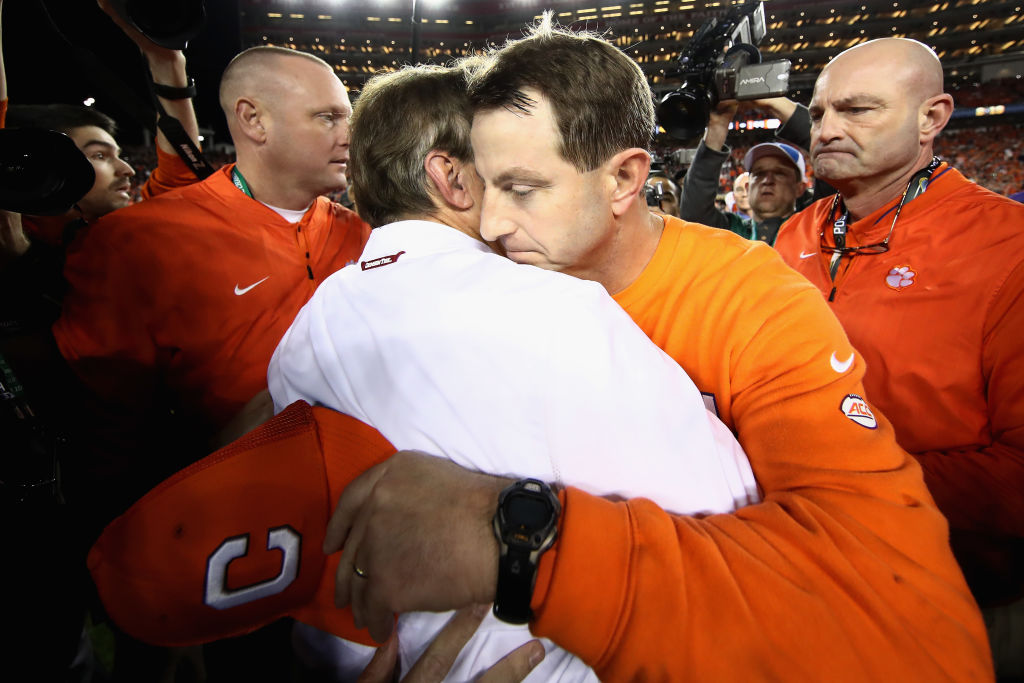 Dabo Swinney Would Never Actually Leave Clemson Over Fair Pay to Play
A recent "Fair Pay to Pay" ruling may make its way to South Carolina, and Clemson Tigers head coach Dabo Swinney is not here for it.
Coming off of a national championship beatdown of the Alabama Crimson Tide, the Clemson Tigers are currently No. 1 on all major college football rankings. However, a recent California ruling may make its way to South Carolina — and head coach Dabo Swinney is not here for it. Today we look at the proposed Fair Pay to Play rule and Swinney's comments regarding it.
What's Fair Pay to Play?
The "Fair Pay to Play" act would be a way for student-athletes to earn endorsement money, without the risk of losing a scholarship or eligibility. This would allow football players to make money selling services or products attached to their name and brand. This has always been a major thorn in the NCAA's side, as yearly revenue continues to skyrocket in football and basketball for the select blueblood schools.
Dabo Swinney's thoughts on Fair Pay to Play
As Northwestern's football team tried to unionize in XXXX, Swinney gave an interview to the Charlotte Observer. He stated, "We try to teach our guys, use football to create the opportunities, take advantage of the platform and the brand and the marketing you have available to you." This seems fair; these athletes work hard to improve their playing careers.
Then, Swinney elaborated, "But as far as paying players, professionalizing college athletics, that's where you lose me. I'll go do something else, because there's enough entitlement in this world as it is." The Clemson head coach hasn't changed his stance since those remarks.
Swinney's massive salary
After a recent contract extension, Swinney will make $93 million over the next 10 seasons, the largest contract in college football history. He wouldn't be able to make that money without the success of his players. Are they seeing any money from the team's success? No, because they legally can't. 
Should they? We think so. They are risking their lives and health for scholarships valued at a few hundred thousand dollars at most.
Can you imagine Trevor Lawrence teaming up with Troy Polamalu in a Head & Shoulders haircare commercial? It would be a great product endorsement for the Heisman hopeful, but something that could not happen unless "Fair Pay to Play" gets approved.
Would Swinney actually leave Clemson over Fair Pay to Play?
If South Carolina approved the vote, would Swinney leave Clemson? We don't think so. Most of what he said is just a hard stance he chose to take for the cameras. The only way we see Swinney leaving Clemson is if the Alabama job opens up, as he has an exit clause in his contract exclusively for becoming the head coach in Tuscaloosa.
Ultimately, we don't think it will affect the future of the Tigers one way or another. The team has a very easy shot at going undefeated and making the College Football Playoff regardless.
How much revenue did Clemson football make?
After the 2017-18 season, Clemson football pulled in over $53 million in revenue, up 74% from 2009. A money-making machine in the ACC, the Tigers' brand is growing across the country.  There's no reason for Swinney to make the comments he did. We're curious to see how he responds if the Fair Pay to Play act gets approved in South Carolina.