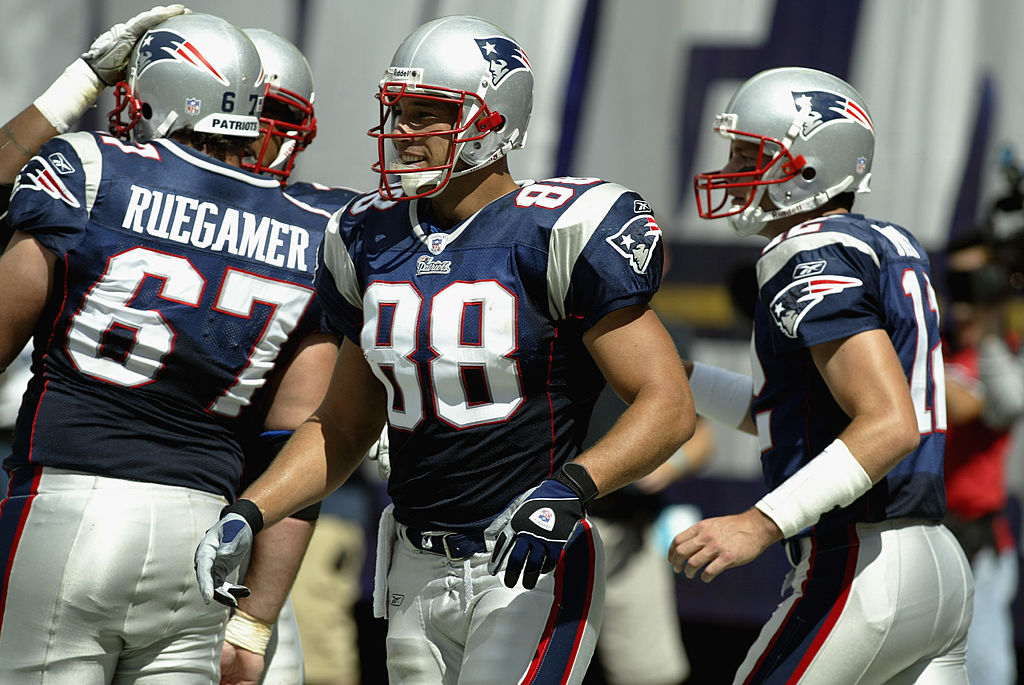 Tom Brady's Former Teammate Made a Blasphemous Prediction About the Patriots' Future Without TB12
Tom Bradys' former teammate said the Patriots will be better moving forward without TB12. Can Bill Belichick build a new offense?
When Tom Brady officially traded in his New England Patriots uniform for Tampa Bay Buccaneers colors, it signified the end of an era. For two decades, Brady consistently drove his team deep into the postseason. Nearly half the time, the Patriots ended up in the Super Bowl. While New England did capture its sixth ring in 2018, it did so with a run-based attack.
Missing from that equation? Yes, that would be Thomas Edward Patrick Brady Jr. Last season, the greatest quarterback of all time looked more like Derek Carr than Joe Montana. Losing Brady cut deeply into the heart of Patriot Nation, but one of T12's former teammates made a blasphemous prediction about the future of the franchise that might actually prove true.
Tom Brady and the New England offense struggled mightily in 2019
Make no mistake about it: Tom Brady and the 2019 offense stunk. Since 2010, the Patriots led the league in scoring twice. They finished second in 2017. On four occasions they finished third. And in 2014 and 2018, New England ranked fourth. See a pattern here?
Last season, however, the Brady-led offense dropped to seventh in points scored. After finishing outside of the top 10 in total yards just once since 2009 (Brady's first season post-ACL tear), New England plummeted to No. 15. Moving the ball proved to be difficult without Rob Gronkowski. First-round pick N'Keal Harry missed most of the season with injuries.
Brady's individual performance also lacked the consistency we've grown so accustomed to watching the last 20 years. He put up poor numbers by his lofty standards. The three-time NFL MVP finished with his lowest completion percentage (60.8) and quarterback rating (88.0) since 2013.
His 24 touchdowns represented his worst output since 2006. And despite throwing the ball 618 times, his 6.6 yards per attempt ranked as his worst mark since his second season as a starter in 2002.
On the other hand, Bill Belichick still steered his team to a 12-4 record thanks to a historically dominant defense. For just the second time under Belichick, the Patriots ranked first in points allowed. They also surrendered the fewest yards of any team in 2019. That unit did lose Jamie Collins, Kyle Van Noy, Danny Shelton, and Duron Harmon this offseason.
Christian Fauria predicts the Patriots will be better without TB12
Back in the early dynasty days, Christian Fauria and Tom Brady hooked up on quite a few passes. As the Patriots' starting tight end for four seasons, he snagged 79 catches for 480 and 13 touchdowns in 64 regular-season games. Fauria also won two rings during his tenure while recording six postseason catches.
The 48-year-old has become a local radio star in New England on WEEI. Even though he played alongside Brady, Fauria had a blasphemous take on how the Patriots will look without his former teammate.
"They're better off without him," Fauria told co-hosts Glenn Ordway and Lou Merloni. "Can I tell you why? And it has nothing to do with Brady's skillset. It's not because he's not good or he can't throw it or he's lost some speed on his fastball. It's because where he was in his career, his age, what he wanted to achieve and what the Patriots were trying to achieve were completely different. So it was never going to work out. They were never going to see eye to eye.

Fauria explained that the offense wouldn't be able to move forward with Brady. In addition, he said that Brady "wasn't willing to let N'Keal Harry grow."
At first glance, it seems crazy to take Fauria's side. After all, how can the Patriots possibly be better without the greatest quarterback of all time? Just like the Brady vs. Belichick debate, there probably isn't a right or wrong answer. But if New England truly wants to move forward and adapt, then Fauria's right.
Bill Belichick can maximize the youth movement
For all of his prodigious accomplishments, Tom Brady never backed down from setting high expectations for his teammates. While New England obviously enjoyed tremendous success, one of the few criticisms Brady earned was his inability to help young receivers develop. That also applied to free agents in recent years.
The Patriots have rarely spent high picks on receivers. In fact, Belichick made Harry his first first-round wideout. Unfortunately, like Aaron Dobson and many others, Harry never got on the same page as Brady. Many wideouts learned the meaning of the "Brady Circle of Trust" the hard way.
Moving forward, Belichick and Josh McDaniels essentially have a clean slate. Jarrett Stidham seems to be the favorite to open the 2020 season as the team's starting quarterback. However, considering they only invested a fourth-round pick in him, New England may target a QB early in the 2021 NFL draft.
More importantly, the young players on offense have a chance to grow together. Stidham already has some familiarity with Harry and Jakobi Meyers. Now, he'll get a chance to work with two dynamic rookie tight ends in Devin Asasi and Dalton Keene. Throw in 2018 first-rounder Sony Michel and 2019 third-rounder Damien Harris, and you start to see the potential.
Would Tom Brady even have the patience to work with such a young set of weapons? Christian Fauria doesn't think so. And ultimately, it seems like Bill Belichick agreed. It'll be up to Stidham to prove the NFL's greatest head coach correct.