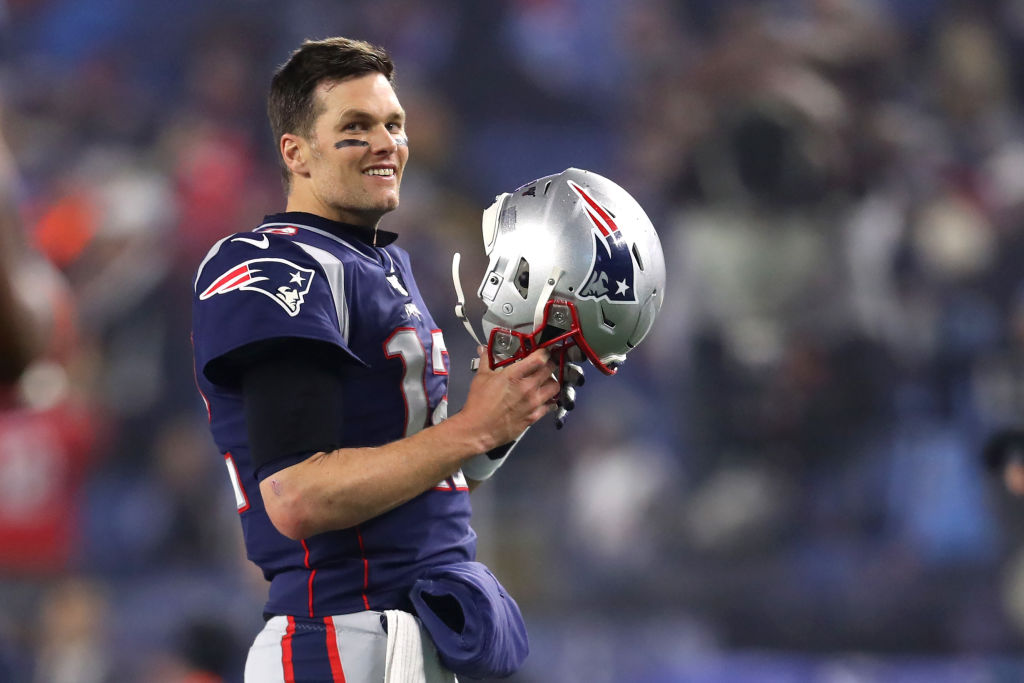 Tom Brady Grew Up in the Shadow of His Star Sisters
Tom Brady may have become the best quarterback in NFL history, but he wasn't even the best athlete in his family growing up in California.
Tom Brady may have developed into the greatest quarterback of all time, but he came from humble beginnings. The longtime New England Patriots quarterback hails from an athletic family. And while he obviously became the most successful of the Brady bunch, his formative years often came in the shadow of his sisters.
As it turns out, Tom Brady wasn't even the best athlete in his own family. Luckily, though, the late bloomer has more than made up for his slow start.
Tom Brady wasn't always a star athlete
Before Tom Brady became a household name, he was just an ordinary California kid. As the youngest of four children, he grew up in a household with three sisters. Brady played both baseball and basketball as a kid before taking up football in high school.
He sat on the bench for an 0-8 freshman team before taking off as a sophomore. Despite coming up short in his championship quest due to Sprinkler Gate, he developed into a successful quarterback.
Brady then took his talents to the University of Michigan. He spent his first two years relegated to backup duty behind future NFL quarterback Brian Griese. But in 1998, the gangly California kid earned the starting job over high-profile recruit Drew Henson. Brady completed 61.9 percent of his passes for 14 touchdowns and 10 interceptions. Those certainly didn't scream future NFL star.
His senior season included a similar stat line. Of course, he had to fend off Henson from taking his spot. The talented multi-sport star cast a large shadow over Brady, who didn't blow anyone away with his physical talent. But for Tom Brady, growing up in the shadow of star athletes wasn't anything new.
Brady's sisters were big-time sports stars
Ironically, those who knew the Brady family wouldn't have described Tom as the best athlete in his family. That's the truth when you have three older sisters blessed with natural athletic gifts. According to Joe Smith of The Athletic, the Brady sisters made all the headlines during his childhood.
His oldest sister, Maureen, made the U.S. Junior Olympic team at the age of 17 as a softball pitcher. She later earned All-America honors at Fresno State. Her daughter, Maya, currently plays softball at UCLA.
Brady's middle sister, Julie, also excelled at sports. She starred in soccer and earned a scholarship to St. Mary's. Finally, Nancy, who is one year older than her brother, excelled on the softball pitch. She earned a scholarship to the University of California-Berkley.
Growing up in a family full of accomplished athletes definitely had an impact on the future NFL star.
"They were all stars — and beautiful," said Brady's high school football teammate, John Kirby. "He'd always see their names in the paper. Tommy had all that to look up to growing up. He saw that level of competition."

TB12 developed into the NFL's GOAT
While Tom Brady's older sisters stole the show in their youth, he's more than made up for his slow start. The most famous sixth-round pick in NFL history took over for an injured Drew Bledsoe and never looked back.
In two decades as the face of the Patriots, Brady accomplished everything possible. He won three NFL MVP awards. More importantly, he led New England to six Super Bowl championships. Along the way, he helped turn Julian Edelman and Rob Gronkowski into superstars. And he did all of that while working for the toughest coach in the NFL.
Ultimately, Tom Brady has rightfully earned his status as the greatest quarterback of all time. Some might even argue that he's toppled Michael Jordan as the greatest athlete ever. But years ago, he wasn't even the best athlete in his own family. Oh, how times have changed.