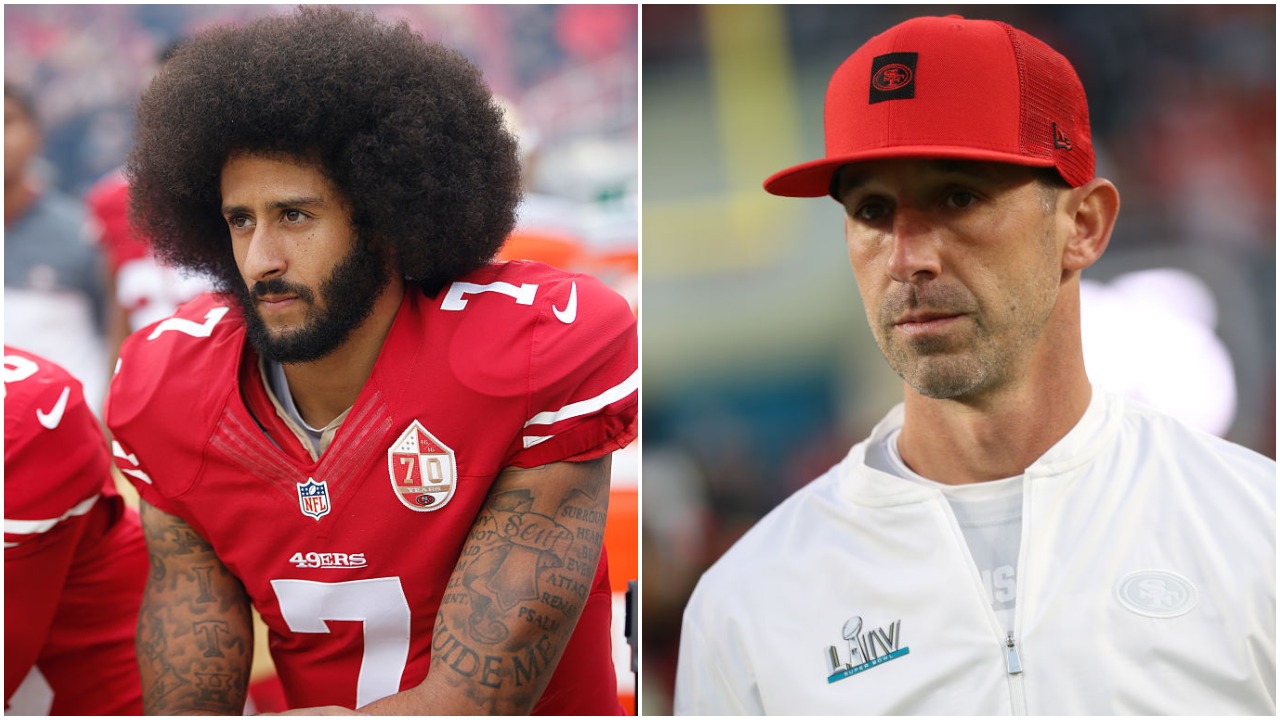 49ers Coach Kyle Shanahan Blasts Those Who Still Don't Understand Colin Kaepernick's Kneeling Protest
San Francisco 49ers head coach Kyle Shanahan spoke out against those who still don't understand the Colin Kaepernick protests.
You can add San Francisco 49ers head coach Kyle Shanahan to the long list of people willing to stand, or kneel as the case may be, alongside Colin Kaepernick in his fight against police brutality and racial inequality.
Shanahan, who came to the 49ers as Kaepernick was on his way out the door in 2017, has long supported the right to protest and recently spoke out against those that still just don't get it.
Kyle Shanahan supported his players' right to protest, even with Colin Kaepernick gone from the 49ers
One day after serving as the offensive coordinator for the Atlanta Falcons in Super Bowl LI (the infamous 28-3 game), Kyle Shanahan was hired by the San Francisco 49ers as their new head coach. The following month, incumbent quarterback Colin Kaepernick left the team following the highly-controversial season in which he began his kneeling protests during the national anthem, opting out of his contract to become a free agent.
Outside of the kneeling controversy, Kaepernick had been looking to get out of San Francisco anyway, expressing a desire to be traded on numerous occasions. So while Kaepernick and Shanahan never truly worked together, Kaepernick's legacy remained as many of his former teammates that knelt alongside him were still on the roster, including Eric Reid. Even with Kaepernick gone, all eyes were still on the 49ers when the 2017 season began, wondering if Shanahan would allow his players to protest. That answer came pretty quickly.
Kyle Shanahan never had any problem with his players protesting and watched as more than 20 of his 49ers took a knee in an early-season matchup with the Indianapolis Colts, a game attended by Vice President Mike Pence, who promptly walked out.
Colin Kaepernick has obviously taken a ton of abuse over the last few years
Colin Kaepernick first began his protest during the national anthem ahead of a San Francisco 49ers preseason game against the Green Bay Packers on August 26, 2016. As was to be expected with any protest involving the anthem or the American flag, many were quick to condemn Kaepernick, including Donald Trump, who at the time was right in the middle of his presidential campaign. Trump remained steadfast in his disdain for the protests when he took office and even called for NFL owners to fire any player who was involved.
But it obviously wasn't just Trump who spoke out against Kaepernick. For the last four years, Kaepernick has taken abuse from millions of people, even including current and former NFL players. And Kyle Shanahan is sick of it.
Kyle Shanahan just doesn't understand how people still don't get it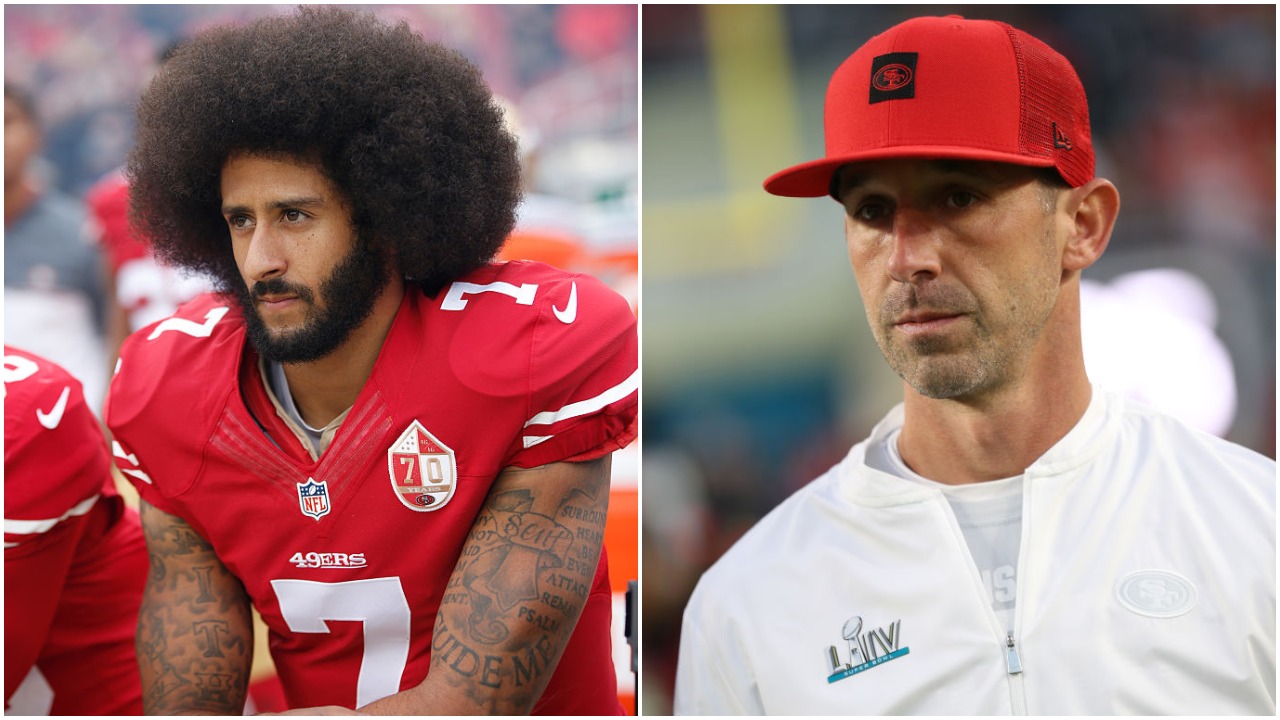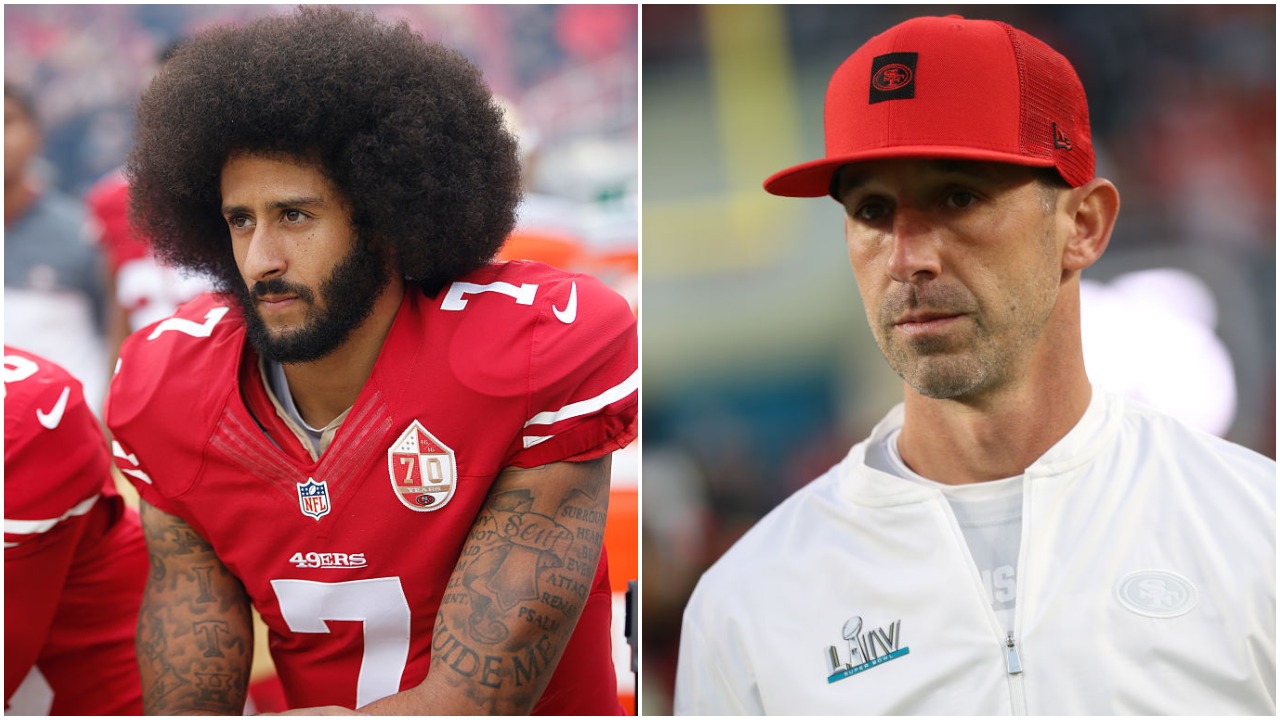 With the Colin Kaepernick protests back in the spotlight following the tragic death of 46-year-old George Floyd on May 25, many have changed their stance on what he was doing in 2016. But there are still plenty of people out there who just don't seem to understand that Kaepernick was never protesting the national anthem or the American flag. In taking a knee, he was making a stand for what he believed in, which Kyle Shanahan believes should be applauded. In a recent video call with the Bay Area media (h/t NBC Sports), the 49ers' head coach went off on those who still don't get it.
"It's three years later, and there's still some people not understanding what his message was. And, regardless, that's too many people not understanding the message that everyone's been giving for a long time. And Colin did it the strongest out of anyone, and people should respect him a ton for that and admire that.

"Regardless of whether you agree with how he did it or not, that doesn't matter. What Colin was protesting was something that should be respected by all humans. That did take a lot of courage. That is something that is 1,000-percent wrong and what he was trying to fix and bring light to.

"These were the guys who started it and it was very clear when they would articulate it, why they were doing it. And so the whole debate on all the other stuff, the flag, everything like, people don't want to hear that. What he was doing was a big deal.

"Whether you disagree with how he did it or not doesn't matter."

49ers head coach Kyle Shanahan on the Colin Kaepernick protests
When Kyle Shanahan was asked what he would do next season if members of the 49ers wanted to protest, he had a clear answer for that as well.
"Same we always have, but probably with more passion.

"What's different now, it's embarrassing to say, probably, but I think white people are more passionate about it now than then. And that's our ignorance. And that's what upsets black people, and they have every right to be upset because they haven't just been telling us this the last few weeks.

"They've been telling us this since our grandparents. And I've been hearing it from every one of my friends since I was 14."

49ers head coach Kyle Shanahan
And there you have it. The San Francisco 49ers have no official ties to Colin Kaepernick anymore but head coach Kyle Shanahan certainly has his back.