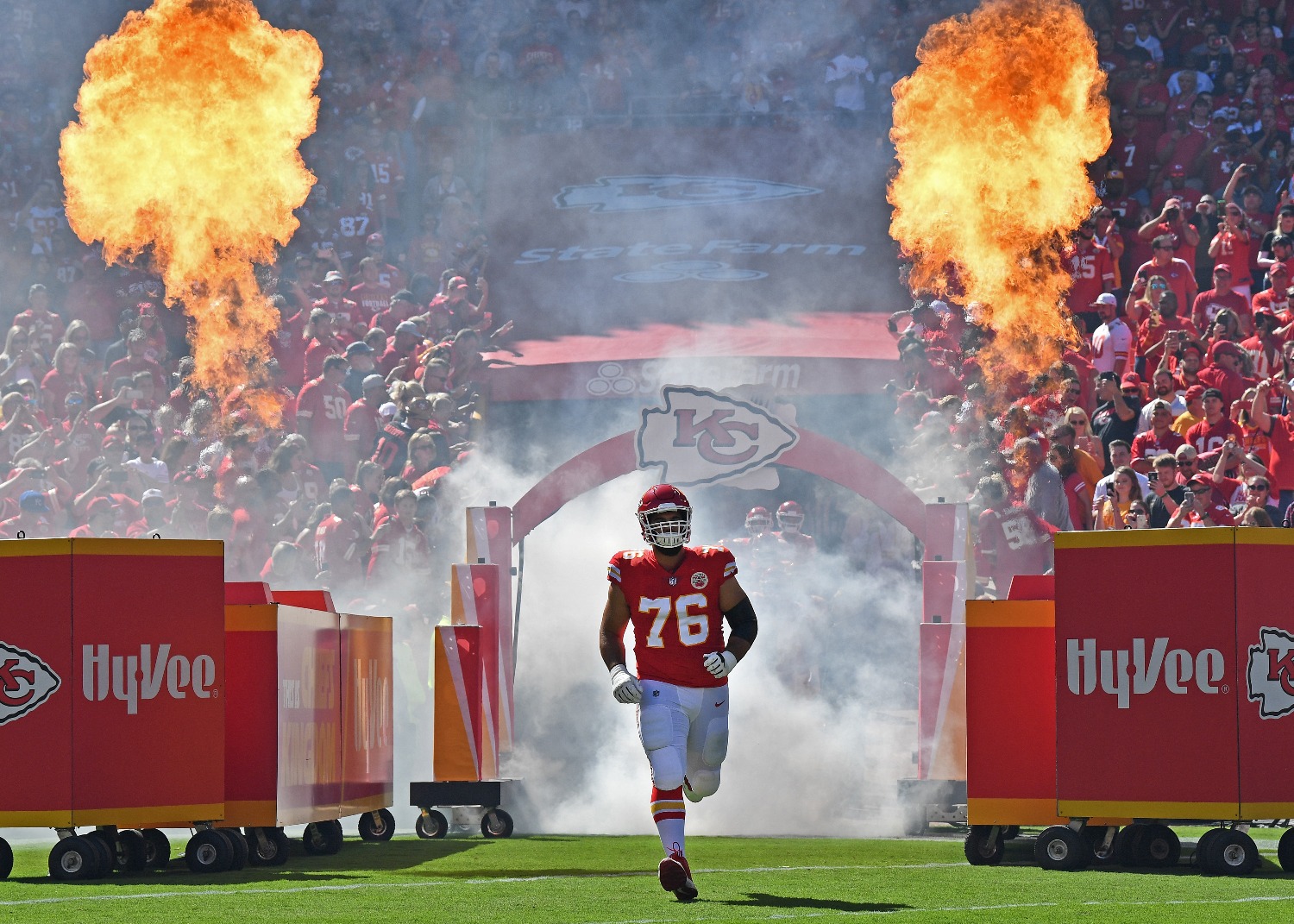 The Kansas City Chiefs Just Suffered Their First Loss to COVID-19
Kansas City Chiefs right guard Laurent Duvernay-Tardif opted out of the 2020 NFL season to keep fighting COVID-19 in the medical field.
The 2020 NFL season officially got the green light on Friday. Of course, the COVID-19 pandemic had put the season in jeopardy with players expressing legitimate concerns about the NFL's safety protocols. Unfortunately for the Kansas City Chiefs, the reigning Super Bowl champions just experienced their first loss to COVID-19 in the form of Laurent Duvernay-Tardif.
Laurent Duvernay-Tardif has the most unique resume in the NFL
If you passed by Laurent Duvernay-Tardif on the street, it wouldn't take long to guess his day job. Tipping the scales at 6-foot-5, 321 pounds, he boasts the ideal frame for an NFL offensive lineman. But the Canadian native who played his college ball at McGill University has another career that you would never associate with an NFL player.
When he's not burying defensive linemen into the dirt, Duvernay-Tardif spends his time as the NFL's only medical doctor. The former sixth-round pick somehow balanced the rigors of playing college football with attending medical school. Eight years of intense studying paid off with a rare accomplishment and the opportunity to give back to his community.
The Chiefs' starting guard devoted 14 hours a day to studying for his final exams. Of course, he probably spends that amount of time watching film, lifting weights, and preparing his body for battle on Sundays.
However, this season, Chiefs fans won't see No. 76 line up at his usual spot. In fact, Kansas City just experienced its first loss to COVID-19, but not in the way you might assume.
Chiefs lose starting guard to COVID-19 battle
Training camp has barely begun and the Chiefs have already suffered their first personnel loss due to COVID-19. Only it has nothing to do with a player contracting the virus or trying to keep his pregnant wife safe. Instead, Laurent Duvernay-Tardif announced via Twitter that he will opt out of the 2020 NFL season to continue fighting COVID-19 on the medical front.
"Being at the frontline during this offseason has given me a different perspective on this pandemic and the stress it puts on individuals and our healthcare system. I cannot allow myself to potentially transmit the virus in our communities simply to play the sport I love. If I am to take risks, I will do it caring for patients."
Duvernay-Tardif deserves tremendous praise for his unselfish decision. He not only put the greater good of his community before his own needs but he also made a major financial sacrifice by opting out of the 2020 NFL season. Scheduled to make $2.75 million this season, he will receive just $150,000 based on the NFL's opt-out deal, according to Adam Schefter.
Losing a key part of their Super Bowl-winning offensive line certainly hurts the Chiefs. But Kansas City fans shouldn't worry too much about how this will affect Patrick Mahomes' dynasty dream.
Losing Duvernay-Tardif won't derail Kansas City's dynasty dream
Given their embarrassment of riches on offense, the Chiefs can survive the loss of Laurent Duvernay-Tardif. When you boast weapons like Tyreek Hill, Travis Kelce, Sammy Watkins, Mecole Hardman, and Clyde Edwards-Helaire, it's difficult to imagine Kansas City struggling to put up points.
That shouldn't be viewed as a knock on Duvernay-Tardif. He has started 57 games in his six-year NFL career and easily ranks as the Chiefs' top interior lineman. However, replacing a guard represents a much easier task than finding a starting left tackle or quarterback.
Kansas City could look to the free-agent market to find a new starter. Ronald Leary still hasn't found a new NFL home. The veteran guard has started 76 games for the Dallas Cowboys and Denver Broncos. The 31-year-old still doesn't have a Super Bowl ring, which makes the Chiefs an enticing destination.
Kansas City could also take a look at Larry Warford. At 29 years old, he should still have plenty left in the tank. Warford has earned three consecutive Pro Bowl selections, though the New Orleans Saints cut him in May. Some may view him as an upgrade over Duvernay-Tardif.
Either way, Chiefs fans shouldn't sweat the loss of their starting right guard. This team has too much talent on offense and obviously boasts the best quarterback in football. So while the Chiefs just experienced their first loss to COVID-19 with Laurent Duvernay-Tardif opting out of the 2020 NFL season, Mahomes' dynasty dreams can still come true.