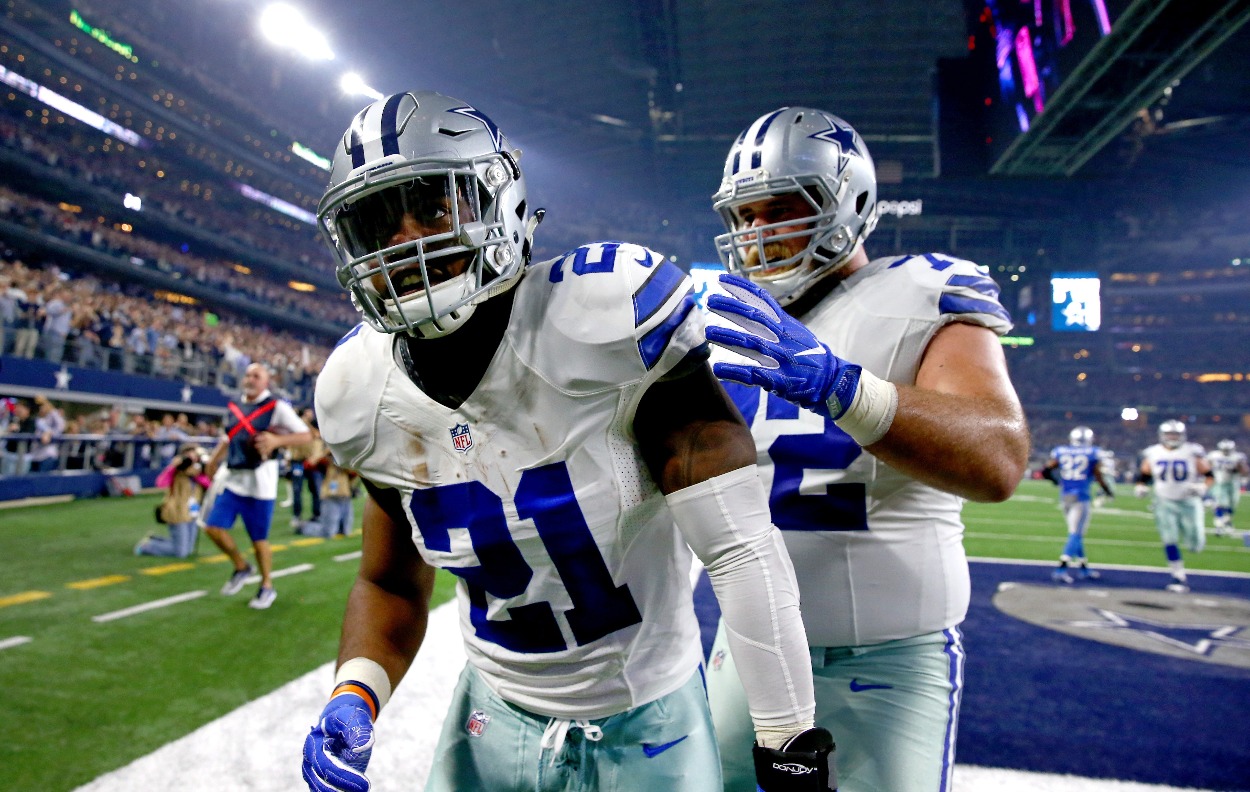 Ezekiel Elliott Has a Much Bigger Problem to Worry About Than COVID-19
Ezekiel Elliott has a bigger problem to worry about than COVID-19. Travis Frederick's retirement leaves a hole on the Cowboys offensive line.
Ezekiel Elliott made headlines recently for testing positive for COVID-19. Of course, that could have easily occurred when he decided to party it up with Dak Prescott. However, the Dallas Cowboys running back appears to be well on his way to getting back to preparing for the 2020 NFL season.
However, as Elliott recovers from COVID-19, a much bigger problem stands in his way. And if Jerry Jones plans on hoisting the Lombardi Trophy in February, it's a problem that Dallas and its star running back will have to overcome.
Ezekiel Elliott is feeling better after positive COVID-19 diagnosis
Ezekiel Elliott has ranked as one of the best running backs in football since Dallas made him the fourth overall pick in 2016. A truly game-changing force, the every-down weapon has been the focal point of the Cowboys' offense. While Elliott certainly hasn't been perfect, there's no doubt he's one of the top talents at his position.
Unfortunately, the three-time Pro Bowler couldn't run away from COVID-19. On June 15, NFL Network's Ian Rapoport reported that Elliott tested positive for the infection. Many people quickly pointed to Prescott's infamous party as a likely source for the positive diagnosis.
Just 10 days later though, Elliott spoke on a Twitch feed and said he's feeling back to normal. He did explain that he has not been cleared by doctors to work out. While his quick recovery should put Cowboys fans at ease, Elliott faces a much bigger problem than COVID-19 as the 2020 NFL season inches closer.
Elliott should be more worried about Travis Frederick retiring
Nobody should take COVID-19 lightly. After all, it has claimed countless lives and affected every industry in some way. However, sticking to football, Ezekiel Elliott should be far more concerned about a Cowboys offensive line that no longer features Travis Frederick.
The Cowboys' longtime center abruptly retired in March at the age of 29. Since entering the league as a surprise first-round pick in 2013, Frederick established a reputation as an elite pivot man capable of dominating as a run-blocker and pass-protector.
Initially viewed as a reach, the former Wisconsin standout earned five Pro Bowl selections. He also garnered first-team All-Pro honors in 2016 after earning second-team honors in 2014 and 2015.
Of course, Frederick missed the 2018 season after getting diagnosed with Guillain-Barre syndrome. That season, Elliott did lead the league with 1,434 rushing yards. However, he scored a career-low six touchdowns on the ground. He also averaged 95.6 yards per game, which represented a 13-yard decline from his rookie season.
Can the Cowboys sustain their top-flight running game?
With Travis Frederick calling it a career, that leaves behind a gaping hole in the middle of the Dallas offensive line. Joe Looney will step in at the vacated spot. The 2012 fourth-round pick filled in for Frederick in 2018 but played just 100 offensive snaps last year.
The dropoff from Frederick to Looney should be sizable. If teams clog the middle and put pressure on the largely untested center, that could leave Elliott dancing behind the line of scrimmage looking for a sliver of hope.
In addition, the rest of the unit has questions to answer. Left tackle Tyron Smith once looked like a Hall of Fame lock. However, Smith has missed 15 games over the last four seasons. Prior to that, he started 16 games in four of his first five seasons. Can he regain his early-career form? Or has time passed him by?
For Elliott and the Cowboys offense to succeed, everything begins with the ground game. Jerry Jones handed his star running back a $90 million deal. But if the offensive line takes a significant step back without Frederick, then that massive investment may not look so smart after all.
At the end of the day, Ezekiel Elliott will have to worry about different health concerns when he's getting hit in the backfield. Let's just see if he finds running behind a depleted offensive line as easy as recovering from COVID-19.
Statistics courtesy of Pro Football Reference