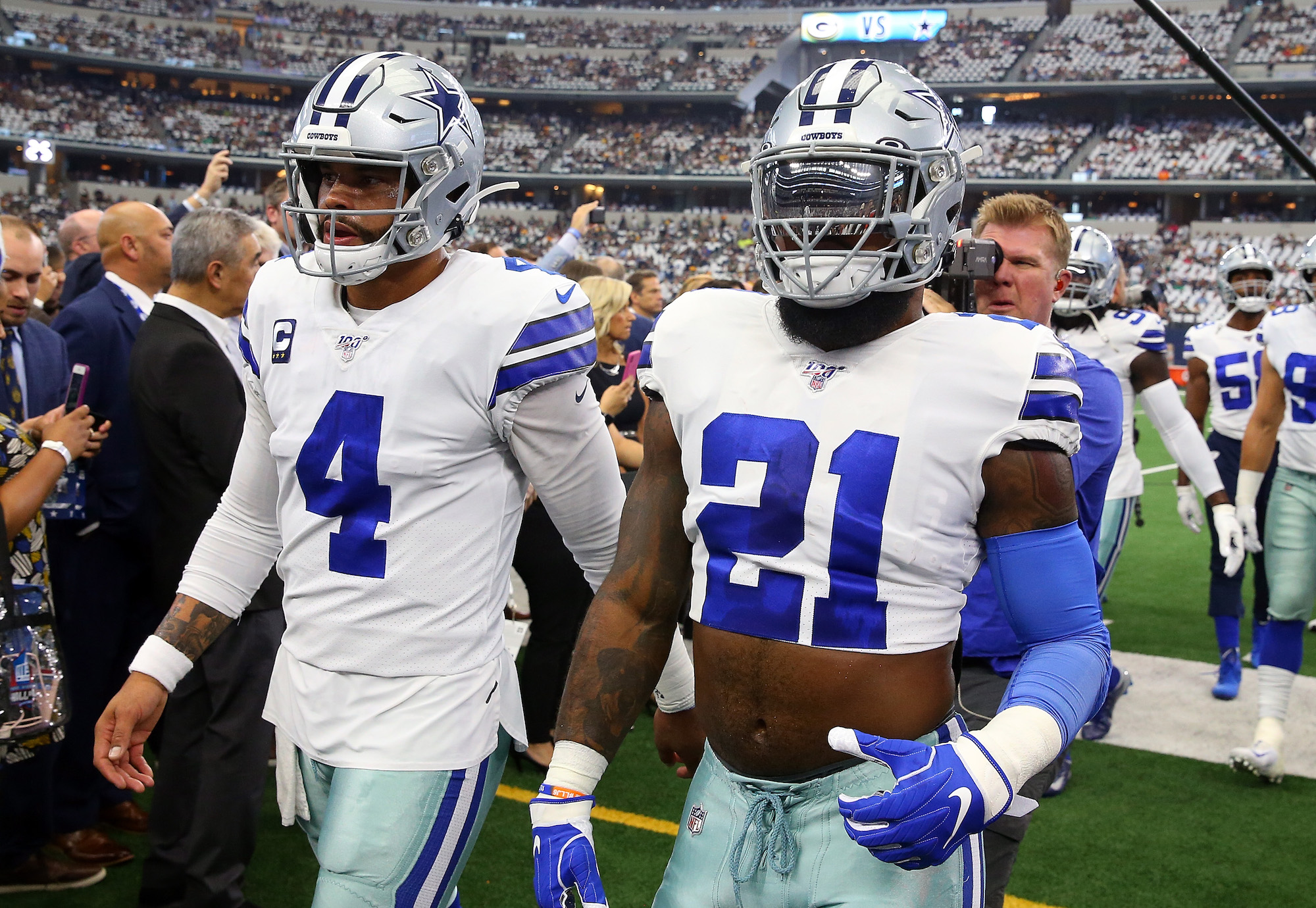 Ezekiel Elliott's Holdout Illustrates 1 Key Reality About Dak Prescott's Current Contract Negotiations
Ezekiel Elliott's 2019 holdout can teach us a key lesson about Dak Prescott's current contract negotiations with Jerry Jones and the Dallas Cowboys.
Remember Ezekiel Elliott's contract holdout? While that only happened a year ago, it feels like an eternity in the world of pro football. In case you've forgotten, the Dallas Cowboys running back refused to play out the remainder of his rookie deal and beat Jerry Jones in a staring contest to earn an extension. One person who definitely didn't forget what unfolded last summer, though, is Dak Prescott.
While he recently signed his franchise tag, the Cowboys quarterback is still locked in negotiations over his own longterm deal. By looking at Ezekiel Elliott's holdout, however, we can get a preview of how things might play out.
Ezekiel Elliott's challenged Jerry Jones and won
In the modern NFL, running backs aren't the main man on offense anymore. Don't tell the Dallas Cowboys and Ezekiel Elliot that, though.
Coming out of Ohio State, Elliott seemed like a legitimate workhorse, capable of carrying a franchise to the promised land. While the Dallas Cowboys are yet to make a true postseason run, the running back has held up his end of the bargain.
Through the first three years of his career, Elliott carried the ball 868 times, piling up 4,084 yards and 28 touchdowns. There was a problem, though. Beyond signing bonuses, most rookie contracts turn into team-friendly bargains; the running back's was no exception, and he wanted to receive compensation that reflected his performances.
At the start of 2019 training camp, Elliott didn't show up. His holdout stretched until a few days before the start of the regular season, when Jerry Jones caved and handed the running back a massive, $90 million contract extension.
Dak Prescott has found himself in a similar situation
Unless you've been actively ignoring all sports news, you'll surely know that the Dallas Cowboys are facing a similar situation this offseason. Dak Prescott and Jerry Jones haven't been able to hammer out the details of a new contract.
Like Elliott, Prescott had been playing for relative peanuts on his rookie deal. Jones, however, didn't sign the quarterback to a long-term contract; instead, the club placed the franchise tag on Dak, simply kicking the can down the road.
While Prescott recently signed the franchise tag, ensuring that he'll remain with the Cowboys for 2020, there's still work to be done at the negotiating table. Both sides have until July 15 to agree to a long-term deal; the general consensus is that everyone is in the same ballpark financially, but the Cowboys want a five-year term, while Prescott prefers four-years.
Contracts may not seem boring compared to the action on the field, but the next few weeks are a pivotal stretch of the Cowboys' season. If they can't get a long-term deal done with Dak, their future could be in jeopardy; they'll either have to use an even-more expensive franchise tag next summer, try to sign him to a new deal at next year's market rate, or find a new quarterback. None of those options come without risk.
Ezekiel Elliott's holdout holds a key lesson for fans and Dak Prescott
As Dak Prescott's holdout stretched on, fans and pundits alike tried to figure out how Jerry Jones would handle the negotiations. Looking at last summer, however, provides us with some invaluable insight.
"Elliott and his representatives understood that more than anything, Jones cares about winning," Mike Jones explained in USA Today after the running back landed his new deal. "He desperately longs for a return to Dallas' glory years. When Jones looks at the current roster he has constructed, he sees a contender. He compares this team to his Super Bowl-winning units of the 1990s. Having suffered through a 23-year-long drought wherein his squad has won just four playoff games, Jones knows these Cowboys must capitalize."
For the most part, that logic still holds. While you could argue that Jones might consider his team less of a contender after last season's collapse or posit that he views Prescott as less essential than Elliott, Jerry wants to win a Super Bowl. Even if it's for selfish reasons, like proving he's the smartest guy in the room, he wants to win. That means fielding the best team possible; through that lens, there's only choice between Dak Prescott and Andy Dalton.
"[Jones] couldn't allow contract disputes to sour relationships and derail the progress of the last four years. He couldn't let a holdout by one of his most important players – if not the most important – send another promising season down the drain," Mike Jones continued "[His] desperation meant Elliott had his boss in a vulnerable position. The running back made these contract demands because he knew he could."
Does any of that sound familiar? If you've followed this year's Dak Prescott saga, it should. And, when push comes to shove, we'll probably see the same result.
Stats courtesy of Pro-Football-Reference