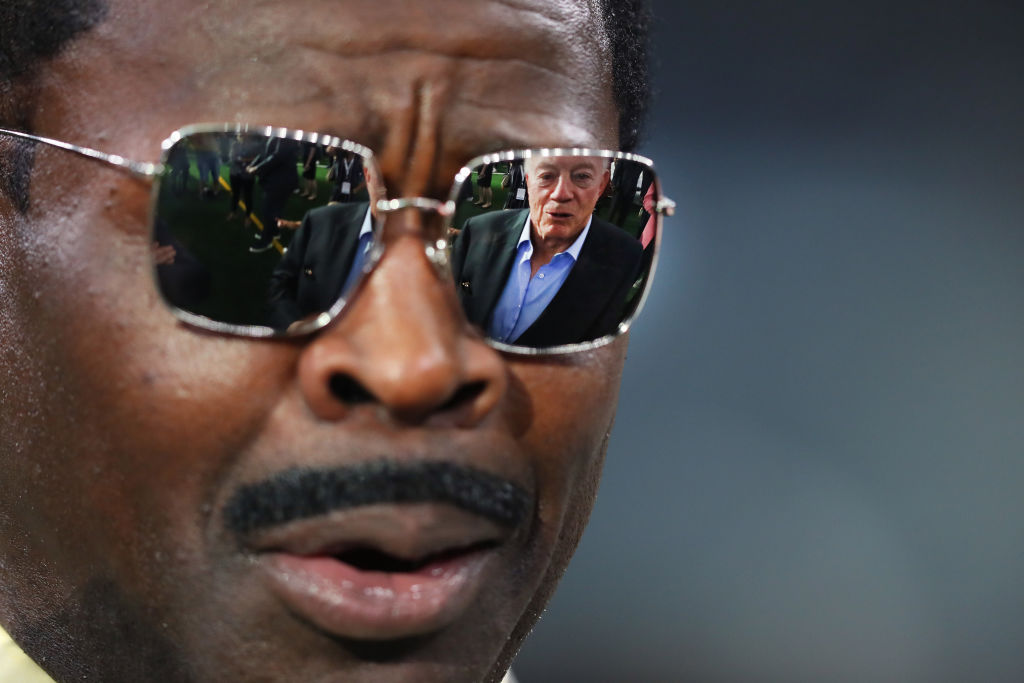 Michael Irvin Believes Jerry Jones Should Give Dak Prescott the 'Back Pay' He Deserves
With the NFL season inching closer, things still seem to be at an impasse in Dallas. Neither Dak Prescott nor Jerry Jones has budged; if the 2020 campaign started today, America's Team would only have Andy Dalton under center. While Prescott's reported contract demands may divide public opinion, Michael Irvin is firmly in the quarterback's …
With the NFL season inching closer, things still seem to be at an impasse in Dallas. Neither Dak Prescott nor Jerry Jones has budged; if the 2020 campaign started today, America's Team would only have Andy Dalton under center. While Prescott's reported contract demands may divide public opinion, Michael Irvin is firmly in the quarterback's corner.
While the former receiver still believes that both parties will come to an agreement, he came out with a pretty strong endorsement of the quarterback. Not only does he believe Dak Prescott deserves his new deal, but he went as far as saying Jerry Jones "[owes] the quarterback back pay."
Dak Prescott and Jerry Jones can't come to an agreement
If we know one thing about Jerry Jones, it's that the Dallas Cowboys owner isn't shy about spending money. During the 2020 offseason, however, he hasn't been willing to splash out the cash and sign Dak Prescott to a new deal.
When the 2019 campaign came to an end, Prescott's rookie contract expired. The Cowboys chose to franchise tag their quarterback; while no one thought that was a good idea, the club planned to use the tag to keep negotiating a long term deal with Dak; since then, however, there hasn't been much progress.
Based on everything we've previously heard, the sticking point seems to be the term, with the Cowboys wanting a five-year deal and Prescott preferring four. While some numbers have reached the public—Prescott was rumored to want $45 million in exchange for adding a fifth year, but that report was later denied—one reality remains: the contract still hasn't been signed.
Michael Irvin believes Jerry Jones owes his young quarterback
As with any other personnel move, public opinion has divided over Dak Prescott's potential contract. While some believe the quarterback is being greedy and asking for more money than he's worth, Michael Irvin is in his corner.
"Dak has done everything, and he has won," Irvin explained on "The Rich Eisen Show," according to The Dallas Morning News He has won a lot of football games in his first four years. So to say he doesn't deserve the money isn't totally correct. He does deserve the money. That's the market, and he's a starting, winning quarterback in the NFL. It's just a matter of getting it done. And I think they'll get it done."
Irvin went on to explain that he believes the deal will get done by the July 15 deadline. That agreement, however, will involve Dak Prescott getting paid what he's due.
"Dak has been not great, but perfect," Irvin continued. "Not necessarily in wins and losses, of course. But I'm talking about just the person that he's been. The kind of investment you want to make, the kind of guy you say, 'Yeah, we hit it with this guy. We got him in the fourth round.' You stole four years, so whatever he gets, he deserves because you still owe him back pay."
Michael Irvin's 'back pay' comments are at the heart of Dak Prescott's holdout
Upon first blush, the final part of Michael Irvin's comments may seem a bit dramatic. When you get past the words, "stole" and "owe him back pay," however, you get to the heart of the issue. Dak Prescott wants what he feels like he's deserved.
For players like Prescott, receiving the franchise tag is incredibly frustrating. While it does bring a nice salary, it also robs you of all agency. A player like Prescott has spent his entire NFL career playing for comparative peanuts; now, when he has a chance to cash in, the Cowboys are trying to play hardball. Even if you don't agree with the quarterback's stance, it's easy to see why he'd be frustrated and unwilling to compromise.
During his time as owner and general manager, Jerry Jones has made some questionable decisions. Failing to sign Dak Prescott to a new deal, however, could be one of his biggest missteps yet.