Dak Prescott Received Some Interesting Advice From Kirk Cousins on the Franchise Tag
Dallas Cowboys quarterback Dak Prescott still doesn't have that long-term contract he's been seeking for quite some time now and currently will play the 2020 season on the franchise tag. One who certainly knows quite a bit about that subject is current Minnesota Vikings quarterback Kirk Cousins, who played two seasons on the tag before finally signing his big-money deal. Cousins said he offered up some advice to Prescott when the Cowboys and Vikings met last season.
The latest on Dak Prescott's contract situation with the Dallas Cowboys
It's been quite the ongoing saga between Dak Prescott and the Dallas Cowboys as it pertains to a long-term,big-money deal. Discussions began last September but when no deal could be reached, talks halted until after the Super Bowl.
The biggest number that's been thrown around thus far is a $33 million annual salary and $105 million in guaranteed money, which would be one of the largest contracts in NFL history. However, that number apparently wasn't good enough and the Cowboys were forced to place the exclusive franchise tag on Dak Prescott back in March, a move that will end up paying Prescott more than $31 million this upcoming season.
A small wrinkle was thrown into the situation last week when the Cowboys signed former Bengals quarterback Andy Dalton to a one-year deal that could be worth up to $7 million. It's a very favorable deal for Dallas as they've guaranteed themselves a solid QB for 2020 if Dak chooses to hold out at any point. But Dallas is confident that a new deal can get worked out before the July 15 deadline and as you can see in the tweet above, Cowboys Executive Vice President Stephen Jones says that Dak is still their number one guy.
Kirk Cousins played two years on the franchise tag in Washington before signing a big-money deal with the Vikings
If there's one guy in the NFL that knows what Dak Prescott is going through, it's Kirk Cousins. When the Washington Redskins finally figured out that Cousins, not Robert Griffin III, was their guy, they made sure that they kept him on the roster without giving him a long-term deal. Cousins played both the 2016 and 2017 seasons in Washington on the franchise tag, becoming the first quarterback to play on the tag since Drew Brees did so for the San Diego Chargers back in 2005.
That move worked out well for Brees, who got the only big money he got in San Diego and worked that into a nice deal with the New Orleans Saints, with whom he'll start his 15th season this fall. Cousins also worked the franchise tag to his advantage. He made huge money those two years in Washington, despite posting a losing record of 15-16-1, and somehow managed to get himself the biggest guaranteed money contract in NFL history ahead of the 2018 season. Cousins signed a three-year/$84 million contract as a free agent with the Minnesota Vikings, which has recently been reworked into a two-year/$66 million extension. Not bad for a guy with a 44-42-2 career record as a starter.
Kirk Cousins told Dak Prescott that the franchise tag 'can be your friend'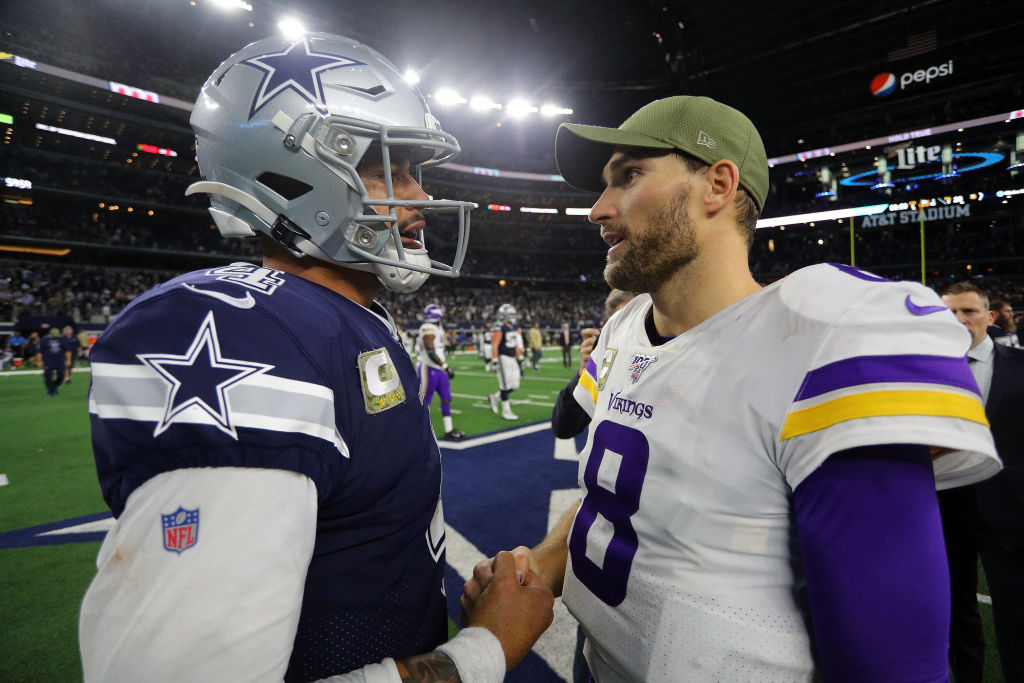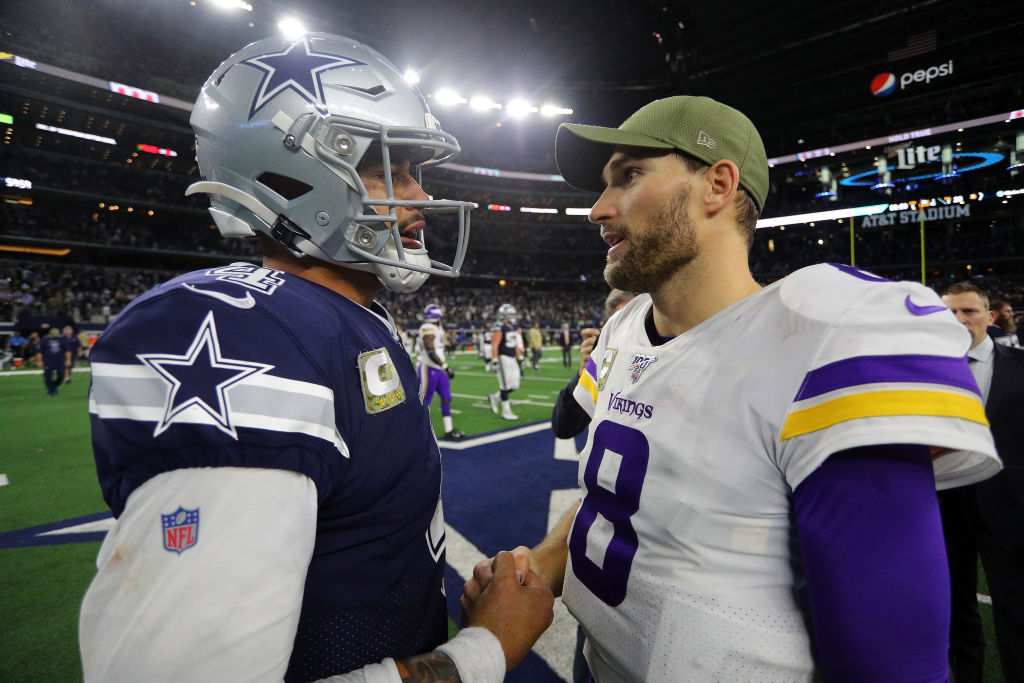 When Dak Prescott didn't get his new contract before last season, the talk of him getting hit with the franchise tag began. Kirk Cousins must have gotten wind of it because when the Vikings visited the Cowboys in Week 10 last season, he had some advice for Prescott, which he recently explained during ESPN's 2020 NFL schedule release special.
"Anybody who I run into who's been franchise tagged, we have one on our team this year in Anthony Harris, I believe the franchise tag can be your friend. I don't think it's something to be disappointed with. I think it enables you to be well compensated, and deservedly so, for the upcoming season. Then, I always say the cream will rise to the top. If you're good enough, the cream's going to rise to the top, and you're going to get compensated the way you want to. Sometimes it doesn't happen as quickly as you would like, but if you deserve it, and you've earned it, it's going to happen. So you've just got to stay the course and stay patient. Certainly in my journey, it all worked out. I wouldn't go back and change a thing.

"So my message to Dak, when I saw him midseason last year, was, 'Hey, whatever happens, don't be afraid of the tag. It can be your friend, and you can use it to your advantage.'"

Kirk Cousins on his advice to Dak Prescott about the franchise tag
That's certainly some interesting advice from a guy who knows a thing or two about it. But Kirk Cousins is right. Dak Prescott is going to be paid a lot of money in 2020, whether he's on the franchise tag or not. Fans of the Dallas Cowboys just have to hope Dak has a clear mind when this season gets underway.