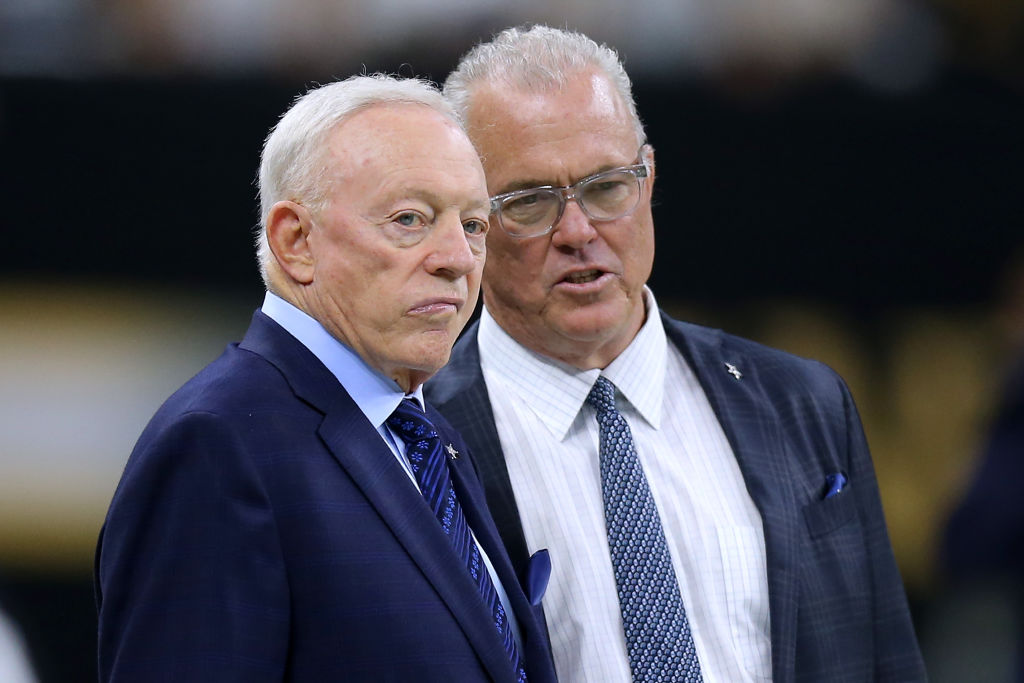 The Dallas Cowboys Explained Why They Inked Andy Dalton to a $3 Million Contract
The Dallas Cowboys recently raised some eyebrows by inking Andy Dalton to a contract. Stephen Jones stepped forward to explain their thought process.
For better or worse, the Dallas Cowboys can't avoid the spotlight. When you're America's Team and are owned by Jerry Jones, every transaction and decision becomes a headline. That's exactly what happened in early May when the club inked Andy Dalton to a one-year contract.
Since Dak Prescott remains unsigned, speculation started swirling. Was Dalton simply a high-quality backup? Was the front office trying to gain leverage at the bargaining table? On Wednesday, executive vice president Stephen Jones came forward to clarify the team's thought process.
Andy Dalton joins the Dallas Cowboys
In the NFL, there's only room for one starting quarterback on the roster on a given time. Andy Dalton experienced that harsh reality this offseason.
The Cincinnati Bengals, of course, selected Joe Burrow with the first overall pick of the 2020 NFL draft. While some teams prefer to let their quarterback prospects spend a season on the bench, the club wasn't interesting in taking that route; on April 30, they cut Dalton after nine seasons of service.
The veteran didn't remain unemployed for long, though. On May 2, he signed a one-year deal with the Dallas Cowboys. Given the reality of the situation, it seemed like a good fit; Dalton hails from Texas and, even if he doesn't achieve his incentives, will still take home a comfortable salary. With the Dallas Cowboys, however, nothing is ever straight forward.
Since Dak Prescott still hasn't signed his franchise tag or agreed to a longterm contract, speculation started swirling. Could there be ulterior motives for the Cowboys' move?
Stephen Jones explains why the Cowboys signed a quarterback
After a few days of fan theorizing, Stephen Jones took to the radio to explain the Dallas Cowboys' decision to sign Andy Dalton. Rather than looking to replace Dak Prescott, the team had simply learned a lesson from one of their division rivals.
"To have a guy like Andy Dalton come in here—not unlike what Philly had with Nick Foles when Carson Wentz went down—to be able to take control and win games, win huge games for you if that's what you need is really important," Jones explained on local radio via ESPN. Foles, of course, stepped in to help the Eagles claim their first Super Bowl title in February 2018. While Dak Prescott didn't miss any time last season, he did struggle through a shoulder issue at the end of the year.
"Certainly," Jones concluded, "you can lay your head on the pillow better at night knowing you have someone like Andy Dalton."
If Andy Dalton is just an insurance policy, the Dallas Cowboys have to prove it with their actions
On the surface, Stephen Jones' explanation sounds perfectly logical. As the Kansas City Chiefs learned last season, even star quarterbacks aren't immune to injury; while it's tempting to cut corners, having a good backup can save a season from flying off the rails.
At the same time, however, it would be naive for anyone in the front office to say otherwise. Like it or not, the Dallas Cowboys are still trying to negotiate with Dak Prescott; it wouldn't do them any good to broadcast their potential frustrations with the incumbent.
In all likelihood, though, Stephen Jones is telling the truth, and Andy Dalton is nothing but an expensive insurance policy. The Dallas Cowboys, however, haven't exactly earned the benefit of the doubt with their personnel decisions over the years. At this point, it's simply best to judge them on their actions rather than their statements; Week 1's starting quarterback and, in turn, the team's record matter more than anything else.
Signing Andy Dalton could have been a smart move, or it could be the beginning of a painful chain reaction. Only time will tell which one, though.