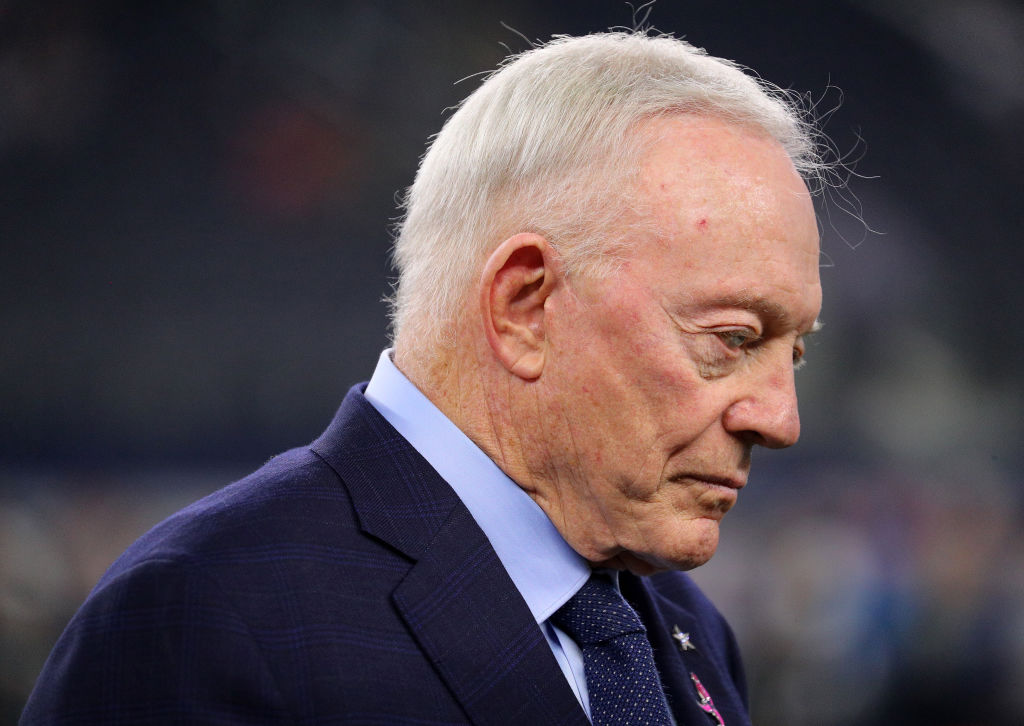 Jerry Jones Is Worth $8.5 Billion, but Still Has an Emotional Regret About His Time With the Dallas Cowboys
Jerry Jones has turned a massive profit owning the Dallas Cowboys, but money can't buy happiness. He has one regret about his time at the helm.
While most sports owners are content to sit in their luxury box and turn a profit, Jerry Jones does things a bit differently. After buying the Dallas Cowboys, he famously proclaimed that he would know the organization down to the "socks and jocks;" for better or worse, he's kept control of football operations ever since.
With great power and wealth, however, comes great responsibility, and owning the Dallas Cowboys is no exception. In fact, Jerry Jones has one sentimental regret about his time at the helm of America's Team.
Jerry Jones road to owning the Dallas Cowboys
These days, it's almost impossible to separate Jerry Jones from the Dallas Cowboys. There was a time, however, when Jones was a football player rather than an executive.
After playing football in high school, Jones headed to the University of Arkansas. The offensive lineman didn't merely ride the bench, though. He eventually became one of the squad's co-captains and helped the Razorbacks claim the 1964 national championship with a victory in the 1965 Cotton Bowl.
That game ended Jones' playing career, and he moved into post-graduate life. He attempted to open several Shakey's Pizza franchises using a $1 million loan from the Teamsters union, but failed to strike it rich; he also tried to buy the San Diego Chargers, but couldn't secure enough capital.
Jerry found a job as the executive vice president of Modern Security Life Insurance, which was his father's company, but eventually decided to make a change. He founded Jones Oil and Land Lease and started wildcatting for oil; he struck it rich and, in 1989, used that wealth to buy the Dallas Cowboys.
The Dallas Cowboys were an exceptional investment
When Jerry Jones purchased the Dallas Cowboys, the move seemed more like wish fulfillment than a sound business decision. Since then, however, the investment has paid off in spades.
In 1989, the Cowboys were in dire straits; the club was struggling on the field and reportedly losing $1 million a month. Jerry Jones immediately made changes, firing Tom Landry and assuming control of football operations, but things didn't change. During Jones' first season at the helm, the club went 1-15.
Before long, however, things would change. With Jimmy Johnson at the helm and Troy Aikman leading a stacked offense, the Cowboys captured three Super Bowl titles. As the team's status grew, so did Jones' wallet. Today, the club is valued at $5 billion; the owner himself is worth an estimated $8.1 billion.
Jerry Jones still has one major regret
Despite the Dallas Cowboys' recent struggles, Jerry Jones is still rolling in dough. All the money in the world, however, can't change the owner's one major regret.
"There's no doubt that the personal feeling I have about what Tony Romo and Jason Witten brought to the Cowboys during their career, I don't think I've had a moment in the day that at some time I don't reflect back on those good years and what they contributed," Jones explained in 2018. "And I've said this: From my standpoint, I can't help but say, 'Boy, I really dropped the ball not doing enough to get them in a Super Bowl. That will be and is my biggest regret about my time with the Cowboys."
While Jones can't change the past—Romo is sitting in the broadcast booth, and Witten will be joining the Raiders for the 2020 season—there is some good news. As the owner and general manager, he's able to play a major role in the team's future; if he wants to win a Lombardi Trophy with any of the current Cowboys, he can help make it happen.
That would probably require taking a step back and hiring a general manager, though, so don't hold your breath. As much as Jerry Jones might regret his recent failings, he seems to likes being the big man on campus even more.