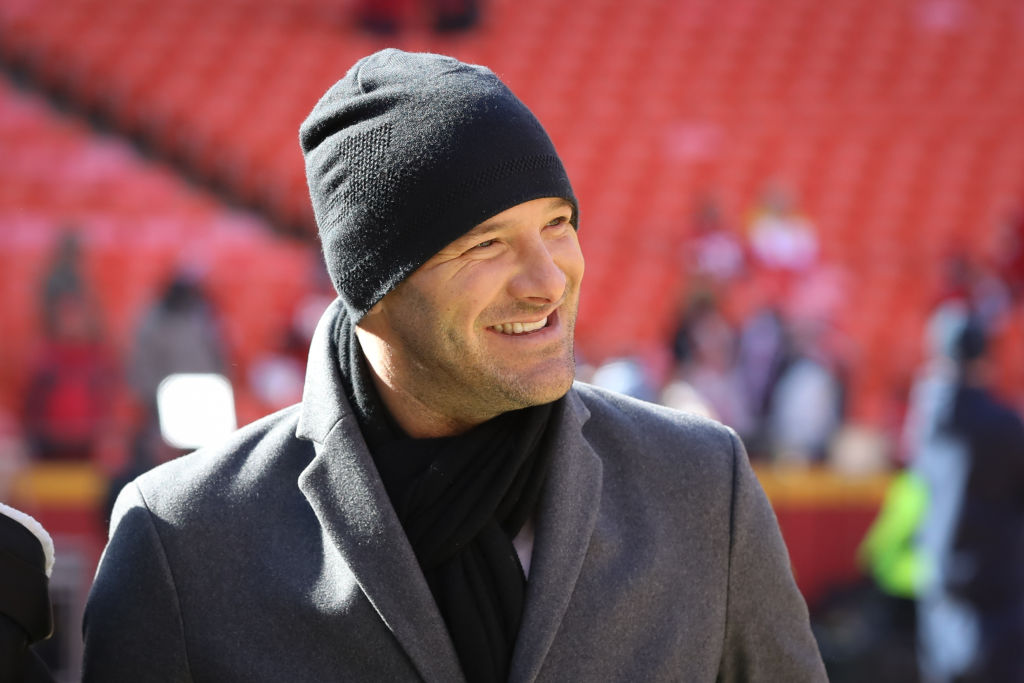 How Does Tony Romo's New Salary Compare to Other NFL Broadcasters?
Tony Romo signed a massive new contract, making him the highest-paid sports analyst. But how his salary compare to his colleagues?
While the player might make the big bucks, everyone connected to the NFL makes plenty of money. Broadcasters are no exception to that rule, with play-by-play men and color commentators taking home a nice chunk of change. When the 2020 season begins, though, Tony Romo will be earning more than anyone else.
Romo, of course, recently agreed to a massive new contract, which will keep him with CBS for the foreseeable future. But how does that deal compare to some of his colleagues in the broadcast booth?
Tony Romo's rapid rise to broadcast prominence
While not every former athlete is a natural behind a microphone, Tony Romo is equally at home in a huddle or a broadcast booth. He had quite the career with the Dallas Cowboys, but the former might be even better at talking about the game.
Romo, of course, spent 13 seasons in Big D, piling up 34,183 passing yards and 248 touchdowns. After retirement, he inked a three-year contract worth roughly $4 million per season; while the seemed like a gamble at the time, the deal paid off in spades.
Working alongside Jim Nantz, Romo emerged as one of televised football's leading voices. Broadcasters can veer between extremes, either providing a bland narration of the game or leaning too far into homerism and zany anecdotes, but the former Cowboys quarterback strikes a perfect balance. While he has a vast knowledge of the game, Romo brings energy and enthusiasm to the booth; Nantz also deserves some credit, as he's able to set his broadcast partner up with ease.
That success was rewarded with a massive new contract, making Romo the highest-paid sports analyst in television history.
How does Tony Romo's salary compare to other football broadcasters?
For years, John Madden's contract—worth $8 million at the time or roughly $14 million in today's money—was the high water mark for sports broadcaster salaries. Tony Romo, of course, is going to earn more than double that amount a season.
How does that salary compare to his colleagues, though? Jim Nantz, Romo's partner in the broadcast booth, earns roughly $5 million a year from all of his television work; Joe Buck reportedly brings in about $6 million over the course of his NFL and MLB coverage. Over on NBC, Al Michaels and Cris Collinsworth have estimated annual salaries of $6 million and $4 million, respectively.
Romo's closest competitor, ironically, is another Dallas Cowboys quarterback turned color commentator: Troy Aikman. He makes about $7.5 million a year working for Fox.
On the field or in the broadcast booth, free agency pays off
Normally, free agency provides a professional athlete a chance to bring home a sizeable raise. In this case, the same principle applied to Tony Romo.
The play-by-play man's contract with CBS was running out, and ESPN was circling. A clause in Romo's contract, however, proved to be the deciding factor. He had to tell the network what sort of salary it would take to convince him to sign a new deal; he named his price, and CBS matched it.
His demands might have been exorbitant, but when you're the best available player (or announcer), you hold all the leverage. In this case, Tony Romo reaped the rewards.