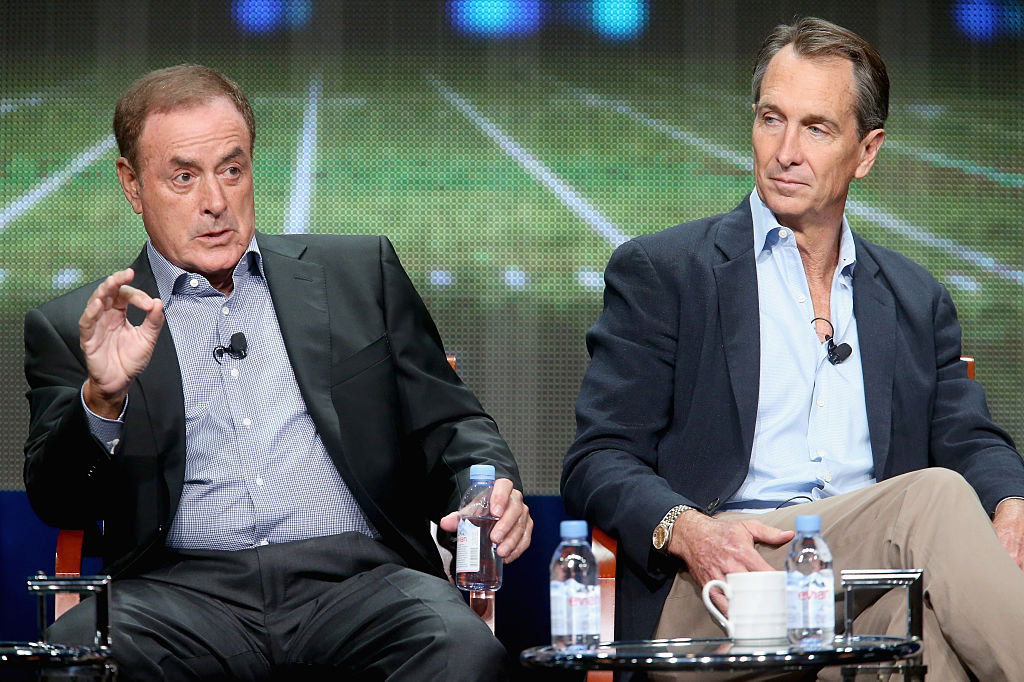 How Do Cris Collinsworth and Al Michaels Really Get Along in the Sunday Night Football Broadcast Booth?
Al Michaels and Cris Collinsworth have become NFL fixtures covering Sunday Night Football. But how do the two men really get along in the booth?
In sports, chemistry can be the difference between a poor performance and a winning result. The same thing is true in the broadcast booth; both the play-by-play announcer and the color commentator need to be on the same page. On camera, Cris Collinsworth and Al Michaels seem to click every weekend during Sunday Night Football.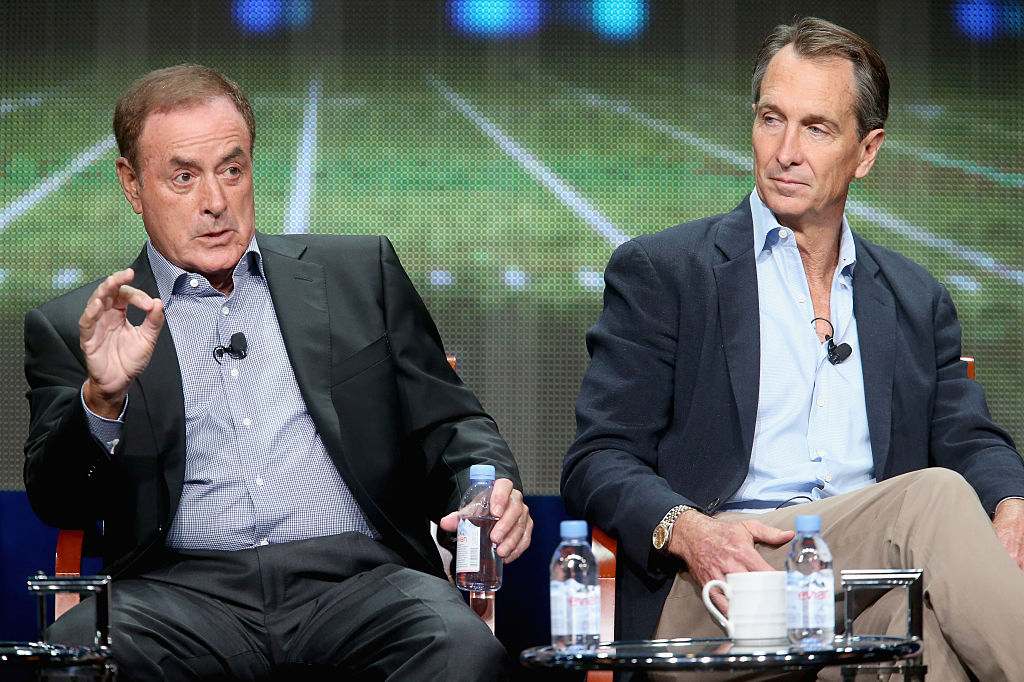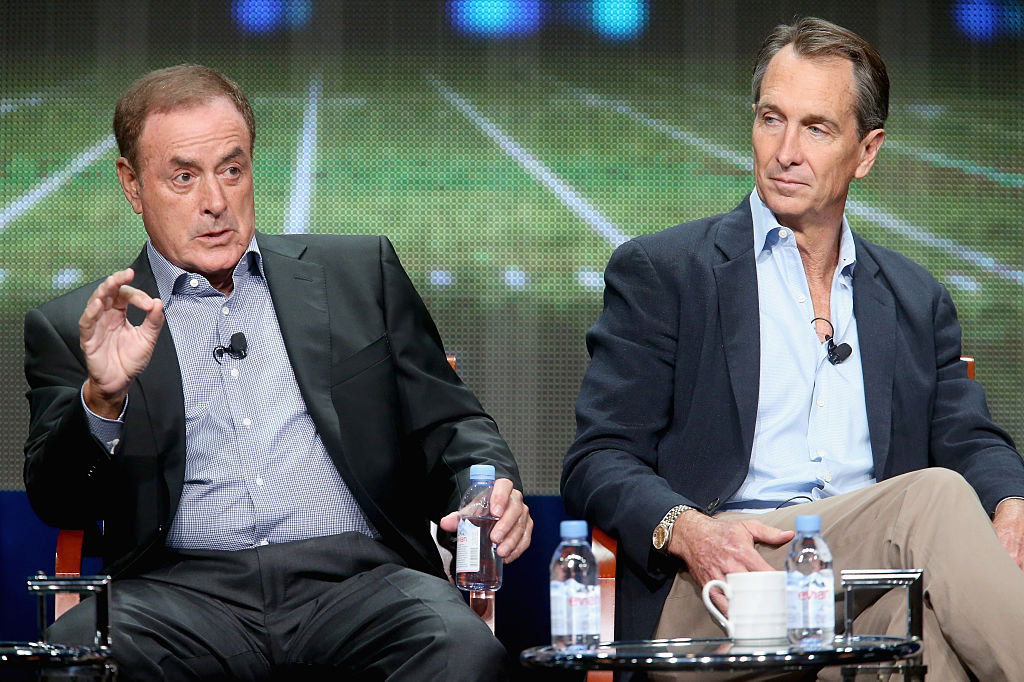 But there's a great deal that goes into a television broadcast behind the scenes. How do Michaels and Collinsworth really get along during their time together?
Cris Collinsworth's NFL career
While most football fans probably associate Cris Collinsworth's name with his color commentary, he actually had quite the NFL career.
After moving from quarterback to wide receiver at the University of Florida, Collinsworth hit his stride. The Bengals snagged him in the second round of the 1981 NFL draft, and the wideout didn't waste any time adjusting to the pro game. Thanks to his speed and size, Collinsworth caused mismatches against linebackers and defensive backs throughout his career. He played eight seasons in Cincinnati, pull in 417 catches for 6,698 yards and 36 touchdowns; he's still in the franchise's top-10 in most receiving categories.
After his playing days came to an end, Collinsworth moved into the media.  He started out with a local radio station, and, in 1989, joined Inside the NFL as a reporter. Collinsworth became part of NBC's broadcast team in 1990, then moved to Fox; when the legendary John Madden retired in 2009, the former Bengals receiver returned to NBC and took his place in the Sunday Night Football booth.
Al Michaels' career in commentary
While Al Michales might not have had a professional sports career like Cris Collinsworth, he has built up quite a resume of his own.
Michaels got his start in journalism at Arizona State, where he majored in radio while covering the school's sports teams for the student paper. He briefly worked for the Los Angeles Lakers in 1967, but truly came into his own after moving to Hawaii during the following year. Michaels called minor league baseball games, University of Hawaii football and basketball games, and local high school contests; before long, he built up a solid reputation.
After returning to the mainland, Michaels primarily covered baseball. He called his first NFL game in 1973, stepping in following the sudden death of Bill Ennis. In 1977, the announcer made the move to ABC; he would cover a variety of sports and for the network, including Olympic hockey, Major League Baseball, boxing, and NBA basketball.
Michaels joined the Monday Night Football team in 1986 and worked on the broadcast for 20 years. He switched to NBC in 2006, where he called Sunday Night Football with John Madden; after the legendary coach retired, Cris Collinsworth joined Michaels in the booth.
How do Cris Collinsworth and Al Michaels really get along?
While everyone knows how hard it can be to get along with coworkers, Cris Collinsworth and Al Michaels have a good relationship in the booth. At the end of the day, they bonded over one simple thing. "We love the game of football, we love what we were doing," Collinsworth explained.
It also helps that the pair respects each other's unique strengths during a broadcast. "Cris sees stuff inside the plays I wouldn't think of in a hundred years. You think it's about what a wide receiver did, and Chris will show you it's all about the right tackle," Michaels told Parade.
Collinsworth agreed, noting that his partner "controls the tempo of the booth" with ease every Sunday. "I think Al's greatest—he does so many things well," he continued. "His intelligence is obvious coming through on the air. He knows everything about everything, it's amazing."
The Sunday Night Football broadcast isn't immune to its share of missteps, but the problem isn't a lack of chemistry in the booth.