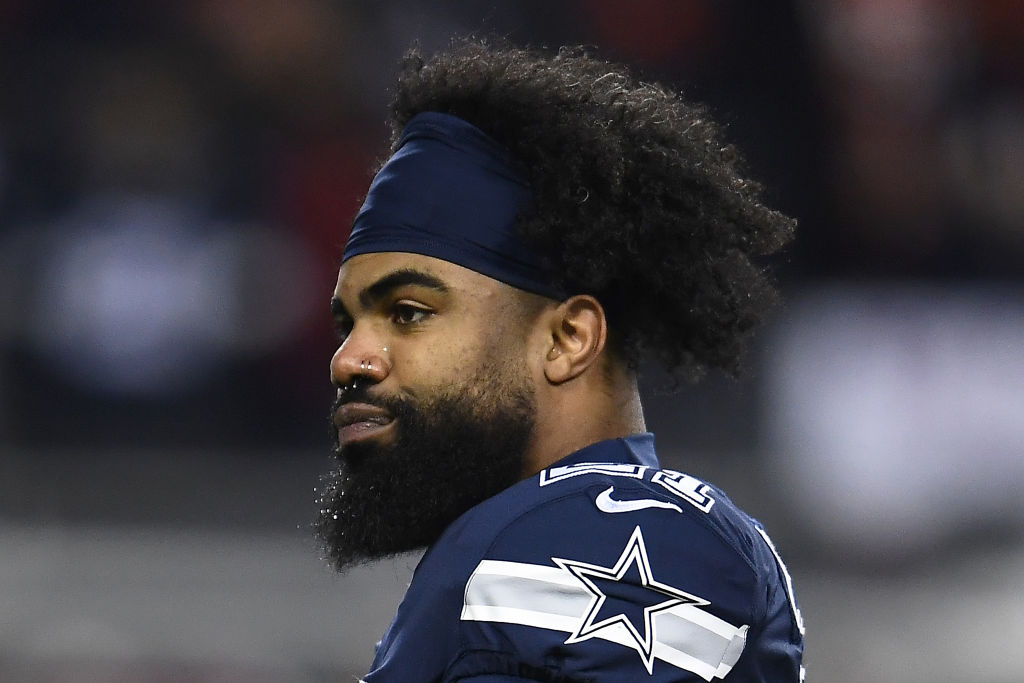 Ezekiel Elliott Tests Positive for COVID-19 After Breaking Quarantine Rules to Party with Dak Prescott
Ezekiel Elliott is the latest sports star to test positive for COVID-19, and his behavior during quarantine might explain why.
Ezekiel Elliott is the latest professional athlete to test positive for COVID-19. After Rudy Gobert started the frenzy by testing positive before an NBA game in March, multiple pro athletes and coaches have confirmed they contracted the coronavirus. From Kevin Durant to Sean Payton, COVID-19 has infected a variety of popular sports figures. Now, it's reached the Dallas Cowboys locker room. Multiple Cowboys have tested positive for the virus as of Monday, and Elliott is one of them. After breaking quarantine rules to party with Dak Prescott a short while ago, it was clear Elliott wasn't taking the right precautions during this global pandemic.
Ezekiel Elliott tests positive for COVID-19
Ian Rapoport of NFL Network reported Monday that Ezekiel Elliott is one of the Cowboys who tested positive for COVID-19. Rocky Arceneaux, Elliott's agent, confirmed the positive test to Rapoport himself.
Arceneaux said the star running back is "feeling good" in light of the positive diagnosis, but the Cowboys haven't released a statement on the health of Elliott or any other players at this time.
"Due to federal and local privacy laws, we are unable to provide information regarding the personal health of any of our employees," the Cowboys told NFL Network.
Elliott joins the Broncos' Von Miller, the Rams' Brian Allen, and numerous other unnamed players who have tested positive for the coronavirus in the NFL.
Elliott was caught partying with Dak Prescott in April
This isn't the first time Ezekiel Elliott has made headlines in terms of the COVID-19 pandemic. In April, Elliott and Cowboys QB Dak Prescott were caught hosting a house party in violation of Texas "safer-at-home orders."
The party was held at Prescott's home in Prosper, Texas, and there were reportedly as many as 30 people in attendance. The CDC had recently stated guidelines to follow in light of the coronavirus. It encouraged Americans to stay six feet apart and limit social gatherings to 10 people.
Prescott and Elliott flagrantly violated both Texas' and the CDC's guidelines to host the party.
"I think they're certainly aware now of how sensitive these situations are," Cowboys GM Jerry Jones told ESPN. "I don't think you'll be seeing that anymore. They're certainly guys we have the utmost respect for and I certainly know they understand the sensitivity of the situation we're in today. It's certainly very serious and something that we know and certainly know they understand."
Who knows what Ezekiel Elliott has been up to in the last few months
Elliott and Prescott proved in April that they weren't too concerned about the COVID-19 pandemic. Nearly everyone in the country was cooped up in their homes quarantining while the Cowboys' biggest superstars were hosting house parties without a care in the world.
It's unclear how or when Elliott contracted the virus, but his nonchalant behavior during the sports shutdown explains why. If he was willing to attend a house party with a large group of people just weeks into quarantine, who knows what he's been up to since then.
While most of the sports world obeyed stay-at-home orders around the country, Elliott refused.
Hopefully, Elliott can recover from the virus shortly and quarantine long enough to not spread COVID-19 to anyone else.