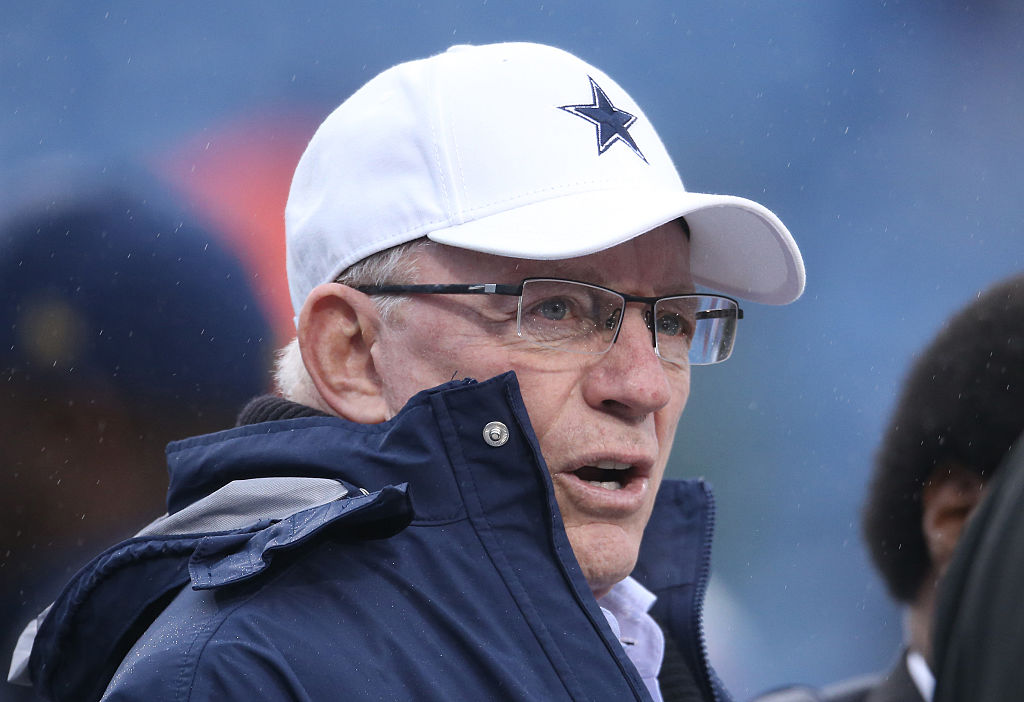 Jerry Jones Hates Getting Asked This 1 Question About His Dallas Cowboys
Jerry Jones is tired of answering questions about his Cowboys coming up short. Can Dallas finally win its first Super Bowl since 1996?
There isn't a more outspoken owner in the NFL than Jerry Jones. As the owner and face of the Dallas Cowboys, he's provided many unforgettable quotes over the years. From a football standpoint, though, the powerful billionaire has too often watched his team come up short in the clutch. And that, folks, is one area that you never want to question Jones about.
Jerry Jones has been busy this offseason
After stumbling upon Dak Prescott in the fourth round in 2016, the Cowboys posted three straight winning seasons before tumbling to 8-8 last year. Jason Garrett finally got the boot. Jerry Jones went to work making some significant changes from the top down. First, he brought in former Green Bay Packers coach Mike McCarthy. Though he and Aaron Rodgers didn't always see eye-to-eye, they won a Super Bowl together and made the postseason a yearly ritual.
Addressing the coaching issue represented a big milestone for Jones. But he went out and spent a pretty penny in free agency, too. Dallas re-signed Amari Cooper to a five-year, $100 million deal to ensure Prescott's No. 1 target will be around for his prime. Then, the Cowboys beefed up their defensive line by bringing in Dontari Poe and Gerald McCoy. The former first-rounders may be past their primes, but they provide excellent depth and can excel in rotational roles.
Jones also made a pair of eyebrow-raising moves. He took a gamble on former All-Pro pass rusher Aldon Smith, who at one point seemed destined for Canton before off-field issues resulted in a four-year hiatus. If he's able to recapture his prime form, watch out. Finally, the Cowboys signed Andy Dalton to a team-friendly deal. While he shouldn't be a starter, he provides excellent insurance behind Prescott, who still hasn't come to terms on an extension.
The question Jones hates getting asked
Jerry Jones earns plenty of criticism for having his hands over everything in Dallas. But you can't knock the man for his effort. Unfortunately, due in large part to Garrett's ineptitude, the Cowboys have performed poorly in the playoffs. In fact, Dallas hasn't advanced past the Divisional Round since winning its last Super Bowl championship 25 years ago.
The Cowboys' shortcomings have bordered on embarrassing. Just don't ask Jerry Jones about that, as one radio host learned the hard way. When asked if he was embarrassed by the Cowboys as an organization during the 2019 season, Jones didn't hold back his displeasure at the question.
"Get your damn act together yourself. OK? We're gonna have a good visit this morning but settle down just a little bit." Jones wrapped up with, "I don't like your attitude."
That wasn't the first time he'd been asked if he was embarrassed by his team, as seen in this YouTube clip. Interestingly, though, Jones didn't display any of the frustration that he showed in last year's interview. Perhaps years of disappointment eventually take a toll.
Can Dallas win its first Super Bowl title since 1995?
If Jones doesn't want to answer questions about the Cowboys failing to live up to expectations, then it's time for his team to step up. It's obviously too early to make a declaration, but on paper, Dallas boasts one of the best overall rosters in football. On offense, the Cowboys should have no trouble beating last year's average of 27.1 points per game. Prescott has a terrific set of weapons in Cooper, Michael Gallup, CeeDee Lamb and Ezekiel Elliott. He also benefits from playing behind a rock-solid offensive line.
Defensively, expect Dallas to make a significant leap into top-five territory. Mike Nolan will be McCarthy's defensive coordinator. He'll have plenty of talent to work with, especially in the trenches. Linebackers Leighton Vander Esch and Jaylon Smith give Nolan two athletic, heat-seeking missiles. On the back end, the Cowboys did lose Byron Jones, but they stole Trevon Diggs in the second round of the 2020 NFL draft.
Dallas definitely has the talent on both sides of the ball to compete for a Super Bowl berth. It'll be up to Jerry Jones to get Prescott's contract squared away. And once that's complete, there's no reason the outspoken owner can't hoist the Lombardi Trophy come February.