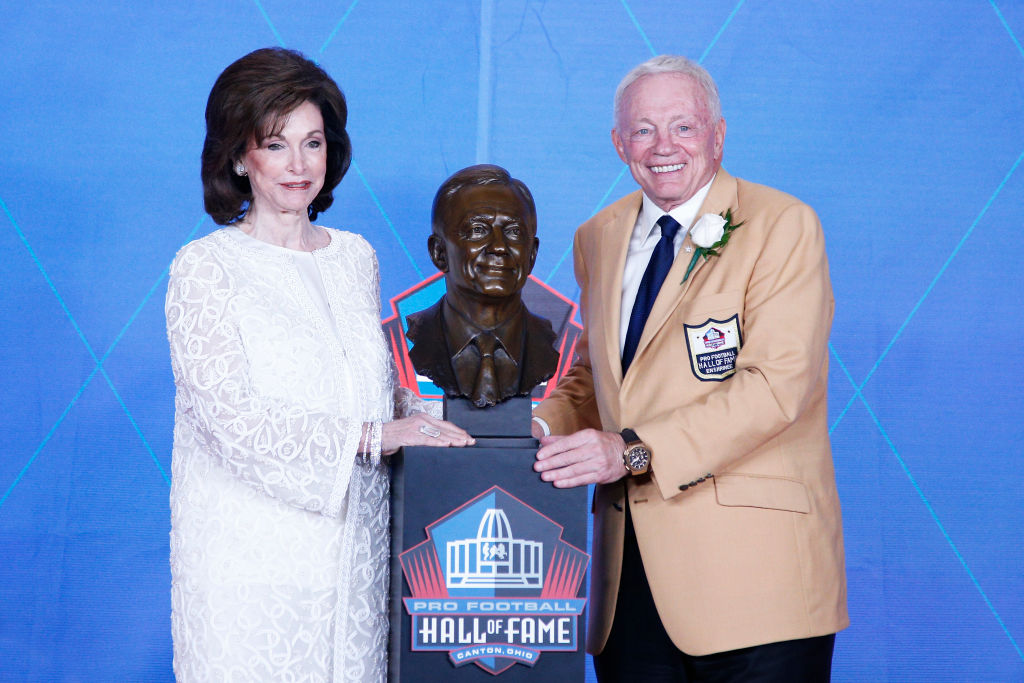 Cowboys Owner Jerry Jones Is Still Married to His College Sweetheart
Jerry Jones' wife deserves a lot of credit for his success with the Dallas Cowboys. The two actually met in college during the 1960s.
Over the years, Jerry Jones has been one of the most recognizable owners in sports, and one of the most successful. In fact, the Dallas Cowboys won three Super Bowls during the first decade that Jones owned the team. However, one of his best accomplishments might be something that has nothing to do with football. Jones, who is in his late 70s, and his wife Gene were actually college sweethearts.
Jerry Jones and the Cowboys have had a lot of success
Before buying the Cowboys, Jerry Jones really started making his money in oil. He made his first million in oil investments in the 1970s, according to Forbes. Fast forward several years, and Jones then bought one of the most popular teams in sports – the Dallas Cowboys. Jones ended up purchasing the Cowboys for $140 million in 1989, according to Business Insider. It was the first time anyone had ever paid more than $100 million for a sports team.
The Cowboys have since had a lot of success through the years. From 1992 through 1995, the Cowboys won three Super Bowls and went to four straight NFC Championship Games. Not only have they had success, though. The Cowboys have also grown in value. After Jones bought the franchise for $140 million, the Cowboys' worth has grown to $5.5 billion as of September 2019, according to Forbes.
Before all of his success, though, Jerry Jones met his wife Eugenia (also known as Gene). 
Jones is still married to his college sweetheart
In 1960, Gene Chambers was a freshman at Arkansas. She had a date with an offensive lineman for the Razorbacks' football team, according to The Dallas Morning News, but did not really know him. A lot of her friends spoke highly of him, though. That lineman, obviously, ended up being Jerry Jones.
She asked her friends to go with her on her first date with Jerry. They all ultimately had dinner and then went to the county fair, according to The Dallas Morning News. While many other young men won their dates teddy bears at the carnival games, Jerry just could not win one. Jerry then went missing for a few minutes before returning with the largest teddy bear at the fair.
"I later found out that Jerry couldn't win a bear, so he went off and found someone to sell him one," Gene said, according to The Dallas Morning News. "The only thing bigger than that bear was his smile."
Jerry Jones then later made Gene his wife. The two got married in January 1963, according to Daily Mail. Jerry then went on to lead Arkansas to a national championship win in the 1965 Cotton Bowl, according to Bleacher Report.
The two have been married ever since and now have three kids together. 
Presenting him into the Hall of Fame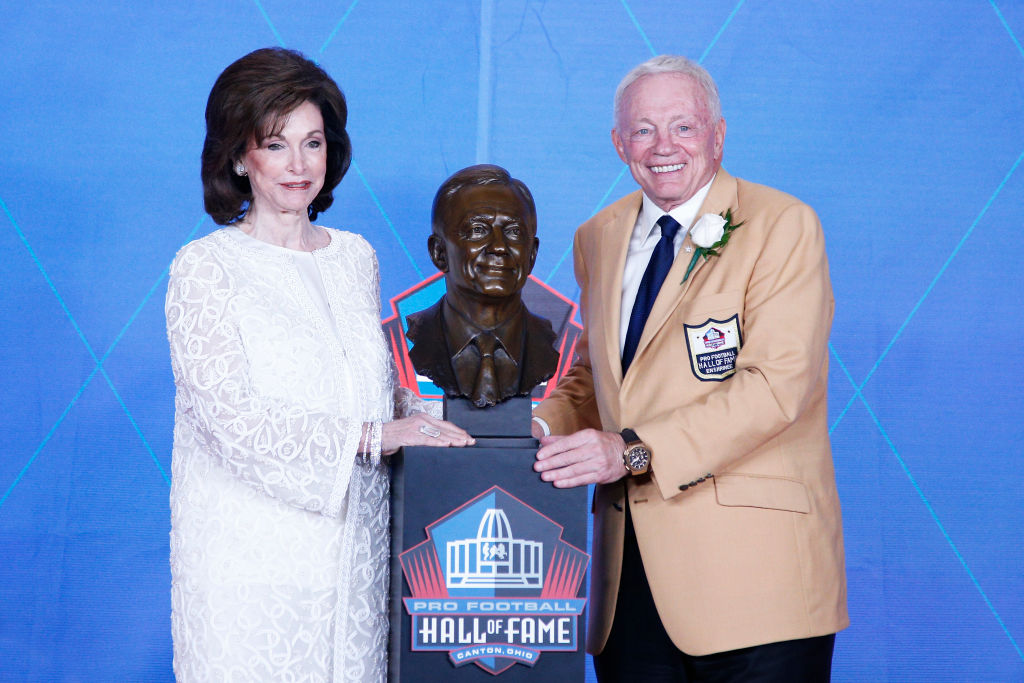 Jerry Jones was inducted into the Pro Football Hall of Fame in 2017. After a lot of speculation on who he would have present him into it, he ended choosing Gene.
"The day our family bought the Dallas Cowboys was a very difficult day," Gene said in the video played at the Hall of Fame ceremony that is now on DallasCowboys.com. "Dallas was just not really embracing Jerry, but Jerry was so excited, and he really knew he could find a way to make the team great and to make the fans be excited about a new Dallas Cowboy football team."

Gene Jones
There have been many people who have helped lead to the success of Jerry Jones and the Dallas Cowboys. That team in the early 1990s really played a significant role in the popularity of the franchise. However, Jerry has been married to Gene for 57 years. She deserves a massive amount of credit for helping make Jerry Jones one of the most successful men in America.