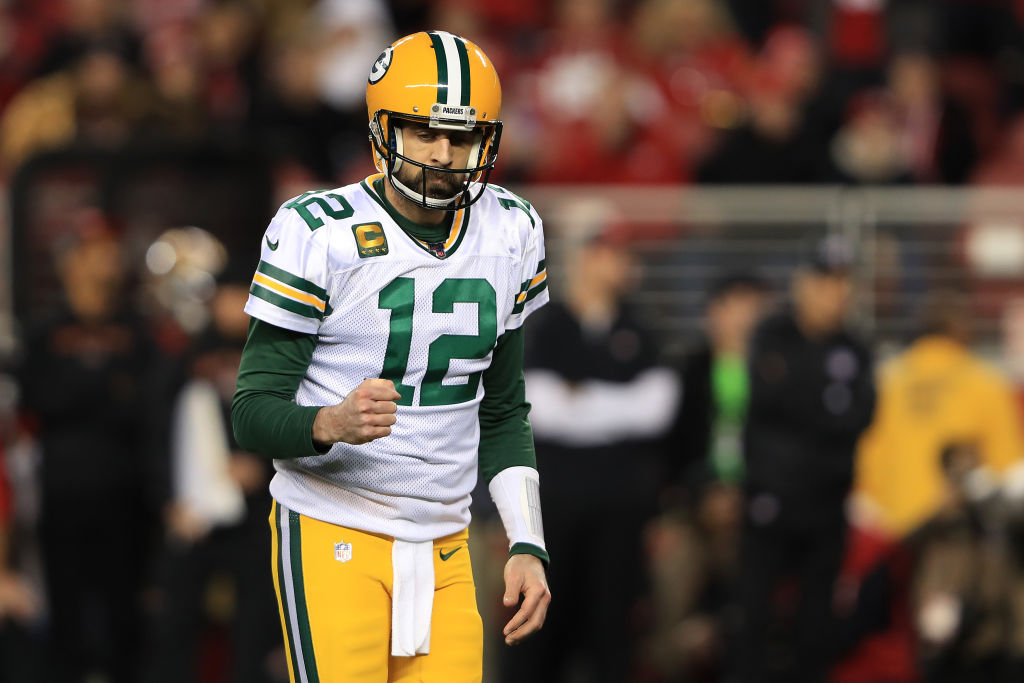 Aaron Rodgers Surprisingly Respects Packers for Drafting Jordan Love
The Packers surprisingly drafted Jordan Love with Aaron Rodgers already in place, but Green Bay's star QB doesn't seem to hate the pick.
Aaron Rodgers draws plenty of criticism for his attitude and coachability. So when the Green Bay Packers drafted Jordan Love, everyone understandably expected the future Hall of Famer to flip out. After all, Rodgers has firsthand experience at replacing a living legend.
However, even with Green Bay devoting its top draft pick on his likely successor, Rodgers doesn't seem too upset. In fact, he can appreciate the Packers' approach.
Jordan Love will sit behind Aaron Rodgers for now
The first round of the 2020 NFL draft featured three quarterbacks in the first five picks. None of them fell in the surprise category. Joe Burrow landed in Cincinnati. Tua Tagovailoa became the new face of the Miami Dolphins. And Justin Herbert takes over for Philip Rivers in Los Angeles. However, the Packers traded up to the 26th pick to make Jordan Love the fourth QB off the board.
Of course, Love won't see the field anytime soon, barring a major injury to Rodgers. Considered a raw prospect with incredible upside, Love certainly isn't NFL-ready. In addition, Rodgers carries $82 million in dead-money hits over the next two years. Green Bay's massive financial commitment to its incumbent starter makes Love a lock to spend the next two years on the sidelines. Unfortunately for Rodgers, that means the Packers utilized another first-round pick on a player who won't be able to help him.
Rodgers respects the Packers' process
On one hand, selecting Love gives the Packers a developmental QB prospect with tremendous upside. From a long-term perspective, the pick certainly has merit. Even in the short term, adding a quality backup option makes some sense. Just ask the Indianapolis Colts what happens when you don't have an adequate fallback plan. However, for Aaron Rodgers, it would only be logical for him to blast the Packers for spending a premium draft pick on a player who not only can't help him but also will likely replace him.
Yet, the quarterback who's never been afraid to express his opinion took a different route. Rodgers offered some interesting insight into his reaction to the Love selection in a conference call that Fox Sports covered. His honesty certainly raised some eyebrows.
"I think the general reaction at first was surprise, like many people. Obviously I'm not going to say that I was, you know, thrilled by the pick necessarily, but the organization is thinking not only about the present but about the future. And I respect that.''

Will Rodgers take his likely successor under his wing?
Looking ahead to the 2020 season, the storyline in Green Bay will be how Rodgers handles working with Love. It's ironic that Rodgers will be tasked with mentoring his possible successor since he spent three years on the other side of that equation under Brett Favre. Still, the two-time NFL MVP seems open to the idea of working with the talented passer out of Utah State.
"He didn't get asked to be drafted by the Packers," Rodgers said. "He's not to blame at all. He's just coming in excited for his opportunity. We had a great conversation the day after the draft and I'm excited to work with him. He seems like a really good kid with a good head on his shoulders."
Always remember that talk is cheap. Right now, Rodgers might be saying all the right things. But the truth will be unveiled once training camp begins. It seems unfathomable that a player as competitive as Rodgers will do everything in his power to help a quarterback with Patrick Mahomes upside. However, perhaps his difficult experience as Favre's understudy will result in an unexpectedly welcoming approach.
Only time will tell, but for now, it seems like Aaron Rodgers can at least respect the Packers for taking the long-term approach at the most important position in football.