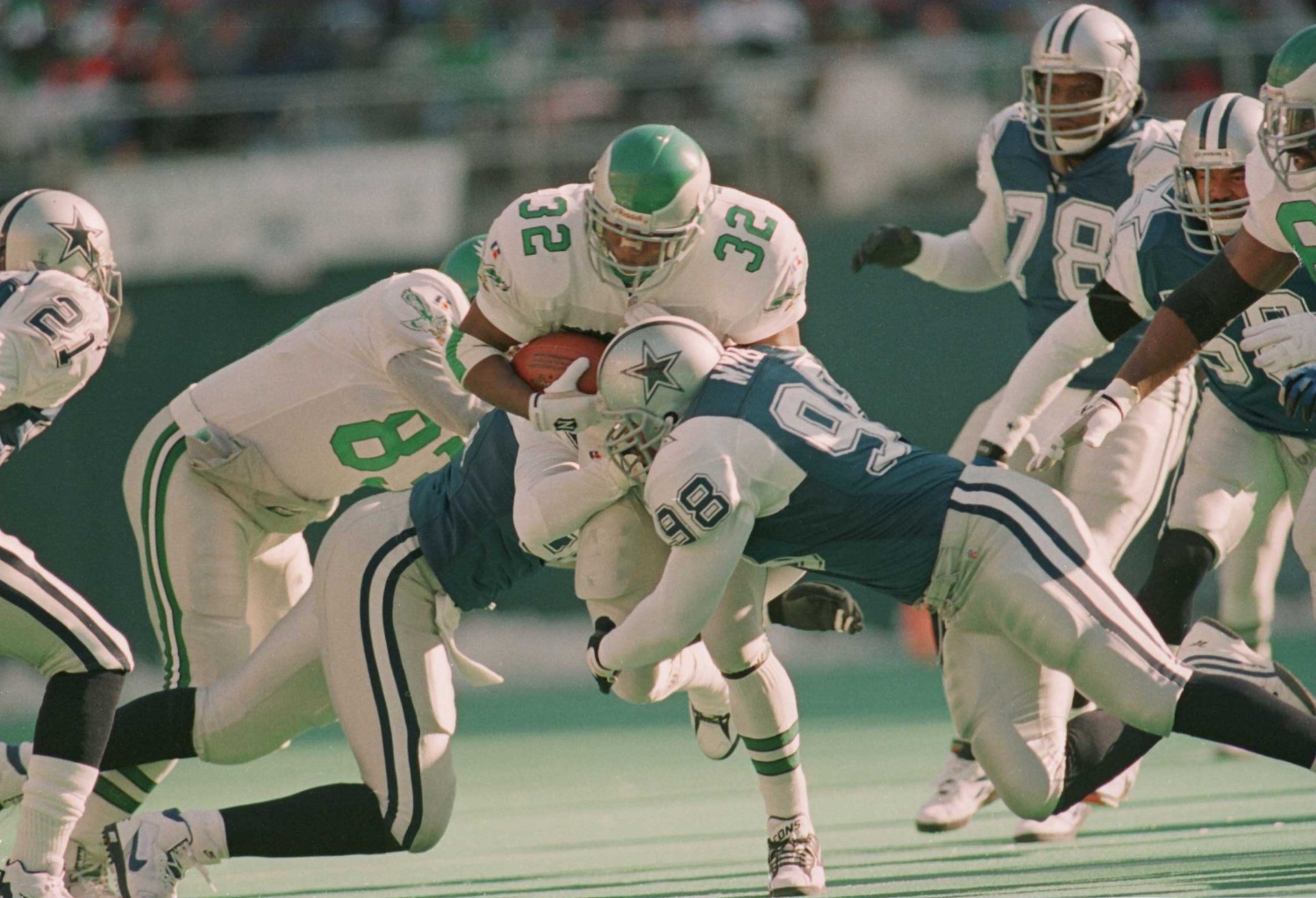 Dallas Cowboys Linebacker Godfrey Myles Suffered a Tragic Death After Mortgage Fraud Indictment
Godfrey Myles won three Super Bowl rings with the Dallas Cowboys before tragically dying of a heart attack at the age of 42.
Not even Madden creators could have drawn up a more impressive physical specimen than Godfrey Myles. The ultra-athletic linebacker developed into a superstar at the University of Florida before taking his talents to the NFL. Myles found a home with the Dallas Cowboys and retired with three Super Bowl rings.
Unfortunately, he suffered a tragic death just months after getting indicted on federal mortgage fraud charges. Here's his story.
Godfrey Myles was a star at the University of Florida
When you're born in Miami like Godfrey Myles, football often represents the best path to future success. A star at powerhouse Miami Carol City High, the multi-sport star dominated on the football field as well as the track. His fantastic high-school career helped him earn a scholarship to play for the Gators.
Though he missed one year due to academic eligibility, he quickly asserted himself as a sophomore. Myles played both outside linebacker and strong safety. Finding an ideal fit for the athletic freak proved difficult. Florida tried using Myles at inside linebacker and safety at the beginning of his junior year before moving him back to outside linebacker.
However, everything changed in 1990 when defensive coordinator Jim Bates found a new positional fit for his budding star. Bates moved Myles to the "Gatorback" position—a hybrid role designed to accentuate his sideline-to-sideline speed and coverage ability.
Finally free to showcase his strengths, Godfrey Myles earned second-team All-SEC honors and elevated his NFL draft stock.
Myles won three Super Bowl rings with the Dallas Cowboys
Blessed with 4.38 speed to go along with a sturdy 6-foot-1, 240-pound frame, Myles possessed the physical attributes NFL teams covet. He officially joined the Dallas Cowboys after Jerry Jones snagged him with the 62nd overall pick. The third-rounder did not contribute much as a rookie due to a shoulder injury. However, he eventually carved out a valuable role.
In his second season, Myles recorded 21 tackles and one interception. Unfortunately, his first Super Bowl experience came at a brutal cost. The young linebacker tore his ACL during a touchdown celebration and didn't return till the middle of the 1993 season. Of course, that year also ended with the Cowboys hoisting the Lombardi Trophy.
The 1995 season turned out to be a career year for the career backup. Myles started 11 games (the only season in which he recorded a single start) and racked up 75 tackles, one interception, one forced fumble, and two fumble recoveries. And for the third time in five years, he earned a Super Bowl ring.
Godfrey Myles spent one more year in Dallas before inking a contract with the Denver Broncos. But he got waived and never played another NFL down. And sadly, he suffered a tragic death after running into legal troubles.
The former NFL linebacker tragically died just months after indictment
Godfrey Myles ran into some legal trouble following his brief but championship-filled Cowboys career. In March 2011, the Sun-Sentinel reported that the former NFL linebacker, along with two other men, were indicted on federal charges alleging $2.5 million in mortgage fraud.
According to the U.S. Attorney's Office, "More than $488,000 in fraudulent loan proceeds were laundered by Brinson and Myles and others through multiple accounts and were ultimately used for the benefit of the defendants and others."
Ultimately, Godfrey Myles never faced prison time or even got that far in the legal process. He suffered a heart attack just months later. His family removed life support after he had been declared brain dead. The former Cowboys linebacker died on June 10, 2011 at the age of 42.