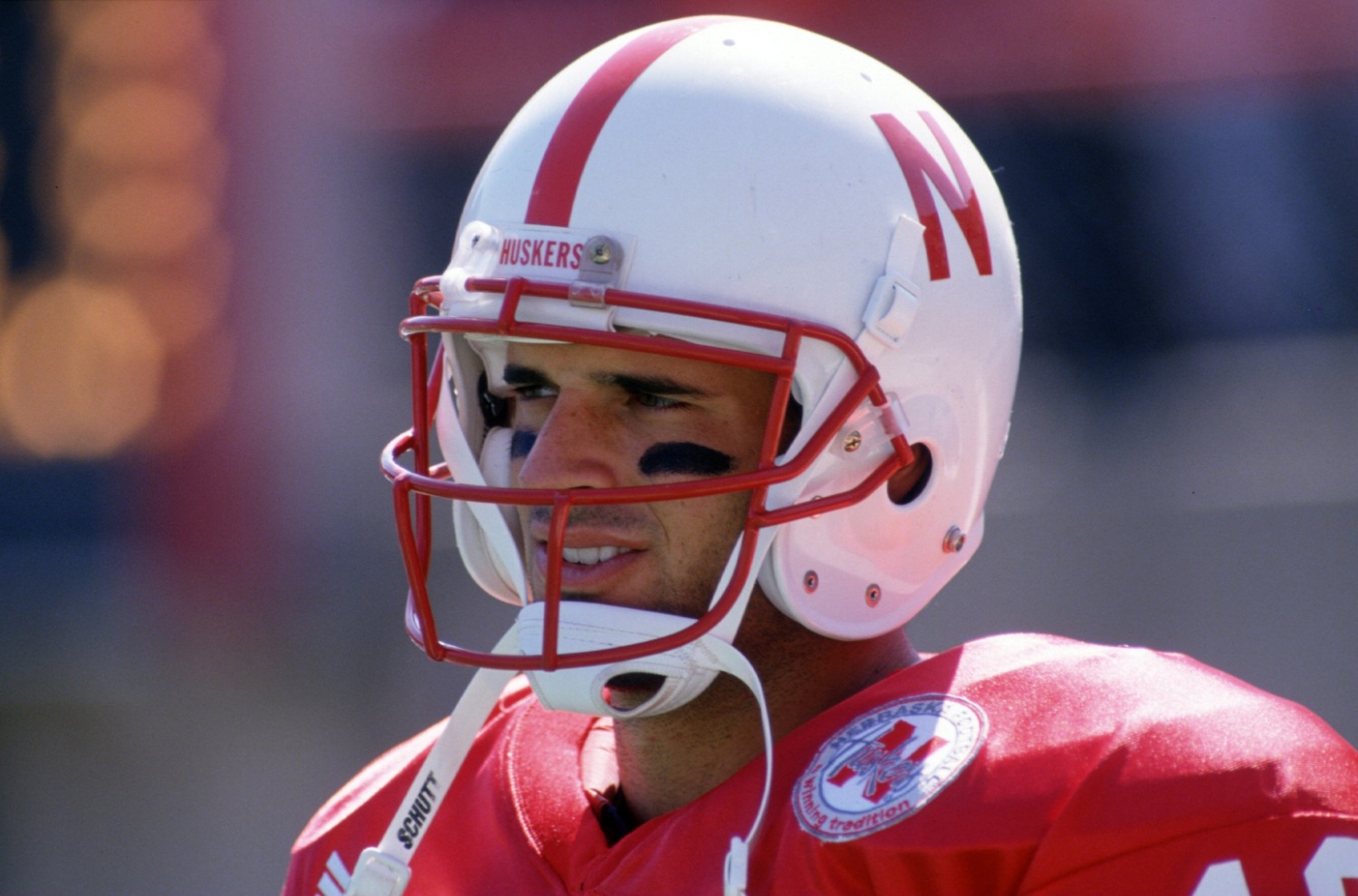 Former Nebraska QB Brook Berringer Suffered a Tragic Death Just Before the Biggest Moment of His Life
Former Nebraska quarterback Brook Berringer tragically died in a plane crash just two days before the biggest moment of his life.
Back in the mid-'90s, the University of Nebraska owned college football. Under head coach Tom Osborne, the Cornhuskers won back-to-back national titles and churned out countless NFL players. Brook Berringer should have been one of them.
Unfortunately, the quarterback who saved Nebraska's 1994 season never got a chance to fulfill his dreams of playing in the NFL. Berringer suffered a tragic death just two days before his life would have changed forever. Here's his story.
Brook Berringer became a hero at Nebraska
Brook Berringer had to grow up fast. At the age of 7, he lost his father to cancer. Despite his dad's passing, that didn't stop the Nebraskan native from living up to his athletic potential. Following a star high-school career at Goodland High in Kansas, Berringer had numerous scholarship offers. Ultimately, he decided to return to his native Nebraska.
The talented quarterback had a tough time getting on the field. As a freshman, Berringer attempted just two passes. His sophomore season looked eerily similar. With Tommy Frazier entrenched as Nebraska's starter, Berringer threw just 27 passes, though he did throw two touchdowns.
Heading into his junior year, the former high-school star started the season on the sidelines once again. However, when Frazier couldn't play due to a blood clot in his leg, Berringer finally got his opportunity to get on the field. And boy did he make the most of it.
In seven starts, Berringer completed 62 percent of his passes for 10 touchdowns and five interceptions. More importantly, he produced victories. Nebraska went undefeated in 1994, culminating in a 17-13 Orange Bowl victory over No. 3-ranked Miami that saw both Berringer and Frazier play significant snaps.
Despite stepping up in his seven-game run as a starter, Brook Berringer spent most of his senior season on the bench. Still, he had his sights set on the NFL. Only his dream of playing on Sundays never came true.
The NFL hopeful suffered a tragic death just before the biggest day of his life
Brook Berringer loved flying. In fact, in addition to being a quarterback, he also was a private pilot. Unfortunately, when he took flight on April 18, 1996, it would be the last time he ever sat in the pilot's seat.
That afternoon, Berringer and Toby Lake, the brother of his girlfriend, died when their two-seat, 1946 Piper J-3 Cub crashed into an alfalfa field in Raymond, Neb. The plane crashed just after takeoff. According to the New York Times, Harold Danly, an assistant fire chief at the scene, said Berringer and Lake had died by the time firefighters arrived.
Berringer had flown more than 100 hours in the three years prior to his death, according to Harry Barr, the owner of the plane. His death sent shockwaves through the football community, and for good reason. Beloved by Nebraska fans, the quarterback had an NFL future ahead.
Berringer died just two days before the 1996 NFL draft. Despite spending most of his college career on the sidelines, he very likely would have been at least a late-round selection. Instead, his dream of making it to the NFL vanished on April 18.
Berringer's star teammate also died much younger than expected
Brook Berringer's tragic death robbed Nebraska of one of its most beloved players. He wouldn't be the only player from those championship squads to die young. Twenty years later, Berringer's former teammate, Lawrence Phillips, died by suicide in his prison cell.
Phillips dominated as a dynamic running back for the Cornhuskers before getting drafted sixth overall in 1996. Of course, Brook Berringer never got a chance to hear his name called that year. Phillips never lived up to his prodigious physical talent in the NFL.
He couldn't stay out of trouble and ended up getting a 31-year prison sentence in December 2009 for multiple convictions. He then faced a first-degree murder charge after his cellmate was found strangled to death.
Lawrence Phillips died at the age of 40. Brook Berringer was just 22 when he died, just two days before the biggest moment of his life.