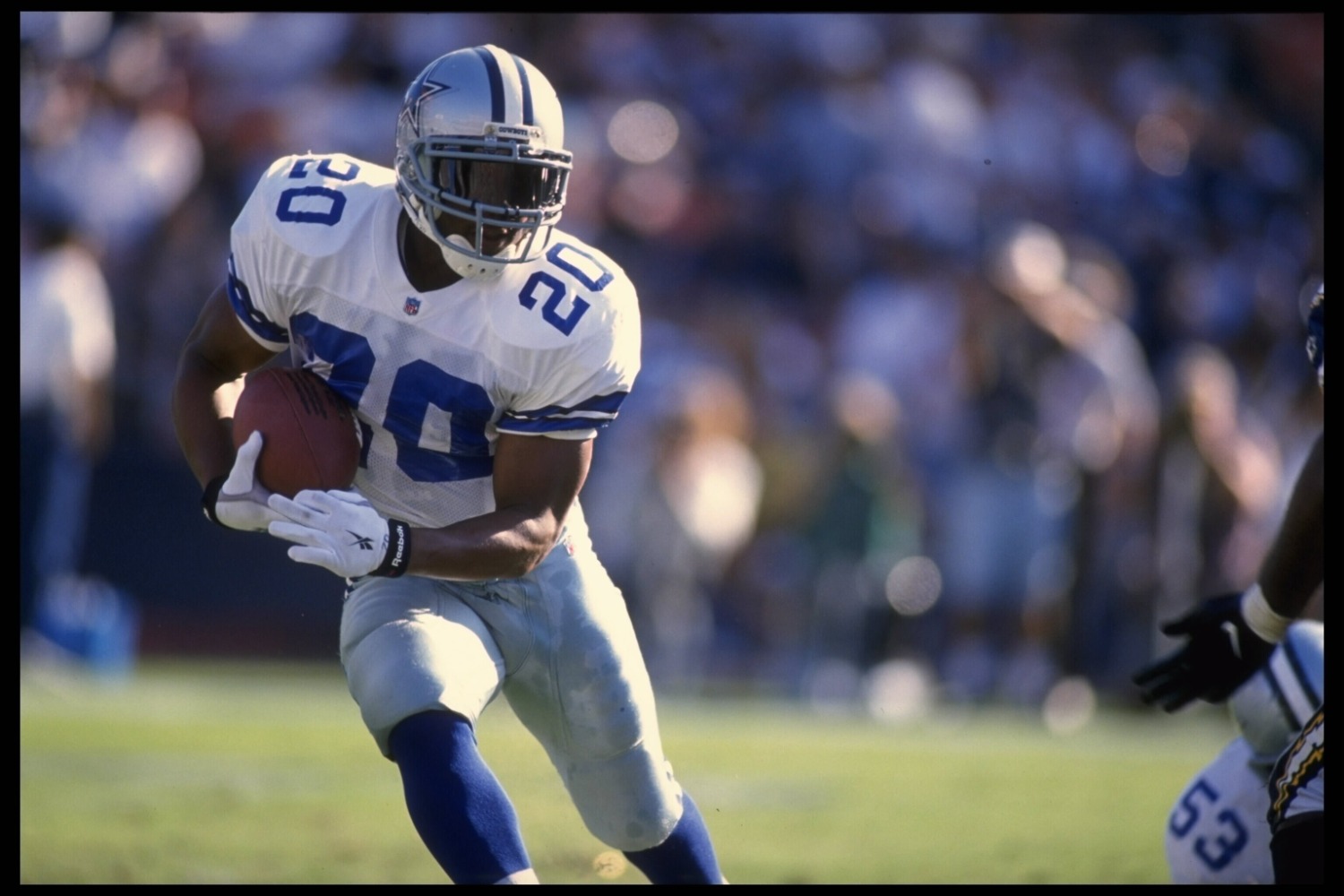 Former Cowboys RB Sherman Williams Spent More Time in Prison Than the NFL Before Turning His Life Around
Sherman Williams never lived up to expectations with the Cowboys. The disappointing RB actually spent more time in prison than in the NFL.
The Dallas Cowboys appeared to have landed a potential star when Jerry Jones drafted Sherman Williams back in 1995. After all, he made the leap to the NFL after a terrific career at the University of Alabama. Yet, the man tasked with backing up Emmitt Smith never lived up to his potential.
Williams ended up spending just five years in the NFL. Unfortunately for the former SEC standout, he would go on to spend more time in prison than he did suiting up on Sundays. But after serving his sentence, Sherman Williams has managed to turn his life around. Here's his story.
Sherman Williams never lived up to the hype with the Cowboys
Born in Mobile, Sherman Williams had the perfect path to NFL stardom. Following a dominant career at Mattie T. Blount High, he earned a scholarship to play for the Crimson Tide. He spent his first two years as a backup before taking over starting duties. Williams racked up 738 rushing yards on 168 carries as a junior before exploding for 1,341 yards in 1994.
The 5-foot-8, 198-pound running back entered the 1995 NFL draft as one of the top prospects at his position. Ultimately, the Cowboys made Williams the seventh running back off the board in the first 46 picks. Ironically, two backs drafted much later turned out to be Hall of Famers in Curtis Martin and Terrell Davis.
By selecting Williams, the Cowboys seemingly secured a high-upside backup for Emmitt Smith. But as Dallas fans quickly learned, Williams just couldn't cut it at the next level. After averaging 4.3 yards per carry as a rookie, he mustered just 3.9 yards per carry in each of the next two seasons. In 1998, that number fell to 3.4. Williams also fumbled nine times on 302 carries.
Dallas actually cut the disappointing tailback multiple times before bringing him back. But just one game into the 1999 season, Jerry Jones finally brought Sherman Williams' Cowboys career to an end. Only nobody could have expected that he would soon swap out his jersey and pads for a prison jumpsuit.
Williams' fall from NFL running back to prison inmate
Sherman Williams' fall from grace mirrors that of several other former NFL players. The common theme? Drugs. Unfortunately, Williams' own legal troubles did nothing to dissuade future players like Travis Henry and Sam Hurd from sacrificing their freedom by getting involved in drug trafficking.
In 2000, Williams got convicted on charges of conspiracy to distribute marijuana and passing counterfeit currency. He received a sentence of 15 years, eight months. When he got arrested, authorities seized about 1,000 pounds of marijuana in Alabama and Texas.
According to Tommy Deas of Tuscaloosa News, Williams' downfall both legally and professionally can be traced back to some bad decisions.
"At one point, my whole life was centered on football, and becoming a successful athlete," Williams said this fall in a letter to The Tuscaloosa News. "As I pursued this home and dream, I had to make many decisions along the way. Unfortunately, I didn't always get it right. In fact, the wrong decisions I made are why I am where I am right now; at the mercy of God while praying for forgiveness of my transgressions.

Sitting in a cell gave the former Cowboys back time to reflect. And suffice it to say he had more than a few regrets.
"I regret not paying closer attention to the messages that were preached to me over time; especially ignoring the values that my mother tried so hard to instill in me," Williams said. "I let a lot of people down, including the fans who were counting on me.
The former Cowboy turned his life around after serving his time
After spending more than a decade in prison, Sherman Williams finally got his freedom in March 2014. Given a second chance at life, he embarked on a path of redemption. And he certainly has taken advantage of the opportunity to not only better himself but also his community.
The Alabama native returned to school in January 2017 to complete the rest of the coursework required to earn his degree. And in May 2018, he walked across the stage at the age of 44. That represented a monumental achievement for someone who spent years behind bars.
"It was not easy by no stretch of the imagination, and I didn't make it any easier for myself with my past history. That was a little bit of a hindrance. But God is good, and he worked everything out to where it was a thankful situation for me," Williams told Mark Inabinett of AL.com.
In addition to getting his degree, Sherman Williams also founded the Palmer-Williams Group with former Alabama teammate David Palmer. The group assists socially disadvantaged children.
"I wanted to get involved in the community and be a part of what's going on and be a part of the solution and try to find a solution for the problems. I once was part of the problem. I understand the problem side. Now I want to get out in the community and be part of the solution," Williams said.