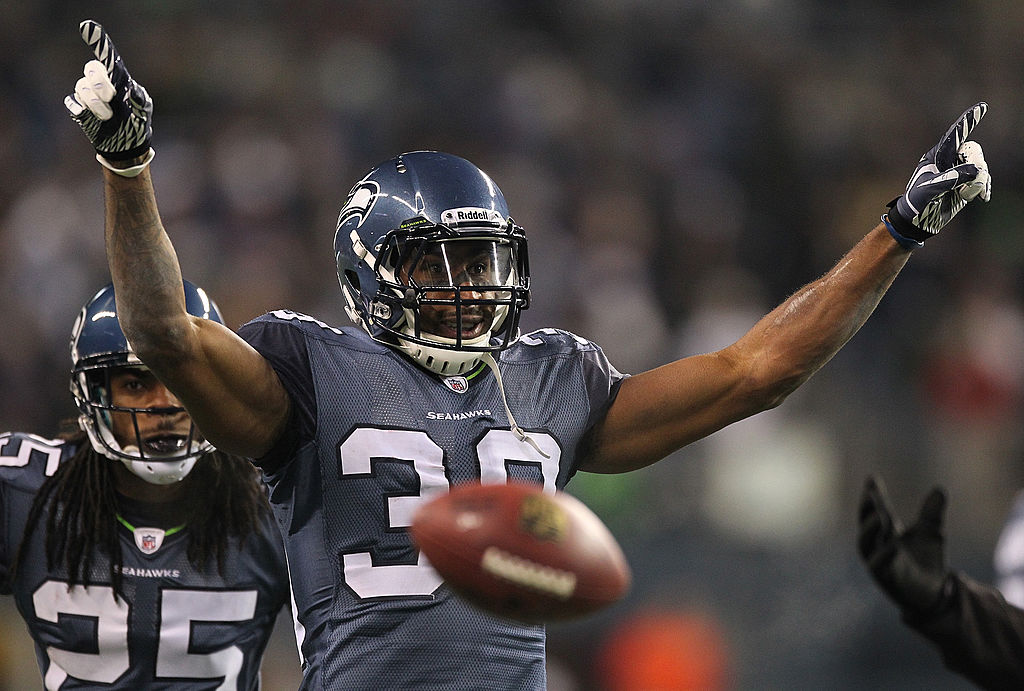 Brandon Browner's Fall From Seahawks Star to Wasco State Prison Inmate
Brandon Browner won Super Bowl rings with the Seahawks and Patriots. Now, he spends his time behind bars at Wasco State Prison.
Brandon Browner carved out a reputation as one of the NFL's most physical cornerbacks with the Legion of Boom. The former Seattle Seahawks star won two Super Bowl rings in his career, including one with the New England Patriots. Yet, Browner's stardom faded fast due to legal troubles. Now, he spends his days behind bars at Wasco State Prison.
Brandon Browner was a key member of the Legion of Boom
Like most members of the Legion of Boom, Brandon Browner entered the NFL with little hype. Earl Thomas arrived as a first-round pick, but Richard Sherman and Kam Chancellor got selected in the fifth and fourth rounds, respectively. Incredibly, Browner didn't get drafted at all. Still, that didn't stop the Seahawks from signing the 6-foot-4, 221-pounder out of Oregon State.
Despite his undrafted status, the hulking corner wasted no time making an immediate impact. In fact, his rookie year ended up being the most successful of his five-year career. Starting all 16 games, Browner recorded six interceptions, including two pick-sixes. He led the NFL with 23 passes defended while chipping in 54 tackles. The California native earned a Pro Bowl berth, which he would never receive again.
Over the next two years, Browner started 20 games for the league's most dominant secondary. Unfortunately, he didn't get a chance to play in Seattle's Super Bowl victory against the Denver Broncos due to a PED-related suspension.
Browner signed with the Patriots in 2014 and won another Super Bowl ring starting opposite Darelle Revis. He played a pivotal role in securing the victory by jamming Jermaine Kearse to enable Malcolm Butler to snag the game-clinching interception. Browner ended up playing one year in New Orleans before returning to Seattle. He got cut before the start of the 2016 season and never played another NFL down.
Former Seahawks star ran into legal troubles in recent years
Brandon Browner's NFL career ultimately lasted just five years. Since his playing days ended, he's made headlines for the wrong reasons. In October 2017, TMZ Sports reported Browner had been arrested in May on drug-related charges.
The La Verne Police Dept. has confirmed 33-year-old Browner was arrested on May 25 at 7:04 AM after cops say he was in possession of a controlled substance and under the influence. Our law enforcement sources tell us the substance in question is cocaine.
According to the report, he was released shortly after the arrest. However, Browner got arrested again in Los Angeles just a few months later for allegedly making criminal threats against a woman. As it turns out, that was just the beginning of the story of Brandon Browner's legal troubles.
Browner is now an inmate at Wasco State Prison
Brandon Browner ultimately swapped an NFL jersey for a prison jumpsuit. The man who once donned No. 39 for the Seahawks and Patriots is now known as inmate No. BL7078 at Wasco State Prison. So how did he end up behind bars?
According to Michael-Shawn Dugar of The Athletic, several incidents eventually led to Browner going from an NFL star to a prison inmate. After he got arrested in September 2017, Browner's girlfriend tried to get a restraining order against him after an alleged assault left her with black eyes, a broken tailbone and a ruptured eardrum.
About nine months later, Browner received a sentence of three years' probation and served two days in jail after he pleaded no contest to battery and child endangerment charges. The sentence also included partaking in a 52-week domestic violence treatment program. Unfortunately, that was far from the end of Browner's legal troubles.
But just weeks later, police responded to reports of a man attempting to enter Browner's girlfriend's home in La Verne, Calif., through a locked window. Police say Browner stole her $20,000 Rolex watch, threatened to kill her, prevented her from leaving the house and attempted to smother her. Browner left the home before the police arrived, but later that day, he was arrested in nearby Azusa. He was charged with attempted murder, robbery, burglary, false imprisonment and child endangerment.

Once again, Brandon Browner pleaded no contest. This time, he received a much stiffer punishment. In 2018, he received an eight-year prison sentence. After a judge denied his attempt to have the decision vacated, he got sent to California's Wasco State Prison on March 9. The father of three will be eligible for parole in 2024.