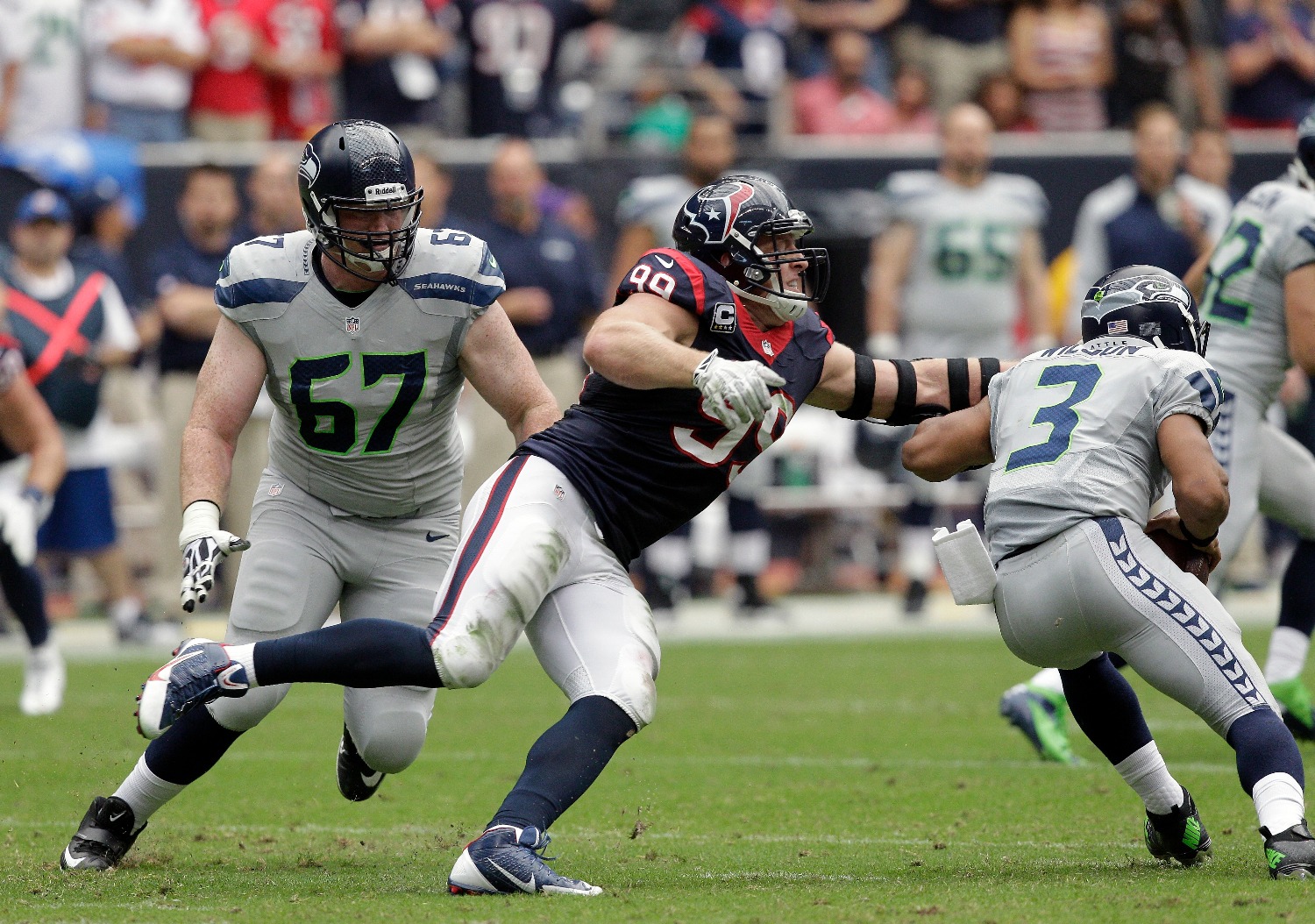 Russell Wilson Has Already Embraced the NFL's Idea That J.J. Watt Hates
Russell Wilson is taking an extreme measure to prepare to do something that J.J. Watt has said he refuses to do.
Russell Wilson has made a living out of doing things differently. The superstar quarterback for the Seattle Seahawks certainly doesn't check the boxes you normally associate with a franchise quarterback. Now, the man who somehow has never garnered a single MVP vote is taking an extreme measure to prepare to do something that J.J. Watt flat-out refuses.
J.J. Watt refuses to wear face covering
With COVID-19 changing the world as we know it, the sports industry has had to deal with the pandemic in its own way. The 2020 NFL draft got conducted virtually. OTAs and minicamps never happened. Some players have even tested positive for COVID-19.
Of course, the league has had to consider how exactly players can safely begin practicing in preparation for the 2020 NFL season. And with concerns about infections and player safety, one solution involves players wearing face shields built into their helmets.
That measure apparently would be far too extreme for J.J. Watt. In fact, the Houston Texans star already made it clear he has no intention of playing if the NFL forces players to don the protective face shields this season.
However, while Watt has expressed his displeasure about the possibility of playing with a shield or some type of protective element in his helmet, Russell Wilson has taken a vastly different approach to the proposed safety measure.
Russell Wilson takes extreme measure to prepare for 2020 NFL season
With training camp supposedly around the corner, Russell Wilson has been hard at work preparing for his ninth NFL season. The unquestioned leader of the Seahawks has had to consider the implications of playing during the COVID-19 pandemic. With his wife pregnant and the NFL lacking a clear plan on how to ensure player safety, he has not been afraid to voice his concerns.
Still, that hasn't stopped him from preparing to play this fall in what should be the most unique season in NFL history. And in a recent interview with Joel McHale on Jimmy Kimmel Live, Wilson revealed the extreme measure he has taken to prepare to do something that J.J. Watt refuses.
In discussing the possibility of the NFL forcing players to wear a mouth shield this season, Wilson said, "I've actually been practicing with it though every day just so I can get used to it if we have to. But, you know, we're already out there already, you know? So it's a little bit late maybe for that."
You couldn't have a more different approach from one NFL star than the other. While Watt has no interest in conforming to a face shield policy, Wilson is putting the burden on himself to prepare for that possibility by training with a shield. In reality, Watt seems rather foolish for refusing to wear a protective face shield that could prevent further health problems.
Shield or no shield, Wilson will have to carry the Seahawks once again
Whether he has to wear a face shield or not, Russell Wilson absolutely remains one of the most valuable players in football. In fact, you could argue that no player carries his team more than the former third-round pick.
The Seahawks have never posted a losing record in Wilson's eight-year career. He has never missed a game. And yet he has somehow never garnered a single MVP vote. Talk about a travesty.
Wilson will once again shoulder the load for a Seahawks squad that finished 11-5 last year. Seattle did bring in veterans Greg Olsen and Carlos Hyde to provide a talent upgrade on offense. However, the offensive line still looks like a major question mark—a staple of Wilson's entire tenure.
Ultimately, the seven-time Pro Bowler will depend on his two-headed receiver tandem of Tyler Lockett (82 catches, 1,057 yards, 8 TD) and D.K. Metcalf (58 catches, 900 yards, 7 TD) to make big plays in the passing game.
Will that be enough to qualify for the playoffs in a stacked NFC West division? Who knows, but as we've come to learn over the last eight years, it's never a smart idea to doubt Russell Wilson.
Statistics courtesy of Pro Football Reference