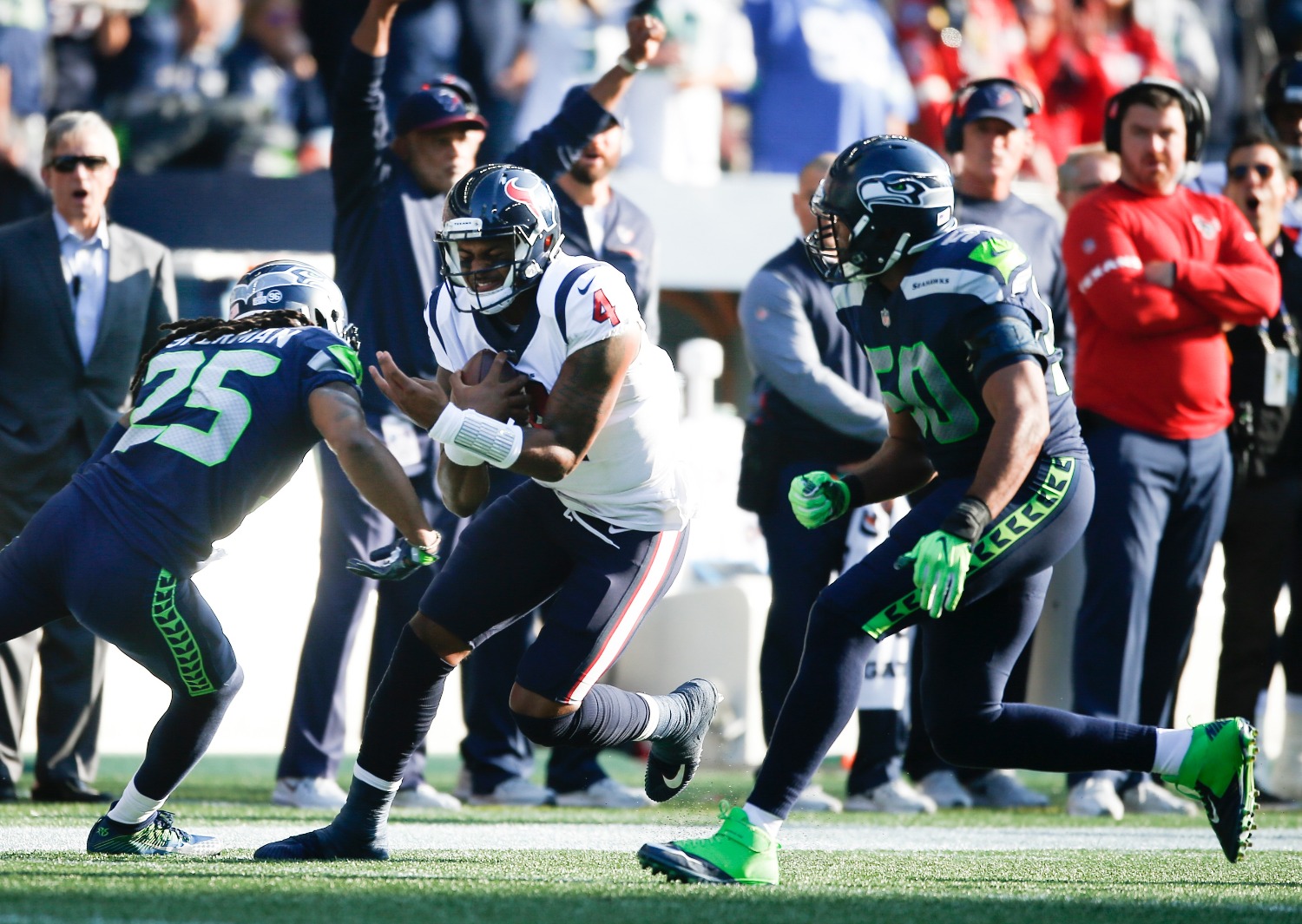 Richard Sherman and Deshaun Watson Just Made the NFL Look Like Complete Hypocrites
Richard Sherman and Deshaun Watson exposed the NFL's hypocritical COVID-19 plan to ban post-game interactions, including jersey swaps.
Aside from his stellar play on the field, Richard Sherman has rightfully earned a reputation as one of the most insightful players in the NFL. The San Francisco 49ers corner never holds back when it comes time to give his opinion. And with the NFL instituting strict COVID-19 safety measures, Sherman and Deshaun Watson wasted no time exposing the hypocrisy of the league's plan.
COVID-19 has already had a major impact on the NFL
The COVID-19 pandemic has completely turned the world upside down. From a sports perspective, concerns about player safety have led to some drastic measures. The NFL has already dealt with the pandemic in a number of different ways.
First, the 2020 NFL draft represented a radical change from the typical format. Instead of having players walk across the stage, Roger Goodell announced the selections from his home. It certainly seemed strange to watch Joe Burrow hear his name called from Goodell's basement rather than the luxurious backdrop of Las Vegas.
With OTAs and mini-camps clearly not an option, players have had to change their training habits. Pittsburgh Steelers wide receiver James Washington has spent ample time working out on his massive farm in Texas. Kirk Cousins went home to work out in his parents' driveway.
Plus, the COVID-19 pandemic made it difficult for free agents to take visits. Cam Newton lasted months on the market due in large part to concerns about his health. Since teams could not get all the medical information or conduct physical exams in-person, Newton went unsigned until Bill Belichick stole him for pennies on the dollar.
Richard Sherman exposed the NFL's hypocritical COVID-19 plan
We still have a long way to go until football resumes. But on Thursday, the league officially implemented some drastic changes to combat the COVID-19 pandemic. NFL Network's Tom Pelissero tweeted that NFL teams will be forbidden from post-game interactions within six feet of each other. In addition, players cannot partake in the post-game tradition of swapping jerseys.
On the surface, this may seem like a reasonable safety precaution. After all, limiting interaction between any two parties should help reduce the chances of infection. However, thanks to Richard Sherman, you can now see the hypocrisy of the NFL's COVID-19 safety plan.
In response to Pelissero's tweet, Sherman offered his thoughts on the jersey-swap ban. And let's just say he makes a very good point about how hypocritical the NFL looks for banning post-game jersey exchanges.
"This is a perfect example of NFL thinking in a nutshell. Players can go engage in a full contact game and do it safely. However, it is deemed unsafe for them to exchange jerseys after said game."
Sherman certainly makes you wonder what exactly the NFL can accomplish by instituting such a measure. After all, players will spend hours in close proximity to each other. Linemen will literally be face-to-face and have direct contact on every play. So how exactly does banning jersey swaps help the situation if players have already come in contact before the final whistle?
Deshaun Watson isn't a fan of the jersey swap restriction either
Apparently Richard Sherman isn't the only NFL superstar to see the problem with the NFL's COVID-19 measures. Deshaun Watson also responded to Pelissero's tweet. And suffice it to say, the soon-to-be-paid superstar doesn't approve of the post-game restrictions.
While Watson did not have quite as long of a response, he perfectly summed up the situation by calling the measure "damn silly."
He may have lacked Sherman's elegance, but Watson still makes a solid point. How silly does the NFL look for taking away an annual tradition when the players have already exposed themselves to contact for an entire game? NFL games aren't pretty. Players spit, sweat, and sometimes bleed. Just consider how many players touch the ball in a single game.
Does banning jersey swaps really do much to stop the spread of COVID-19? At the end of the day, at least Richard Sherman and Deshaun Watson have done their part to expose the hypocrisy of the NFL's ridiculous ban on postgame jersey swaps. Let's just see if players follow the rules.