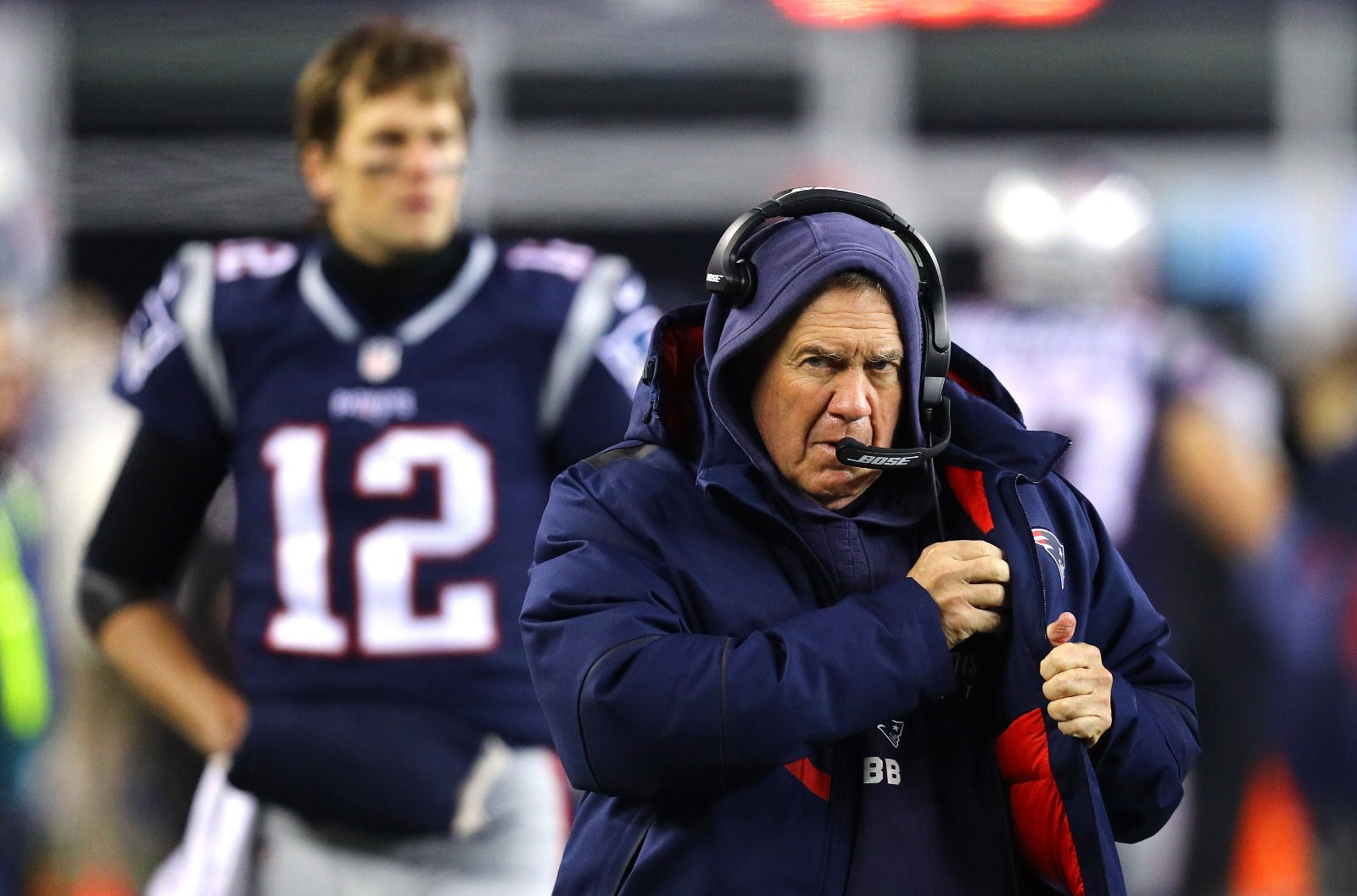 Cam Newton Just Became Bill Belichick's Best Bargain Signing
Bill Belichick let Tom Brady walk, but the Patriots head coach stole a high-upside, low-cost replacement in former NFL MVP Cam Newton.
When Bill Belichick let Tom Brady walk away this offseason, some viewed it as the first step of a rebuilding plan. Others saw it as an easy excuse to tank the 2020 season in order to secure a better draft position to find the next franchise quarterback. That couldn't be further from the truth.
Instead, the NFL's shrewdest general manager waited patiently in the weeds before pouncing on his prey. And by signing Cam Newton to a one-year, league-minimum deal (plus incentives), Belichick stole Brady's replacement for just $1 million.
Bill Belichick made little effort to replace Tom Brady during the offseason
For 20 years, the Patriots dominated the NFL thanks to the brilliance of Belichick and Brady. Together, the two football icons won six Super Bowls and made winning the AFC East an annual tradition. However, in recent years, the relationship soured. Brady wanted long-term financial security. Belichick refused to commit tens of millions of dollars to an aging QB.
And so, the two officially divorced this offseason. The greatest quarterback of all time swapped the cold confines of Gillette Stadium for the warm weather of Tampa. He even coaxed Rob Gronkowski out of retirement.
Meanwhile, Belichick made little effort to replace his longtime starting quarterback. New England did bring back veteran Brian Hoyer, but he has spent the majority of his NFL career as a backup. Hoyer certainly has experience but offers little upside.
By all accounts, it looked like Jarrett Stidham would be the most likely candidate to replace Brady. The promising second-year signal-caller joined the Patriots as a fourth-round pick last year. He played well in the preseason and even beat Hoyer out for the backup gig. However, given his inexperience, Stidham may need more seasoning before taking over.
Of course, his chances of opening the 2020 NFL season as the Patriots' starting QB just took a major hit on Sunday night thanks to the economic brilliance of Bill Belichick.
Patriots sign Cam Newton to replace Brady
Given their relative inactivity at the QB position, the Patriots may have fooled some people into thinking Stidham had the job essentially locked up. Those people look foolish now. On Sunday night, ESPN's Adam Schefter broke the news via Twitter about Cam Newton signing with New England.
For Patriot Nation, bringing in a quarterback with Newton's resume represents a monumental win. Sure, the 2015 NFL MVP has holes in his game. Nobody has ever tried to pigeonhole Newton as a pocket quarterback with tremendous accuracy.
However, the longtime Carolina Panthers starter does have a track record of success despite playing with some lackluster supporting casts. Plus, Newton's running ability gives Josh McDaniels another element to add to his offense.
But the best part about signing Cam Newton? The price.
Newton's incentive-laden deal makes him a classic Belichick bargain
With the least amount of cap space in the league, the Patriots literally couldn't afford to make a major free-agent splash. In fact, New England mostly let players go and only brought in a few low-cost veterans. But by waiting patiently for all the other starting quarterback gigs to dry up, Bill Belichick masterfully played the market and landed Brady's replacement.
Best of all, Cam Newton arrives on a one-year deal that reportedly will be for the league minimum salary. Based on his nine years in the league, Newton's salary should check in at $1.05 million. Of course, he has the ability to earn up to $7.5 million through playing incentives that have not been made public yet.
Considering Tom Brady still counts $13.5 million against the Patriots' 2020 salary cap, Belichick made sure to get the economics right with his replacement. If Newton recaptures his prime form now that he's healthy, he will likely earn at least a portion of those incentives.
But at the end of the day, the fact that he had to settle for the league minimum should scare the rest of the NFL. A motivated Cam Newton stepping in for Tom Brady makes the Patriots a legitimate Super Bowl contender. And with Bill Belichick as his coach, don't be surprised to see the former No. 1 overall pick take his game to new heights in Foxborough.