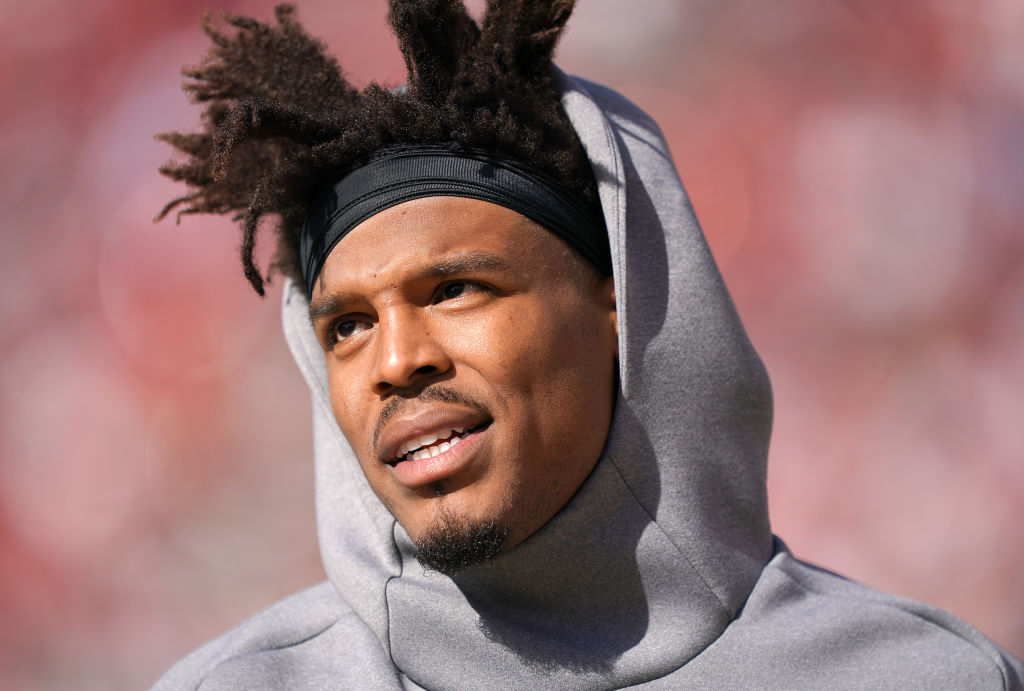 Cam Newton Is Stuck on the NFL's Loneliest Island
Cam Newton still hasn't found a new home after spending his entire NFL career with the Carolina Panthers. Where will he end up signing?
There really isn't another NFL quarterback quite like Cam Newton. After all, he's built like a defensive end, and in his prime, he could put running backs to shame. The longtime Carolina Panthers starter built a reputation as one of the league's most unstoppable forces thanks to his unique skill set. Now, though, the one-of-a-kind signal-caller is the only member of a group that he shouldn't be proud of.
Cam Newton's up-and-down Panthers career
When the Panthers made Cam Newton the No. 1 overall pick in the 2011 NFL draft, it looked like a home-run selection. In his only season at Auburn, the 6-foot-5, 245-pound freak of nature lit up the SEC and led the Tigers to a national title. Swapping out his Tiger stripes for Panthers colors, Newton hit the ground running. As a rookie, he topped 4,000 passing yards. More impressively, he totaled 706 rushing yards and 14 touchdowns. Carolina's new face of the franchise earned his first Pro Bowl selection and seemed to be well on his way to becoming the NFL's biggest star.
Newton may have been a fantasy football star, but he didn't develop into an elite quarterback. After completing 60 percent of his passes in year one, the dynamic playmaker failed to hit that threshold in all but two of his next eight seasons. Newton did earn league MVP honors in 2015 thanks to 35 passing touchdowns and 10 more on the ground.
However, injuries took a toll on the towering QB. Newton's throwing shoulder became a serious issue in his last few years in Carolina. Last season, he played just two games before landing on injured reserve with a Lisfranc fracture. Despite his prolific physical gifts, Cam Newton never posted consecutive winning seasons with the Panthers.
Falling from an opening day starter to an unsigned free agent
Earlier this offseason, the Panthers finally cut ties with their longtime starter. Newton went 68-55-1 in his nine-year run in Carolina. He led the Panthers to four playoff berths, including one Super Bowl appearance. However, the Denver Broncos dominated the matchup and emerged victorious by a final score of 24-10.
But after starting 124 games since he entered the NFL, Newton has been greeted to a silent free-agent market. Several teams looked like logical fits, including the Los Angeles Chargers, Chicago Bears, Jacksonville Jaguars, and even the New England Patriots. Yet, none of those teams took a shot on the former league MVP. Instead, the Chargers drafted Justin Herbert, the Bears traded for Nick Foles, the Jaguars brought in Mike Glennon, and the Patriots brought back Brian Hoyer to compete with promising second-year QB Jarrett Stidham.
Meanwhile, Tom Brady took his talents to Tampa. Andy Dalton surprisingly signed with the Dallas Cowboys as a valuable insurance policy in case Jerry Jones can't lock up Dak Prescott. Philip Rivers and Marcus Mariota also found new NFL homes. To top it off, Joe Flacco inked a one-year deal with the New York Jets. With his peers off the market, Cam Newton is now the only quarterback who began the 2019 season as a starter who is currently available on the free-agent market. Talk about a fall from grace.
What NFL team will finally take a chance on Newton?
Before the offseason began, you would have been hard-pressed to find someone who believed that Newton would still be available heading into the summer. Sure, his durability concerns make him a risky investment. But just two years ago, the former No. 1 pick completed a career-high 67.9 percent of his passes while posting a quarterback rating of 94.2.
Still, Newton is stuck on an island with the "damaged goods" label. Looking at the rest of the league, it's difficult to find an obvious fit. The Patriots have a history of bringing a player aboard for a one-year revival. However, they have no cap space to accommodate a player of Newton's caliber.
The Broncos hope Drew Lock takes a leap in his second season. Adding Newton would give them a high-upside fallback option. It might take an injury in training camp (whenever that takes place) for Cam Newton to find the right opportunity. For now, he's stuck in quarterback purgatory.
Statistics courtesy of Pro Football Reference