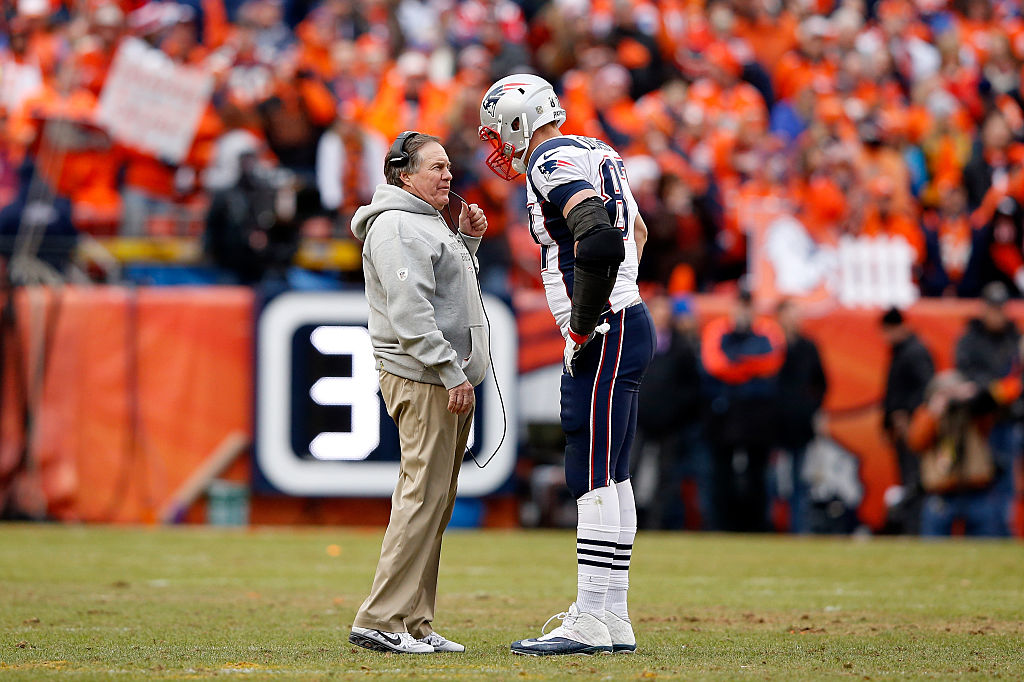 Bill Belichick Has the Perfect Plan to Replace Rob Gronkowski
Bill Belichick traded Rob Gronkowski this offseason, but the Patriots head coach has the perfect replacement plan at the tight end spot.
Bill Belichick always has a plan up his sleeve. Or at least, whatever's left of his sleeve once he makes his signature adjustments. But when Rob Gronkowski retired just before the 2019 NFL draft, he left the New England Patriots head coach in a tough spot. The team missed out on signing veteran Jared Cook. T.J. Hockenson and Noah Fant went off the board before pick 32.
In the end, the Patriots essentially punted on the position in 2019. Tom Brady went from having the greatest tight end in NFL history to a cast of scrubs. And once Gronk made it known he wanted to reunite with TB12 in Tampa, Bill Belichick obliged. Now, the Patriots head coach will get a chance to unveil his ingenious plan to replace Rob Gronkowski this season.
Rob Gronkowski retiring left the Patriots offense depleted
He may have missed a ton of time with injuries, but when healthy, Rob Gronkowski dominated unlike any other tight end in NFL history. At 6-foot-6, 265 pounds, he proved to be a matchup nightmare. Of course, Gronkowski couldn't always unleash his talents due to durability issues.
He played 16 games just once in nine years in New England. By the time he won his third Super Bowl ring, Gronk had clearly lost a few steps. Ultimately, the four-time All-Pro retired before the 2019 NFL draft. His departure left behind a sizable hole in New England's offense.
For decades, the tight end spot figured prominently into the Patriots' passing game. In 2019, it went AWOL. Ben Watson—yes the same Ben Watson who Belichick drafted in 2004—led all Patriots tight ends with 17 catches. Matt LaCosse managed just 13 thanks to a nagging ankle problem.
Combined with N'Keal Harry's slow development, Mohamed Sanu's own ankle injury, and the brief disaster known as Antonio Brown, the Patriots took a significant step back on offense. Heading into this offseason, addressing the tight end spot ranked as one of the team's top priorities.
Bill Belichick pulled a familiar NFL draft strategy at tight end
A decade ago, Bill Belichick needed to rebuild his tight end group. He first brought in veteran Alge Crumpler. Ultimately, though, he would serve a bigger role as a mentor than an on-field contributor. So who did he get tasked with tutoring? The dynamic rookie duo of Rob Gronkowski and Aaron Hernandez.
From a football standpoint, the tight end tandem turned into an unstoppable force. Gronkowski worked the seams and couldn't be stopped in the red zone. Hernandez proved impossible to tackle in the open field and moved all around the offense. Of course, his legal troubles ended his NFL career right when it seemed to be taking off.
Interestingly, Belichick mostly ignored the position over the last decade. He drafted just three tight ends from 2011-2019. They went in the fifth, sixth, and seventh rounds. That changed in April.
With Gronkowski officially a Buccaneer, the NFL's shrewdest general manager pulled an old strategy out of his playbook. Just as he did in 2010, Belichick doubled down on the tight end spot. He traded up twice in the third round to land UCLA's Devin Asiasi and Virginia Tech's Dalton Keene.
Will Devin Asiasi and Dalton Keene remind Patriots fans of Gronk and Hernandez?
Asiasi and Keene have a long way to go, but they have the potential to become a dynamic duo. The former checks in at 6-foot-3, 260 pounds, though his weight can fluctuate. He spent just one year at the University of Michigan before transferring to UCLA, where he totaled 44 catches for 641 yards and four touchdowns in 2019.
His college coach, Chip Kelly, gave a glowing review of his former tight end to Jeff Howe of The Athletic.
"His athletic ability for his size, someone that big shouldn't be that smooth an athlete," Kelly said. "His versatility is what a lot of teams in the NFL coveted, and obviously Bill saw that himself. The one thing I knew in coaching that league is there aren't a lot of guys out there, no matter what year it is, who are as big and athletic. The combination of Devin's size and athletic ability, I knew it was going to make him unique, not just in this class but any class."
Keene played all over the field at Virginia Tech and has a different build at 6-foot-4, 251 pounds. He should be a versatile chess piece for Josh McDaniels. Don't be surprised to see him line up all over the field, including in the backfield.
Moving forward, we'll have to see if his major investments in Devin Asiasi and Dalton Keene help erase the loss of Rob Gronkowski. Maybe Bill Belichick will bring back the two-tight end offense after all.