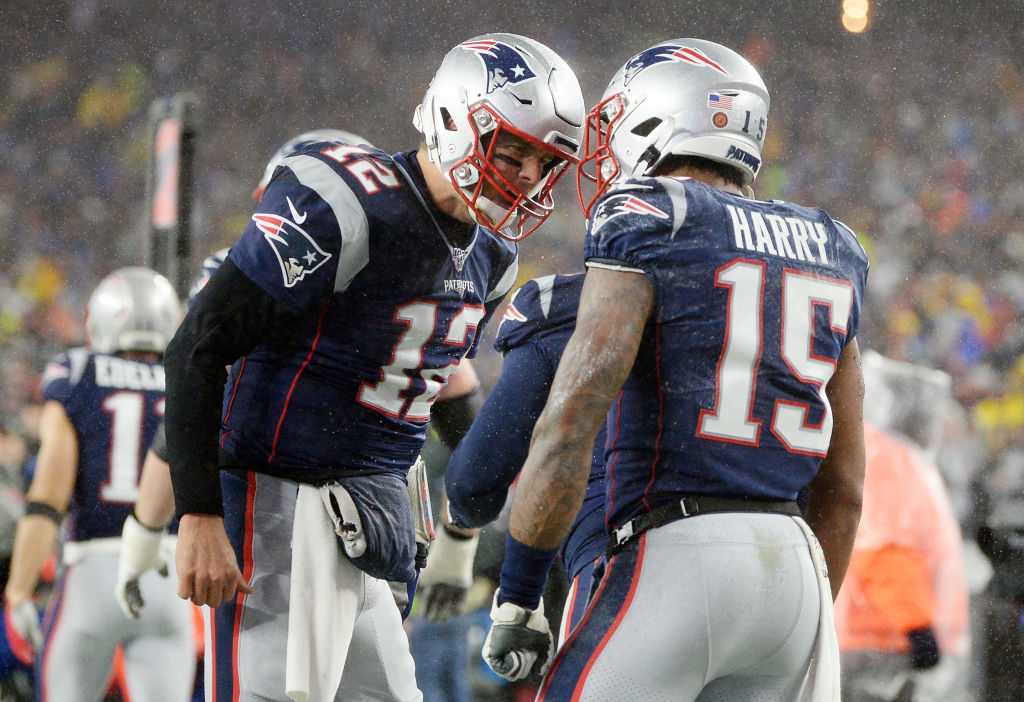 Tom Brady Rejected Bill Belichick's $10 Million Gift He Desperately Needed
Tom Brady didn't have the patience to work with N'Keal Harry despite Bill Belichick surprisingly investing a first-round pick on the WR.
For two decades, Tom Brady and Bill Belichick made magic together. The two NFL icons turned the New England Patriots into the most successful dynasty in sports. Some would argue that TB12 had more to do with the team's six Super Bowl titles. Others point to Belichick's masterful ability to keep winning despite the salary cap and free agency.
While his moves haven't always worked out, Belichick did make a huge investment to help his quarterback last season. But ultimately, Brady rejected the gift that could have helped the Patriots make another Super Bowl run.
Bill Belichick finally drafted a first-round receiver for Tom Brady
Tom Brady spent most of his Patriots career throwing to receivers drafted well after the first round. Sure, he got a chance to work briefly with Randy Moss. But his top targets included Julian Edelman (seventh-round pick), Rob Gronkowski (second-round) and Wes Welker (trade acquisition).
In fact, Bill Belichick never spent a first-round pick on a receiver…until Brady's final season. New England surprised everyone by selecting N'Keal Harry with the 32nd pick of the 2019 NFL draft. The former Arizona State star garnered first-round grades, but his lack of quickness and separation ability made him an odd fit for New England.
Still, the Patriots desperately needed to bolster their wide receiver room. Even after adding Harry, they still signed Antonio Brown. Of course, that wouldn't have been necessary if Harry had become an instant starter. Injuries held him back tremendously. So did his quarterback.
Brady reportedly had no desire to wait for N'Keal Harry to develop
N'Keal Harry suited up just seven times during the regular season. Given his time away from the field, Harry never got on the same page as TB12. It would have helped if his quarterback gave him a chance. But in an appearance on WEEI, Christian Fauria, one of Brady's former teammates, explained how TB12 didn't have time for his rookie wideout.
"This offense is not going to be able to move forward with Brady as the quarterback, not because he sucks. Those throwaways were important. It's because he wasn't willing to adapt. There's the difference. He wasn't willing to let N'Keal Harry grow."



Harry only caught 12 passes from Brady in five regular-season starts. He showed poor chemistry and timing, especially in New England's playoff loss in which he caught two of seven targets for 21 yards. However, Brady may have played a factor in the overall struggles for both Harry and the offense and would limit the unit going forward.
"A veteran quarterback who wants to win and throw the football and is not willing to take risks and doesn't want his stats being messed with and won't throw interceptions and would rather throw it out of bounds, that's the guy that is going to delay the development of your star wide receiver who you won't throw the ball to because you don't trust him because he doesn't have a long enough track record," Fauria said.
Will Harry emerge as a star with Jarrett Stidham?
It's crazy to think that N'Keal Harry might benefit from not playing with the greatest quarterback of all time. It seems sacrilegious. Yet, if Fauria's words hold true, the young wideout didn't stand a chance of living up to his first-round potential with the 42-year-old Brady.
Moving forward, Harry's only chance of living up to his $10 million rookie deal is to become Jarrett Stidham's No. 1 target. Both second-year pros enter the 2020 season with major question marks. For Harry, he has to show that he can separate against NFL corners. Plus, he has to stay healthy after missing too much time with injuries.
Stidham has enormous shoes to fill. He essentially redshirted his rookie season and now has to take over for the GOAT. In the 2019 preseason, Stidham and Harry showed flashes of potential. Now the real test comes when both open the season as starters. No pressure, kids.