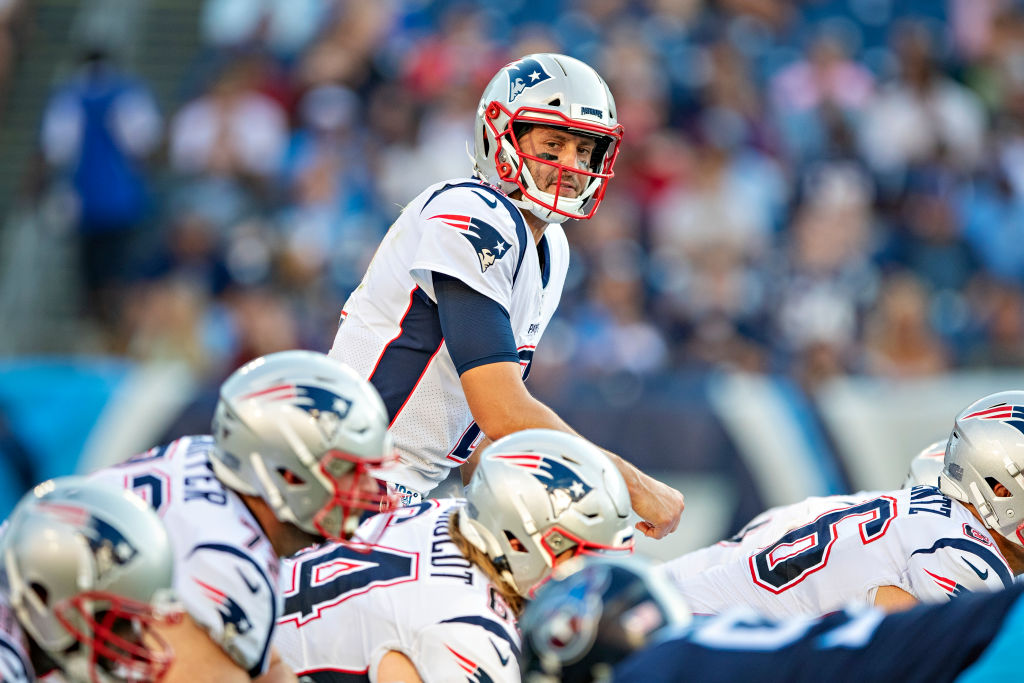 Brian Hoyer Might Have a Key Advantage Over Jarrett Stidham in the Race for the Patriots' Starting Job
While Jarrett Stidham seems poised to be Tom Brady's successor, one key factor may help Brian Hoyer claim the Patriots' starting quarterback job.
When the 2020 NFL season begins, things will be a bit different for the New England Patriots. With Tom Brady in Tampa Bay, it looks like either Jarrett Stidham or Brian Hoyer will slot in as the club's starting quarterback. Beyond that, though, things aren't cut and dry.
While most believe that Stidham will be Bill Belichick's next starting quarterback, one former Patriot isn't so sure. According to Rob Ninkovich, one particular reality actually gives Brian Hoyer an advantage in the race for the starting job.
Either Jarrett Stidham or Brian Hoyer will be the Patriots starting quarterback
For the past two decades, Tom Brady was the first name on the New England Patriots depth chart. With the veteran signal-caller now in Tampa Bay, however, things will be a bit different in 2020.
Barring any unforeseen changes, the Patriots will enter the season with Jarrett Stidham and Brian Hoyer as their two leading quarterback candidates. The former QB showed flashes of potential at Auburn and spent 2019 as Brady's backup; the latter has been in the NFL since 2009, bouncing between teams in need of a veteran presence.
While it's impossible to get inside Bill Belichick's mind, the general assumption is that Stidham will start the season under center. His pedigree and time with Belichick and Brady have made him the leader in the clubhouse; Hoyer, on the other hand, has generally been pegged as a security blanket, capable of running the offense and managing his way through games.
The coronavirus could give Brian Hoyer the edge over Jarrett Stidham
In the past few months, the coronavirus pandemic has changed the entire world, including professional sports. While the NFL has managed to move things online rather than suspending operations, that change may have given Brian Hoyer an inside track to the Patriots starting job.
"I think Brian Hoyer will be the starter Week 1 and I say that because the quarterback position is one of the most important for reps under center, seeing defensive looks, looking at coverage, understanding the offense," Rob Ninkovich, who spent eight seasons with the Patriots, said on ESPN, via WEEI. "There's no minicamp, there's no offseason, there's no training camp. We don't know when that's going to happen. So if you have a veteran quarterback who has been in the system, understands what to expect what an NFL season is like, you're gonna want to go with a guy who has the veteran leadership [and] also what it takes to be in that building."
For all of Jarrett Stidham's potential, he's only made three cameo appearances and thrown four passes in the NFL. In Ninkovich's eyes, throwing him into the deep end would simply be too much, too soon.
"Look, when you're a second-year player, you really don't realize what a season's like as a starter," the former linebacker continued. "You don't understand what it's going to take, and not having an offseason does not help. So, Brian Hoyer will be the starter Week 1."
Regardless of the quarterback, 2020 will put the Patriots to the test
At this point, it's tough to know what tomorrow holds, let alone the end of the summer; NFL training camp could open without a hitch or, for all anyone knows, the season might not start as planned. Regardless of those uncertainties, though, the New England Patriots will have a tough 2020 campaign, regardless of who's under center.
During 2019, the Patriots offense never truly clicked. While they put up plenty of points, the unit became fairly one dimensional. Without Rob Gronkowski or a solid number two receiver—so much for Mohamed Sanu—Tom Brady's hands were tied; opposing defenses simply blanketed Julian Edelman, forcing the quarterback to throw to an assortment of unproven players.
Brady might be gone, but the offensive situation isn't drastically different. While the unit's collective health should be better and Bill Belichick did draft two tight ends, the Patriots don't have a great deal of elite talent on offense. With either Jarrett Stidham or Brian Hoyer under center, expect opposing defenses to stack the box and take away ground game; if things don't click, we could see an encore of last year's performance, albeit with a worse quarterback.
Over the past two decades, Bill Belichick has built a reputation as one of football's greatest coaches. Working with Jarrett Stidham Brian Hoyer, rather than Tom Brady, however, will be his toughest test in a while.