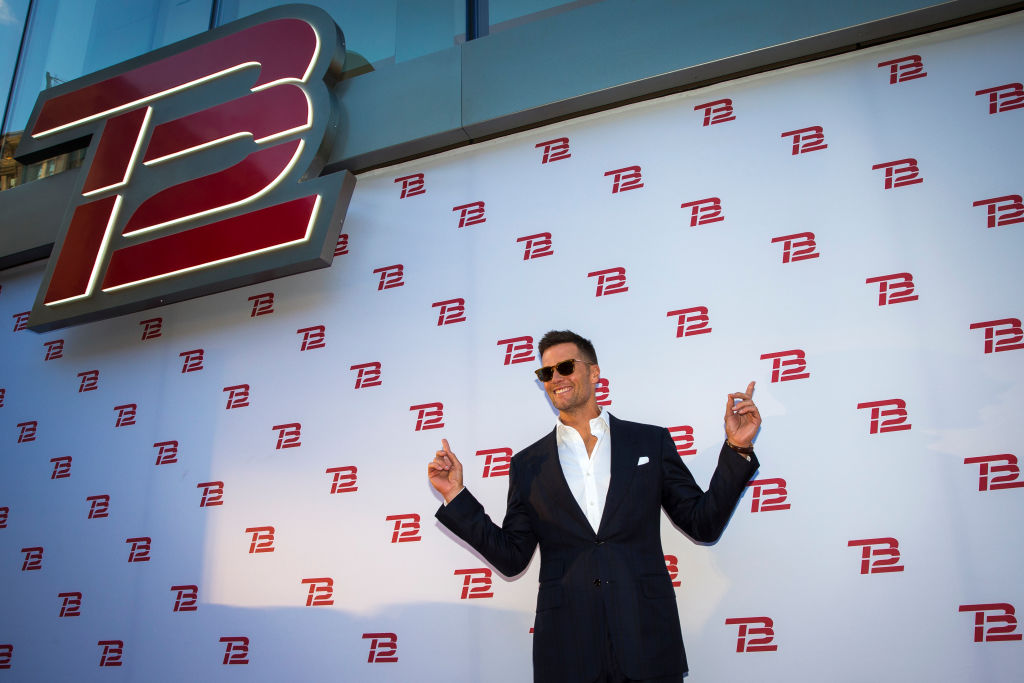 Tom Brady May Be an Elite Quarterback, but His New Trademarks Are Pretty Terrible
While Tom Brady might be an elite quarterback, his Tampa Bay-based branding efforts aren't going to win any awards.
Whether you love him or hate him, it's impossible to argue with Tom Brady's football resume. During his time in New England, the quarterback won six Super Bowl titles and three-MVP awards. His new Tampa Bay trademarks, however, aren't of the same quality.
While it's perfectly understandable that the quarterback would want to cash in on his change of scenery, his new branding efforts are pretty terrible. As much as Buccaneers fans might love their new signing, no one wants to wear a shirt that says "Tompa Bay."
Tom Brady's road to Tampa Bay
While New England Patriots coach Bill Belichick was never hesitant to move on from a player, Tom Brady always seemed like an exception to the rule. That theory, of course, is now a thing of the past.
In hindsight, there were plenty of clues that Tom Brady was getting ready to leave Foxboro behind. In the fall, news broke that the quarterback put his house up for sale; during the year, the usually unflappable Brady publically voiced his frustration with the Patriots' offense. Once the club crashed out of the playoffs, though, it seemed like a foregone conclusion.
Since then, plenty of theories have emerged. Did Tom Brady get sick of Bill Belichick? Had things become boring, and the veteran quarterback was ready for a new challenge? Regardless of what actually went down behind the scenes, all the paperwork is done; Brady is officially a Tampa Bay Buccaneer.
Filing some new Tampa Bay-based trademarks
As much as we might want to pretend that every athlete is motivated solely by their love of the game, professional sports is still a big business. Tom Brady knows that reality firsthand.
Shortly after signing with the Tampa Bay Buccaneers, Brady's legal team filed a trademark for "TB X TB" on an "intent to use" basis. The slogan was first used in a Buccaneers' hype video; before long, we'll probably be seeing it on a variety of branded clothing.
While it might not be the most exciting slogan, it does mesh fairly well with Brady's existing brand. The quarterback lifestyle and fitness efforts hit the market under the "TB12" label; "TB X TB" takes that existing identity, and concretely ties it to Tampa Bay.
Tom Brady is a legendary quarterback, but not the best at branding
While Tom Brady's legal team is trying to trademark "TB X TB," the quarterback's branding efforts don't stop there. The quarterback's company also filed a trademark for two additional phrases. Unfortunately, neither of them are good.
The two nicknames in question are "Tompa Bay" and "Tampa Brady;" in the best-case scenario, both of those sounds like bad dad jokes. While most athlete's brands aren't particularly inspiring—there's only so much you can do with initials and a number—Brady's latest attempts are in a league of their own. The quarterback will never be the coolest guy on the field, but he has a world-class resume. These shirts, however, seem more of a match with a cheesy boardwalk shop than with the winningest quarterback of all-time.
While could be a secondary legal motivation behind Brady's filing—it would be easier for him to stop bootleg shirts if he owns the trademark—the documents do state that the quarterback has an intention to use the slogan on merchandise. That should mean official Tompa Bay shirts will be hitting the market by the start of the season.
On the field, it's hard to argue with Tom Brady's career. In the boardroom, however, his branding efforts could still use some improvement.