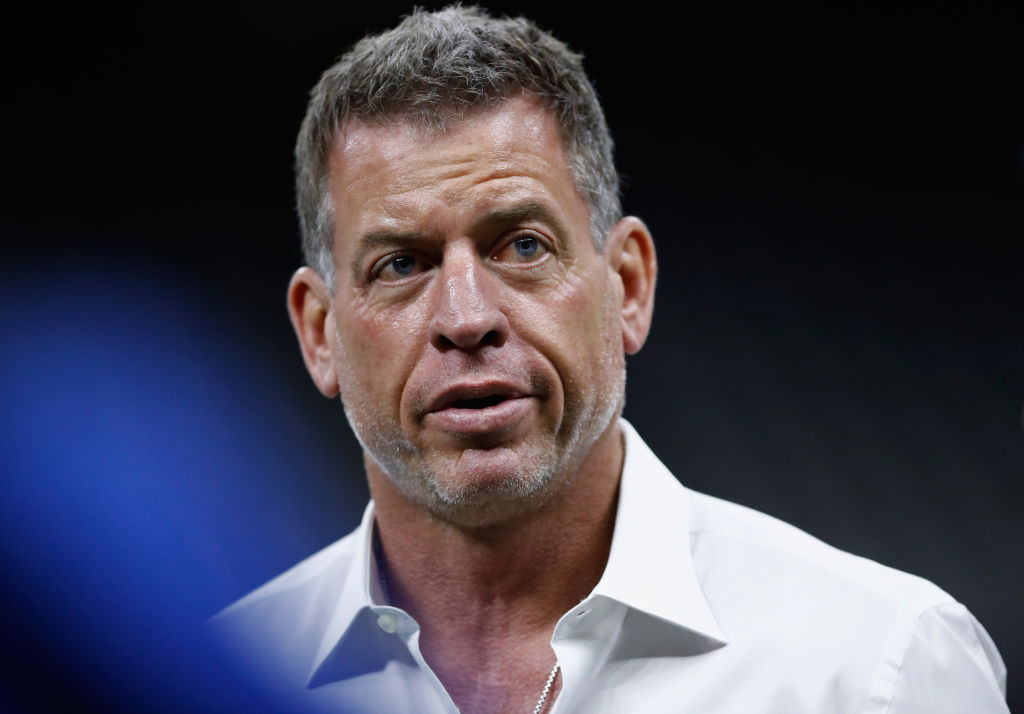 Troy Aikman Is Sure That Tom Brady Is the Greatest Quarterback of All-Time
While sports fans love to argue over the greatest players of all-time, Troy Aikman is sure that Tom Brady sits atop the list.
While most NFL fans must be sick of him, Tom Brady's career has been nothing short of a real-life fairy tale. After the New England Patriots selected the quarterback in the sixth round of the 2000 draft, he was a "skinny beanpole." Now, he's arguably the greatest quarterback of all-time, with guys like Troy Aikman singing his praises.
While he's spent plenty of time under center himself, Aikman has no problem admitting when he's beaten. On Twitter, he recently cited some stats that confirm Tom Brady as the greatest quarterback of all-time.
Tom Brady's legendary NFL career
Once the final details are worked out, Tom Brady will be taking home a hefty salary as the starting quarterback of the Tampa Bay Buccaneers. That NFL success, however, wasn't always a forgone conclusion.
Brady played his college football at the University of Michigan, where he started out as Brian Griese's back-up. Once he took over the starting job, however, the quarterback we all know today started to emerge; while Brady was never statistically dominant, he did have a knack for making big plays and leading his team to victory.
When the NFL draft rolled around, the Patriots selected Brady 199th overall. No one expected greatness; he simply seemed like a good kid who could fill out the depth chart. While Drew Bledsoe thought Brady would spend his career filling out a depth chart, everything changed in 2001.
Bledsoe, who was the Patriots' starter, went down injured; Brady stepped into the void and never looked back. He and Bill Belichick would combine to win six Super Bowls, turning New England into one of modern football's most dominant powers.
Troy Aikman has no doubt who's the GOAT
Like most pundits, Troy Aikman is no stranger to controversial tweets or opinions. The former Dallas Cowboys quarterback, however, recently shared a fairly cold take. He recently cited the statistics that, in his mind, confirm Tom Brady's status as the greatest of all-time.
Aikman retweeted a list of all-time playoff wins by quarterbacks. Unsurprisingly, Brady's 30 victories sit comfortably in the lead; the next closest man is Joe Montana, who won 16 postseason games during his entire career. Aikman, for reference, is tied with Roger Staubach at 11.
"The # that solidifies Tom as the [GOAT] is 6 [Super Bowl victories]," Aikman tweeted, "but 30 wouldn't be far behind." Brady also has a comfortable lead in that category; he's lifted the Lombardi trophy six times, compared to Montana's four.
Tom Brady can improve his legacy even further in Tampa Bay
At this point in his career, no one can doubt Tom Brady's place in the pantheon of elite NFL players. His time with the Tampa Bay Buccaneers, however, could add another chapter to his legacy.
While everyone has their own standard for what makes a player historically great, Brady's impact on the Buccaneers organization should be fairly obvious. The team hasn't made the playoffs since 2007 or even won a postseason game since their Super Bowl title in 2002; getting Tampa Bay back on track, even if they don't turn into a powerhouse, would be another feather in Tom Brady's cap.
Even if his move to Florida falls flat, though, it shouldn't diminish Brady's legacy. As Troy Aikman's tweet points out, his postseason stats are simply in a league of their own.