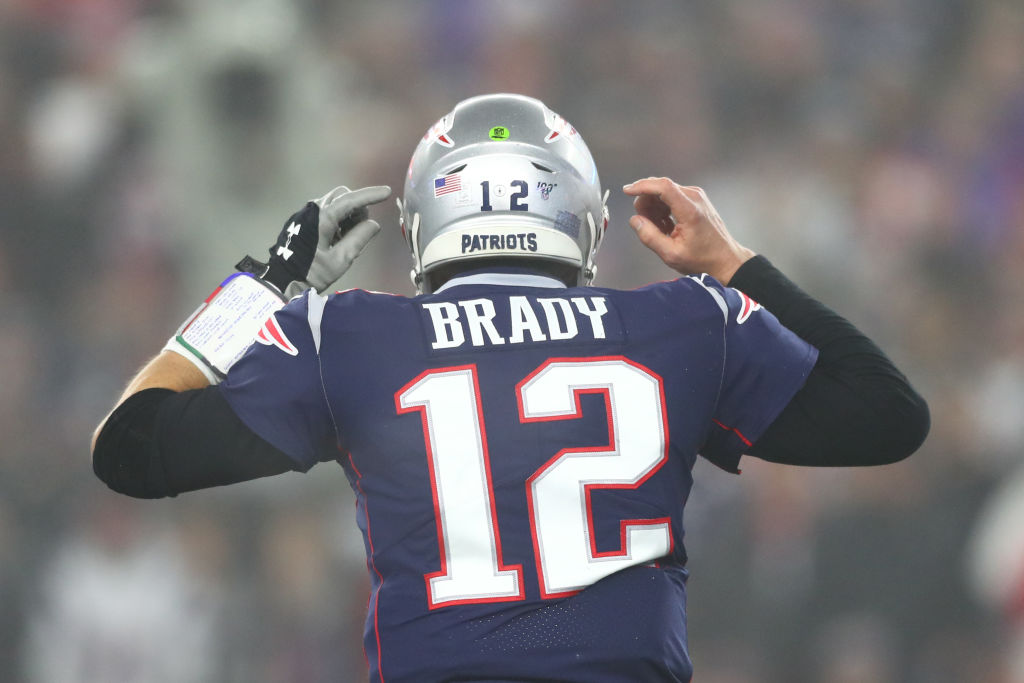 Tom Brady Has Become a $50 Million Student With the Tampa Bay Buccaneers
After 20 years with Bill Belichick and the New England Patriots, Tom Brady joined the Tampa Bay Buccaneers and became a $50 million student.
Beyond the current state of the world, 2020 has to feel pretty weird for Tom Brady. After spending two decades in New England, the veteran quarterback finally broke up with Bill Belichick. Come the fall, he'll be plying his trade in sunny Florida with the Tampa Bay Buccaneers. That move, however, has set the stage for even more changes.
While Brady won't exactly be the low man on the totem pole in Tampa Bay, he'll have to deal with some systemic changes for the first time in 20 years. He might be on a $50 million contract, but the veteran quarterback has had to become a student again.
Tom Brady's iconic NFL career
Outside of New England, most NFL fans don't have a very favorable opinion of the Patriots. Everyone, however, has to give Tom Brady his due.
After playing his college ball at Michigan, Brady landed with the Patriots. While he arrived in camp as a sixth-round pick who was given little chance to succeed, the quarterback proved everyone wrong. He won the backup job and, when Drew Bledsoe went down injured, stepped into the breach without missing a beat.
With Brady under center and Bill Belichick on the sidelines, the Patriots developed into a modern dynasty. During his 20 years in Foxboro, the quarterback won 219 of his 285 regular season appearances; he also claimed six Lombardi Trophies and three MVP awards, cementing his status as one of the game's greatest quarterbacks.
All good things, though, must come to an end. Earlier this offseason, Brady chose to leave New England and hit free agency. He signed a two-year contract with the Tampa Bay Buccaneers, starting a new chapter of his career in Florida.
The master has become the $50 million student
During his time in New England, Tom Brady became a physical manifestation of the Patriots. With the Buccaneers, however, he's had to start over at square one. For the first time in 20 years, the veteran quarterback will be dealing with a new playbook.
With teams unable to work out together, Brady has been leaning on his new teammates. While that's a great idea and can't hurt in the long run, it does feel a bit weird to be tutoring a living NFL legend.
"It was pretty normal. He seems like a really down-to-earth, good guy, great teammate," tight end Cameron Brate explained on SiriusXM NFL Radio. "It's a little weird now working with him at the beginning of his Bucs tenure because we're kind of teaching him our verbiage—it's kind of a backward way of how it's probably gonna progress during the season with him teaching us a lot about the game and how he sees things. But right now, it's only been a couple weeks with the Bucs, and he's trying to figure out what we call stuff, so we're kind of teaching him the offense, which is a little weird."
This season will be a new test for Tom Brady
While Cameron Brate might feel a bit weird explaining things to Tom Brady, it's perfectly understandable that the veteran quarterback would want all the help he can get. This season will be a new challenge, both for him and his former coach.
For the past 20 years, Brady and Belichick have been joined at the hip; for better or worse, the Patriots' success has been attributed to both men. In 2020, however, they'll each be on their own. Even if it's not exactly fair, critics will use this season as a tie-breaker. If Brady or Belichick falls flat, some will (incorrectly) cite it as proof that the other party was the real key to success.
As the ultimate competitor and a consummate professional, there's no doubt that Tom Brady will be prepared for the 2020 season. Even after winning six Super Bowls and signing a $50 million contract, there's no time for the quarterback to rest on his laurels. Come the fall, there are football games to win.