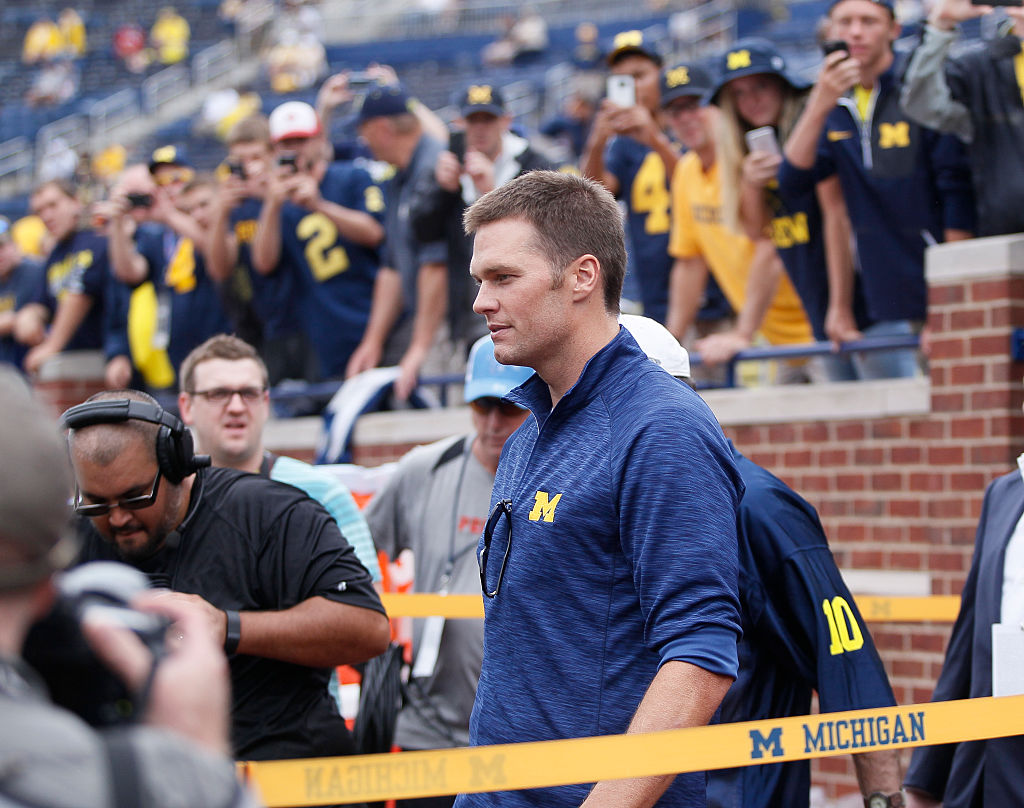 What College Major Did Tom Brady Study at the University of Michigan?
At the University of Michigan, Tom Brady had a backup plan in case his NFL dreams didn't work out. But which college major did he study?
Since entering the NFL, Tom Brady has become arguably the best quarterback in league history. Considering he has six Super Bowl rings, this statement may not even be arguable. People didn't always expect Brady to be a football star, though.
The Patriots famously took him in the sixth round (No. 199 overall) in the 2000 NFL Draft. While he attended the University of Michigan, Brady had a backup plan in case his dream of playing in the NFL didn't pan out. Here's a look at his collegiate career and what his "Plan B" was.
Tom Brady's college major
In 2014, Brady posted a picture of his old resume on Facebook. It reveals a lot about his academic career in college. Brady seemed to be gearing up for a career in business if he didn't make it in the NFL. He graduated from Michigan in December 1999 with a bachelor of general studies and an emphasis in business and economics.
With a 3.3 GPA, Brady received academic achievement honors in 1996, '97, and '98. He was also recognized with an Academic All-Big Ten for football. Outside of the classroom, he served as a peer mentor and was a "frequent speaker" at elementary schools in the Ann Arbor area.
Merrill Lynch internship
While considering a business career, Brady interned at Merrill Lynch's Ann Arbor office during the summers of 1998 and '99. These are some of the experiences he gained during the internship, according to his resume:
Served as an assistant to a senior sales broker
Was exposed to upper-level management and some of the company's strategy
Programmed inventory control and reported systems for clients
Researched stock and mutual fund reports
Updated client portfolios
Gained knowledge of the office's day-to-day administrative tasks as well as broker activity
Other college jobs
Brady's resume also lists other jobs he held while in college. During his first two summers at Michigan, he served as a security manager for a summer festival in Ann Arbor and as a supervisor at a Michigan home-building company. Then, he turned his attention to golf.
In 1998 and '99, Brady worked as a sales representative at golf courses in Jackson, Michigan, and Ann Arbor. At the former job, he was also a course ranger and starter. With the latter position, Brady served as an assistant clubhouse manager, in addition to working as a sales rep.
On-field experience
As it turns out, Brady's time on the gridiron was the most relevant experience he'd gain toward his eventual career. While the Merrill Lynch internship was a nice fallback option, he ultimately didn't need it. So how did Brady perform for the Wolverines?
The future NFL star threw five passes his freshman year — completing three of them for six yards — and one interception. Brady appeared in four games as a sophomore, tripling his passes to 15. He had 12 completions for 103 yards, but he didn't throw any touchdowns. As a junior, he started, going 200-for-323 for 2,427 yards with 14 touchdowns and 10 interceptions.
As a senior, he completed 180 of his 295 passes, throwing for 2,217 yards. He threw 16 touchdowns and lowered his interception total to six. You can see by those not-so-impressive numbers why it took nearly 200 picks for a team to draft Brady. The Patriots ultimately took a chance on him. To state it has worked out for them would be an understatement.