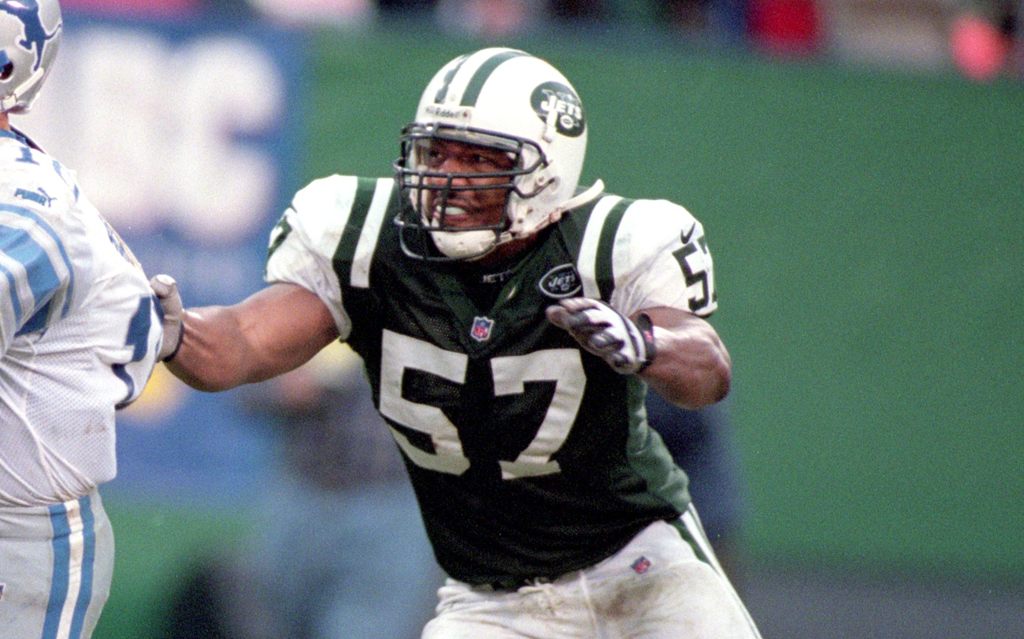 One Hit by Mo Lewis Led to Tom Brady's Big Break and Changed NFL History
New York Jets linebacker Mo Lewis knocked Drew Bledsoe out of a 2001 game and forever changed the New England Patriots.
The New England Patriots will arrive at training camp in July without Tom Brady as their entrenched starter for the first time since 2002. It's anyone's guess how many Super Bowls the franchise would have won without Brady, but you can credit Mo Lewis with helping the Patriots get to an even half-dozen.
One hard hit on Drew Bledsoe changed the Patriots forever
The New England Patriots and New York Jets were playing each other 12 days after the 9/11 terrorist attacks in 2001 when quarterback Drew Bledsoe dropped back to pass, broke out of the pocket, and raced toward a first down deep in New England territory.
Jets linebacker Mo Lewis zeroed in on Bledsoe and delivered a hit with such force that Bledsoe had to be rushed to a hospital with internal bleeding in his chest. By the time Bledsoe was cleared to return to practice and then play in games, the Patriots already had their new quarterback. Tom Brady, a second-year signal-caller who was lightly regarded coming out of the University of Michigan, had established himself as the permanent starter at quarterback.
The Patriots lost that day against the Jets, but Brady went 11-3 the rest of the way and then beat the Oakland Raiders and Pittsburgh Steelers in the AFC playoffs. The season culminated in a 20-17 victory over the St. Louis Rams in Super Bowl XXXVI.
It's possible the Tom Brady era would have never happened
There's a case to be made that the New England Patriots would have gone on to win multiple Super Bowls had Drew Bledsoe not been hurt – and that some or all of them could have been with Tom Brady running the offense.
However, there are variables in the equation that point to the possibility that Brady's career would have been radically different had he not been called upon to replace Bledsoe in 2001. In theory, he could have been out of football within a few years without ever getting on the field for meaningful action.
Bledsoe, who began the 2001 season as a 29-year-old with eight seasons under his belt, had just signed a 10-year contract with the Patriots. He was traded to the Buffalo Bills in the following offseason and lasted five more years in the league. It's conceivable Bledsoe would have lasted those five seasons and perhaps a few more in New England had he not been seriously injured by Mo Lewis' hit.
Brady would almost certainly have left as a free agent or been traded in that span to get his chance to compete for a starting job somewhere.
There are also questions about Bill Belichick
The second major question about the New England Patriots dynasty is whether Bill Belichick would have survived long enough to install Tom Brady as the quarterback had Drew Bledsoe not been injured.
Belichick had been 36-44 as coach of the Cleveland Browns from 1991-95 and resigned from the New York Jets in 2000 without ever coaching a game with them. Instead, he went 5-11 with the Patriots that season and then lost the 2001 opener before the 9/11 attacks.
The Jets game dropped the Patriots to 0-2 in 2001, and Bledsoe was barely better than a .500 quarterback during his time with New England. Would Belichick have survived another 5-11 or 6-10 season?
Yes, Belichick could have switched to Brady in midseason if the Patriots were struggling, but by then it could have been too late to salvage what turned out to be their first championship season.