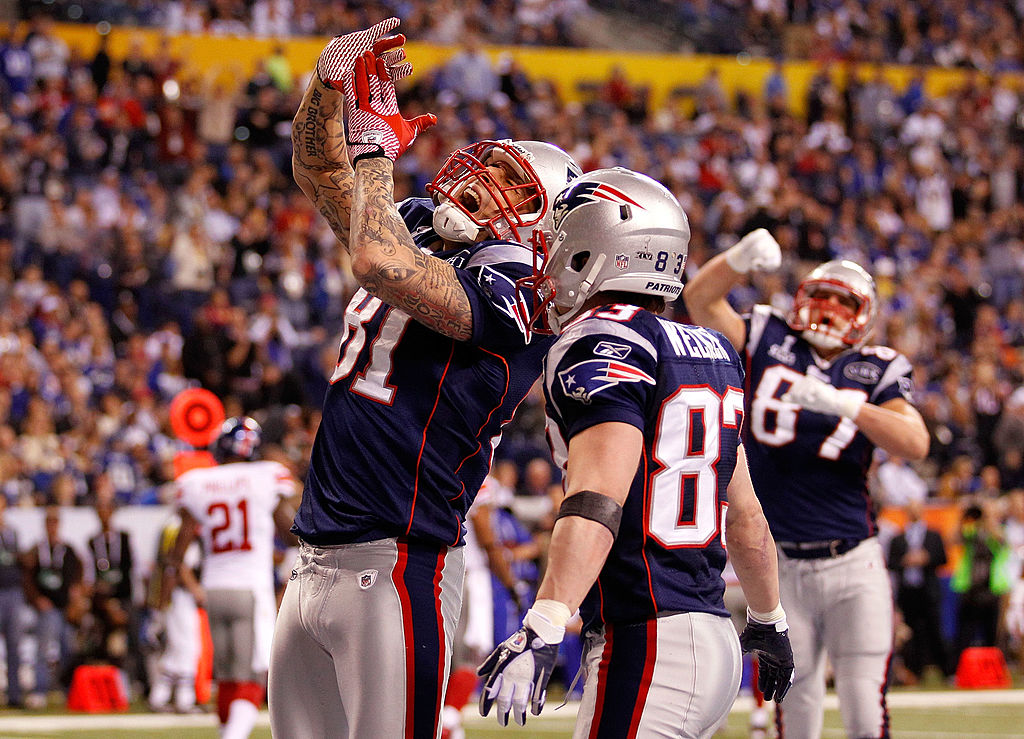 Aaron Hernandez Just Saved the Patriots $3.25 Million
Aaron Hernandez hasn't played for the Patriots since 2012. But after years of court battles, the Patriots received a $3.25 million salary cap credit.
The story of Aaron Hernandez is truly tragic. From dominating SEC defenses at Florida to becoming an NFL star with the New England Patriots, he seemingly had it all. Then, he threw it all away in violent fashion.
Hernandez famously signed a lucrative contract extension with the Patriots just a year before his legal troubles ensued. Yet, after his release, Hernandez still counted against New England's salary cap for years. But after years of court battles, the Patriots finally received a substantial salary cap credit for the deceased former star.
Patriots signed Aaron Hernandez to a $40 million contract extension in August 2012
Despite a prolific college career at Florida, Hernandez famously fell to the fourth round of the 2010 NFL draft. New England had already selected Rob Gronkowski in the second frame, so adding a dynamic pass-catcher of Hernandez's caliber was just icing on the cake. The former Gator became an immediate contributor, racking up 45 catches, 563 yards and six touchdowns as a rookie.
By his second season, Hernandez proved to be one of the NFL's greatest mismatches. Operating as a move tight end, traditional wide receiver and even a running back, Hernandez nearly doubled his numbers in 2011. He finished the season with 79 catches, 910 yards and seven touchdowns before the Patriots fell in the Super Bowl to the New York Giants.
Just before the 2012 season kicked off, the Patriots locked up their promising tight end to a staggering $40 million contract extension that included a then-record $12.5 million signing bonus. The deal included nearly $16 million guaranteed and should have set the stage for a long career in New England. Along with Gronk, the Patriots revolutionized the game with a two-tight end system that should have brought multiple championships to Foxborough.
Patriots have spent years trying to resolve contract situation
Less than a year later, the Patriots cut Hernandez once he was arrested for murder charges. From a football standpoint, the transaction had significant financial effects. After all, the team had locked themselves into a long-term deal that should have paid Hernandez handsomely throughout his prime.
However, years of court battles ensued concerning Hernandez's signing bonus money. Because his contract contained a hefty signing bonus, the tight end actually counted against New England's salary cap for years after his release. Although he never suited up in the NFL again and tragically took his life in 2017, Hernandez has still affected the organization from a financial standpoint for seven years.
New England received $3.25 million salary cap credit for Hernandez
Though he's been off the team's books for a few years, the Patriots finally got some positive news this offseason regarding Hernandez's signing bonus. According to Patriots salary cap guru Miguel Benzan, the team received a $3.25 million credit for Hernandez.
The resolution finally happened after years of battles between the Patriots and the NFL Players Association. New England withheld that $3.25 million portion of Hernandez's signing bonus, and would only receive a credit if the ruling came out in its favor. The judgment came down in favor of the Patriots, who will likely endure another long contract-related court battle with Antonio Brown. The controversial wide receiver got released by the team just 11 days into his contract after allegations of sexual assault surfaced. Brown filed nine grievances in September that included nearly $30 million from the Patriots.
Ultimately, the $3.25 million cap credit doesn't move the needle a ton. But it does represent a bit of positive news for a team that's undergoing a significant facelift this offseason. With the cap credit situation resolved, it appears the Patriots can finally close the chapter on the Aaron Hernandez saga.