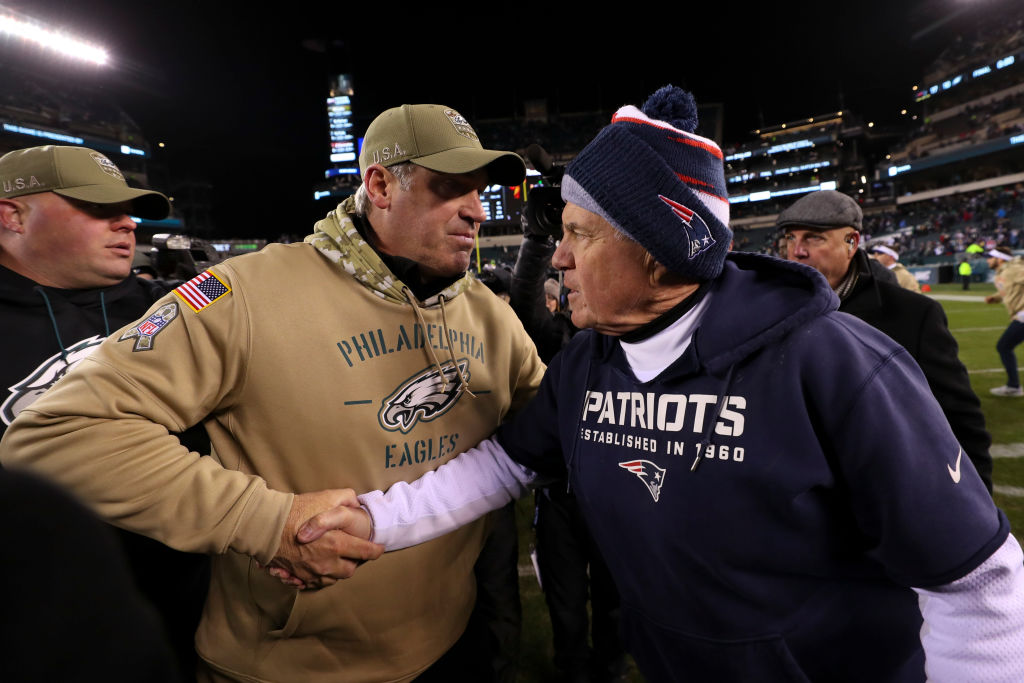 Bill Belichick Can Easily Make the Brandon Brooks Injury Disappear for the Eagles
Bill Belichick can be the perfect trade partner to help the Philadelphia Eagles forget about the Brandon Brooks injury.
Bill Belichick has kept the New England Patriots atop the NFL for two decades because he knows how to manage a roster. He rarely spends wildly in free agency and exercises caution with his own players. With the Philadelphia Eagles losing Brandon Brooks for the year, it's time for the NFL's shrewdest general manager to strike once again.
Belichick can not only make the Eagles forget about Brooks' torn Achilles but also sell high on an asset he's held on to for the last few months. Let's see how the scenario could play out.
Brandon Brooks has become one of the top guards in the NFL
To win a Super Bowl, you start building in the trenches. The Eagles have boasted one of the NFL's strongest offensive lines for the last few years. While veteran left tackle Jason Peters headlined the group, he had some talented teammates alongside him. Brandon Brooks certainly ranked high on that list.
Tipping the scales at 6-foot-5, 335 pounds, he entered the league as a third-round pick in 2012. Brooks started 44 games in four years with the Houston Texans. He performed well but certainly didn't ascend to elite status.
However, once he signed a five-year, $40 million to join the Eagles, he immediately became one of the top players at his position. In just his second season in Philadelphia, Brooks earned his first of three straight Pro Bowl selections. Of course, he won a Super Bowl ring that year when the Eagles toppled the Patriots.
After another Pro Bowl campaign in 2018, Brooks received a massive contract extension in November 2019. This time, he got $54.2 million over four years. Unfortunately, the injury bug bit him in December. Brooks missed the postseason with a dislocated shoulder before suffering a more devastating injury recently.
Eagles suffered a crushing blow by Brooks tearing his Achilles
Most of the time, offseason news never turns out to be positive. Eagles fans got a dose of that harsh reality on Monday. NBC Sports reported that Brandon Brooks tore his left Achilles tendon while working out. The injury will sideline him for the entire 2020 season. It's certainly not the first time he's gotten hurt, though.
This is the third significant injury in less than three years for Brooks. He has now torn both Achilles tendons and also needed surgery this offseason on his shoulder after dislocating it in the 2019 regular season finale. He missed the playoff game against the Seahawks. Because he was returning from a previous injury, Brooks was allowed to work out at the NovaCare Complex. 

Brooks has obviously filled a key role for the Eagles. Losing a player of his caliber could put a serious wrench in Philadelphia's Super Bowl quest. But the notoriously cunning Bill Belichick can make Eagles GM Howie Roseman a compelling trade offer that can ease the loss of the three-time Pro Bowl guard.
Bill Belichick has the perfect trade chip to ease Philadelphia's pain
Like the Eagles, the Patriots have constructed a stellar offensive line of their own. At guard, New England boasts one of the league's top duos in Shaq Mason and Joe Thuney. While Mason signed a lucrative extension before the 2018 season, Thuney has yet to ink a long-term deal.
He did sign his franchise-tag tender back on March 20. He's scheduled to make $14.78 million in 2020. Of course, the Patriots would do well to lower his cap number by working out an extension.
However, considering Bill Belichick hasn't ensured Thuney will be around beyond this season, he has the perfect window of opportunity to sell high on the NFL's iron man.
According to Spotrac, the Eagles have $22.7 million in cap space. They can easily fit Thuney on their books without a long-term deal. You could also argue that he'd be an upgrade over Brooks.
For the Patriots, moving Thuney would free up much-needed cap space. In addition, they could fetch a second-round pick for a player who's been a terrific bargain since entering the league as a third-round selection in 2016.
In this case, a Joe Thuney trade would be a true win-win for both the Eagles and Patriots. Philadelphia addresses a major hole and the Patriots sell high on a quality asset. Now let's see if Bill Belichick picks up the phone and makes it happen.