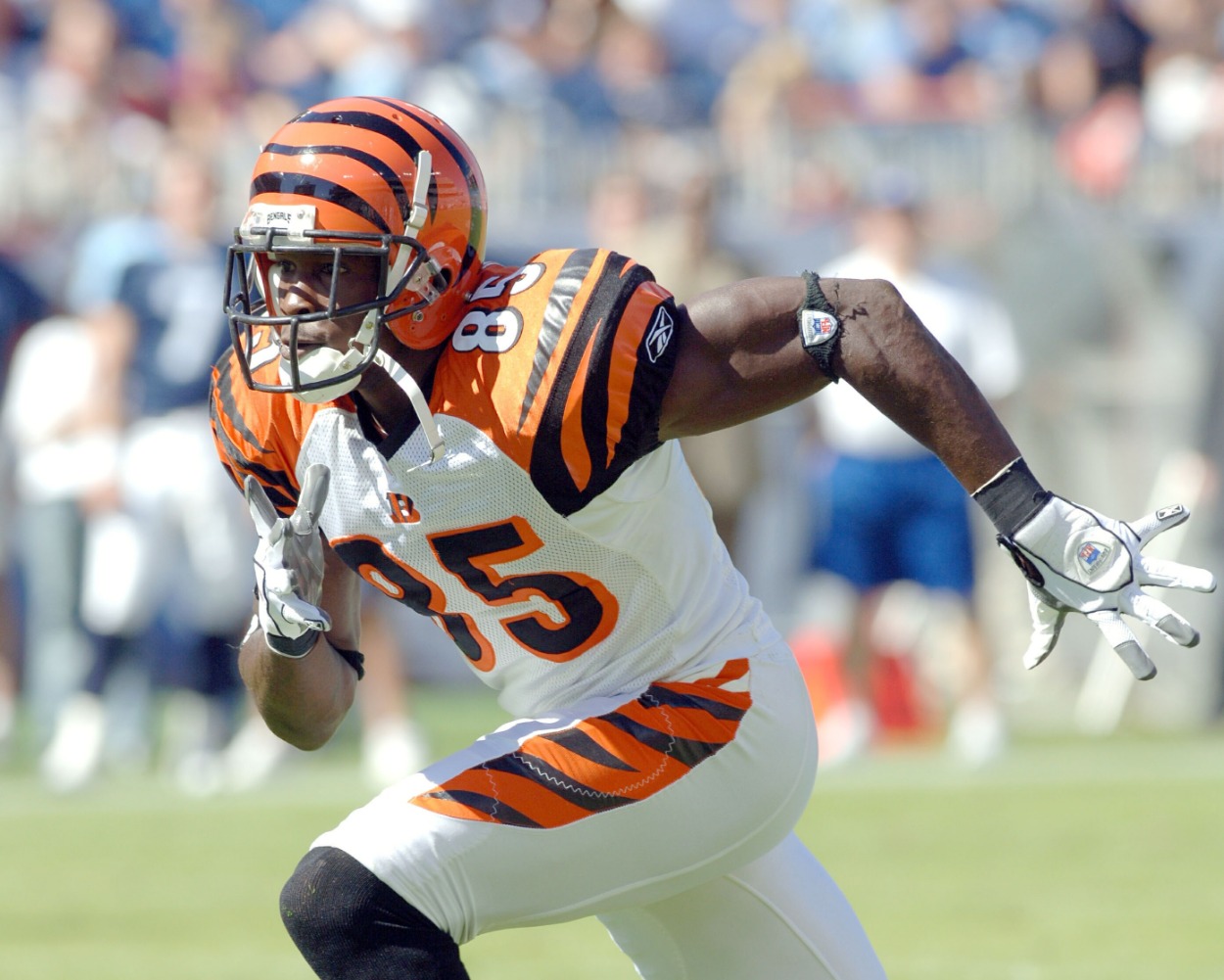 Chad Johnson is Using His NFL Fortune to Give Out Stimulus Checks
Chad Johnson was an NFL star for the Bengals. Now, he's helping out the rest of the world by giving out stimulus checks via Cash App.
Chad Johnson spent 11 years as an NFL receiver. During that time, he carved out a reputation as one of the best in the business. Of course, his signature trash-talking and flare for the dramatic made him one of the league's most colorful characters. Now, though, the former Cincinnati Bengals wideout is putting his NFL fortune to good use.
The man formerly known as Chad Ochocinco made an incredible pledge to give out stimulus checks. And based on his account balance, Johnson can help a lot of people during these difficult financial times.
Chad Johnson's legendary NFL career
Following an excellent college career at Oregon State, Chad Johnson entered the 2001 NFL draft. He fell to the second round, where the Bengals pounced on him with the 36th pick. A nondescript rookie campaign failed to foreshadow Johnson's future greatness.
However, he took off in his second season in Cincinnati. Operating as the Bengals' No. 1 receiver, the smooth-moving wideout snagged 69 catches for 1,166 yards and five touchdowns. That kickstarted a streak of six straight seasons with at least 1,100 receiving yards. In fact, Johnson topped 1,300 yards four times in his 11-year NFL career.
By his third season, Johnson earned his first of six Pro Bowl selections. Tipping the scales at 6-foot-1, 188 pounds, he didn't boast tremendous size. Yet, he established a reputation as one of the league's premier route-runners. Showcasing tremendous quickness, fleet feet, and unmatched competitiveness, Johnson ascended to elite status.
Unfortunately, he hit a wall once he turned 30. Johnson did rebound from a poor 2008 campaign to put up another 1,000-yard season for the Bengals. He regressed the following year before spending one year with the New England Patriots. Expected to become a top target for Tom Brady, Johnson caught just 15 passes before calling it a career after the 2011 season.
Former Bengals star made nearly $50 million in his career
As one of the league's elite receivers, Chad Johnson parlayed his Pro Bowl skill set into lucrative paydays. According to Spotrac, he earned just shy of $49 million in 11 seasons. His rookie deal totaled just $3 million over four years. But thanks to his quick ascension, he scored a five-year, $24.3 million contract extension in November 2003.
Johnson continued to play at a high level, and the Bengals compensated him well for it. In April 2006, he signed a massive six-year, $35.5 million extension that should have ensured he'd finish his career in Cincinnati.
Ultimately, though, Johnson never played out the deal. Following his brief stint with the Patriots, he signed a one-year, $925,000 contract with the Miami Dolphins. He got cut a month later after he got arrested for allegedly head-butting his wife.
Johnson makes an incredible pledge to give out stimulus checks
Though Chad Johnson garnered a reputation as a diva, he's transformed his image since retiring. The former NFL star has built a massive social media following. He's even been known to play video games with fans. But his most recent social media activity shows just how big his heart and wallet are.
On Tuesday, Johnson took to Twitter to deliver some incredible news that proves his generosity. In his tweet, he said he'll be giving out stimulus checks on July 1 via Cash App. Of course, he also took the opportunity to throw shade at Donald Trump in the process.
Stunningly, Johnson actually posted a screenshot of his Cash App account balance. With $245,000 on hand, he certainly can make a tremendous difference by sharing his wealth with people in need.
Of course, this isn't the first time the former Bengals star has been willing to give out massive amounts of cash. In May, he gave a Florida waitress a $1,000 tip—an incredible gesture considering the restaurant industry had been rocked by the impact of COVID-19.
At the bottom of the receipt, he wrote, "Congrats on reopening. Sorry about the pandemic, hope this helps. I love you."