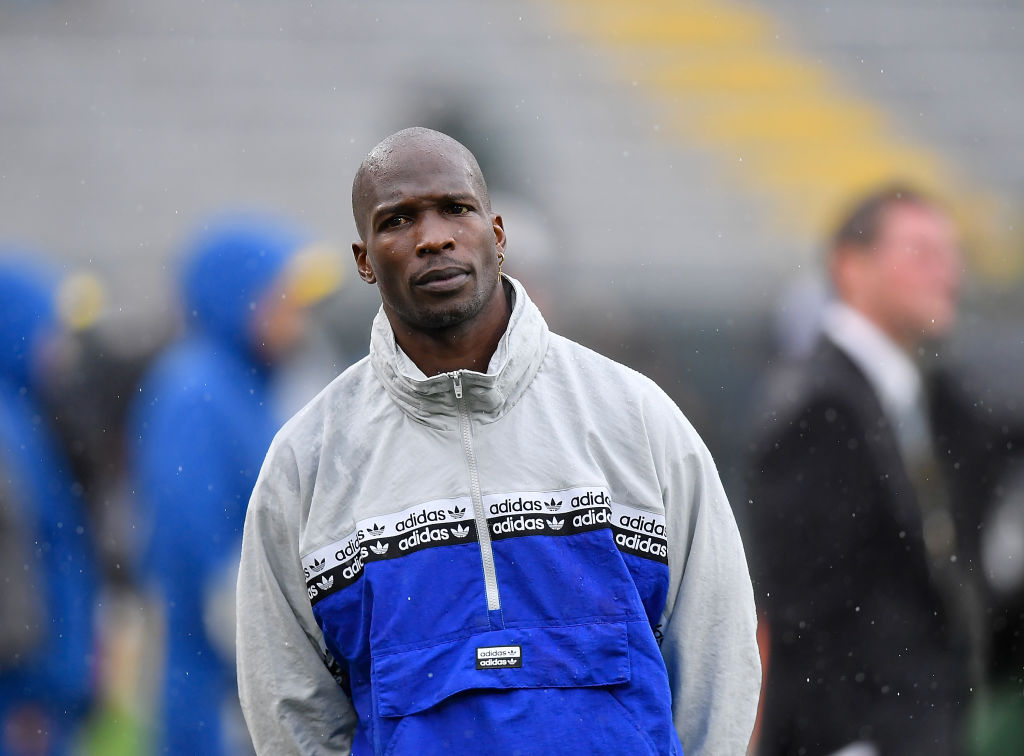 The Weird Way That Chad Johnson Could Return to Professional Football
Former Bengals wide receiver Chad Johnson is could be making a return to professional football. His plan is a bit unconventional, though.
During the early 2000s, every NFL fan knew Chad Johnson. While the wide receiver had plenty of talent, he also had a knack for self-promotion; he assessed each cornerback who covered him, broke out zany touchdown dances, and infamously changed his name to Chad Ochocinco. It's been quite a while since Johnson has played in the NFL, but his competitive fire is apparently as strong as ever.
On Tuesday, the former receiver announced that he could return to the gridiron sooner rather than later. His potential comeback, however, will be far from conventional.
Chad Johnson's NFL career
After starting his football career at Santa Monica College, Chad Johnson transferred to Oregon State. He played one season with the Beavers, but it was a big one; the receiver pulled in 37 catches for 806 yards and eight touchdowns, helping the team to an 11-1 record.
The Cincinnati Bengals selected Johnson in the second round of the 2001 NFL draft. While the wide receiver posted modest numbers as a rookie, he quickly developed into an offensive threat. Johnson broke the 1,000-yard receiving mark as a sophomore and only continued to improve; while there were some off-the-field issues, ranging from trade speculations to name changes, the receiver always managed to produce on Sunday.
Eventually, though, Johnson started to decline. The Bengals shipped him to New England, where he spent one lackluster season with the Patriots. He then signed a deal with the Miami Dolphins but was cut after a domestic battery charge.
While it's easy to remember Chad Johnson as a bit of a class clown, he was an elite receiver at the peak of his career. He racked up 11,059 receiving yards and 67 touchdowns during his time in the NFL and still stands as the most productive receiver in Bengals' history.
Don't call it a comeback
While Johnson last played in the NFL during the 2011 season, that wasn't the end of his football career. The receiver spent two seasons with the Montreal Alouettes of the Canadian Football League—he was suspended for the entire second season, though—and played one game in the Liga de Fútbol Americano Profesional de México. His current comeback plan, however, is even more unconventional.
On Tuesday, Johnson announced that he has an XFL tryout coming up. He won't be going out as a wide receiver, though. He'll be attempting to go pro as a kicker.
Johnson even hopes that this try-out, which ESPN confirmed is real, could be the start of something bigger. "Pretty far fetched but imagine me being consistent during an XFL season & getting a chance at a 53 man roster in the NFL," he tweeted. "Even i don't make it just being able to compete for a spot at a entirely different position will be so riveting"
Could Chad Johnson actually come back as a kicker?
While Chad Johnson hasn't earned the benefit of the doubt when it comes to PR stunts, he might actually have a chance to make it as a kicker. Johnson has dabbled in professional soccer and did kick an extra point during an NFL preseason game; he has also shared a video of himself kicking long field goals on Instagram.
Cynically, Johnson and the XFL seem like a match made in heaven. The receiver loves to make a splash, and the new league will surely do whatever it can to avoid following in the original XFL's footsteps; trotting Chad Johnson out to kick some field goals would surely bring in some extra viewers, if only for the spectacle.
If everything works out, you could see Chad Johnson back on the football field sooner rather than later. Just don't expect it to be the start of a legitimate NFL comeback.