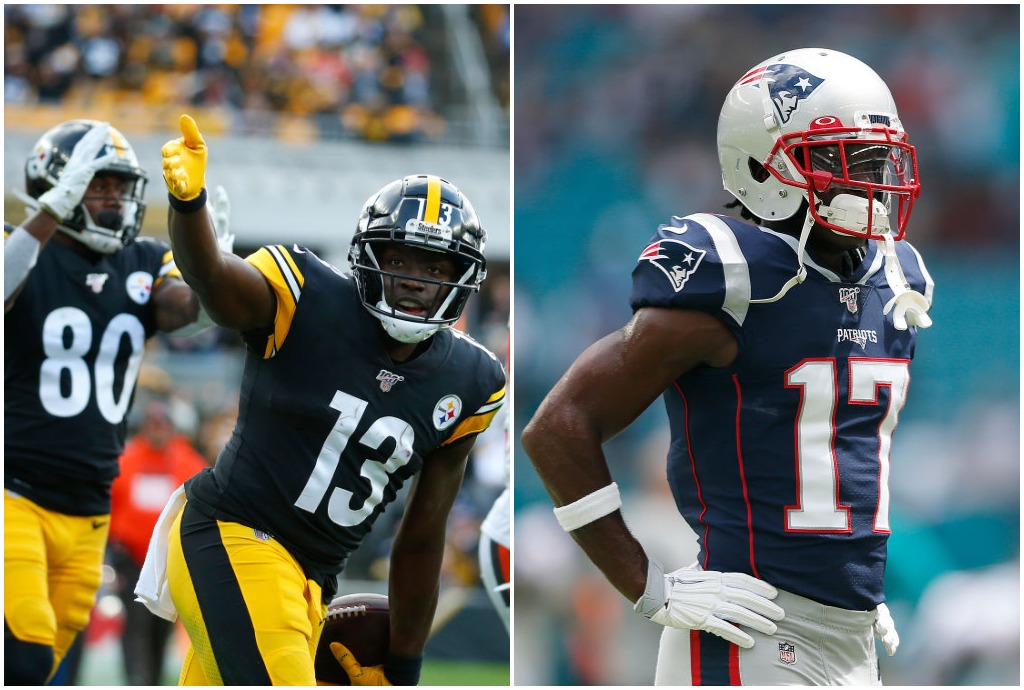 Antonio Brown's Replacement Stays in Shape on His Farm
Steelers WR James Washington has a much different way of staying in shape than Antonio Brown, who still hasn't signed another NFL contract.
Antonio Brown didn't become a superstar for the Pittsburgh Steelers by dumb luck. He trained incredibly hard and dedicated himself to his craft. Unfortunately, his off-field antics and bizarre decisions have left him without an NFL home. Meanwhile, his replacement in Pittsburgh, James Washington, has been putting in work this offseason to elevate his game.
Only instead of catching passes in a helmet and shoulder pads on social media, Washington has been breaking a sweat on his 26-acre farm in Texas.
Antonio Brown is still training like he's playing on Sundays
Antonio Brown's dramatic fall from grace didn't occur because of a lack of effort. When it comes to football, few put in more effort than AB. However, the four-time first-team All-Pro wore out his welcome with multiple franchises because of his attitude, coachability, and bizarre behavior.
Still, that hasn't stopped the Miami native from sharing his workouts on Instagram and Twitter. About a month ago, Brown posted a video of him catching passes while wearing Steelers pants, a Raiders helmet, and his signature No. 84 jersey. That pretty much sums up his confusing 2019 season.
Earlier in April, a video of Brown working out with Baltimore Ravens star Lamar Jackson emerged. The workout also included Marquise Brown (Antonio's cousin) and Jerry Jeudy, who got drafted 15th overall by the Denver Broncos.
Despite not having an NFL home, it's easy to see why Antonio Brown became the NFL's best receiver. His routes look crisp and his hands look stronger than ever. But the former Steelers star has a very different workout routine than his replacement in Pittsburgh.
James Washington has spent the offseason at his farm in Texas
Perhaps no NFL team drafts and develops receivers better than the Steelers. Besides Antonio Brown, Pittsburgh has found a number of quality wideouts in the draft, including Emmanuel Sanders, Mike Wallace, Martavis Bryant, and JuJu Smith-Schuster. So when the team selected James Washington with the 60th overall pick in 2018, he figured to be the next great Steelers WR.
So far, Washington hasn't quite achieved elite status. However, he worked hard to improve from a lackluster rookie campaign. Last year, he totaled 735 yards and three touchdowns on 44 catches. This offseason, the third-year pro has been working on his conditioning, fitness, and football skills in a much different manner than Antonio Brown.
According to Kimberly A. Martin of ESPN, Washington owns a 26-acre property near Abilene, Texas. The agribusiness major with a concentration in farm and ranch management has gone on lengthy bike rides while also coming up with unique ways to stay in shape.
His workout setup, which included an assortment of resistance bands sent by the Steelers and his high school dumbbells retrieved from his parents' house, was complete with the arrival of a Jugs machine, which he kept in the barn and carried to a flat area in one of the pastures.

Instead of working out with fellow NFL stars, Washington has spent more time with his cows. Let's just say that's not AB's style. However, Washington's unique offseason workout routine will truly be put to the test this fall.
Can Washington become an elite receiver for the Steelers?
The return of Ben Roethlisberger obviously makes the Steelers a contender in the AFC. Getting him back under center represents a huge upgrade for a team that allowed Duck Hodges to take the field. More importantly, though, the veteran quarterback will need help from his cast of young wideouts.
While Smith-Schuster has flashed No. 1 ability in the past, James Washington may be the favorite to take the most significant leap. He nearly tripled his production from his rookie season, and that was without Roethlisberger.
In 2019, Washington posted a catch rate of just 55 percent. That actually represented a 13 percent improvement. Roethlisberger will need him to be even more reliable while still retaining his deep-ball ability. He struggled mightily with drops and could become more dynamic after the catch.
Overall, James Washington may not be a household name quite yet. And he certainly hasn't come close to filling Antonio Brown's shoes. But the Steelers have a potential star on their hands whose no-nonsense workout approach shows he has the work ethic and focus to live up to expectations.