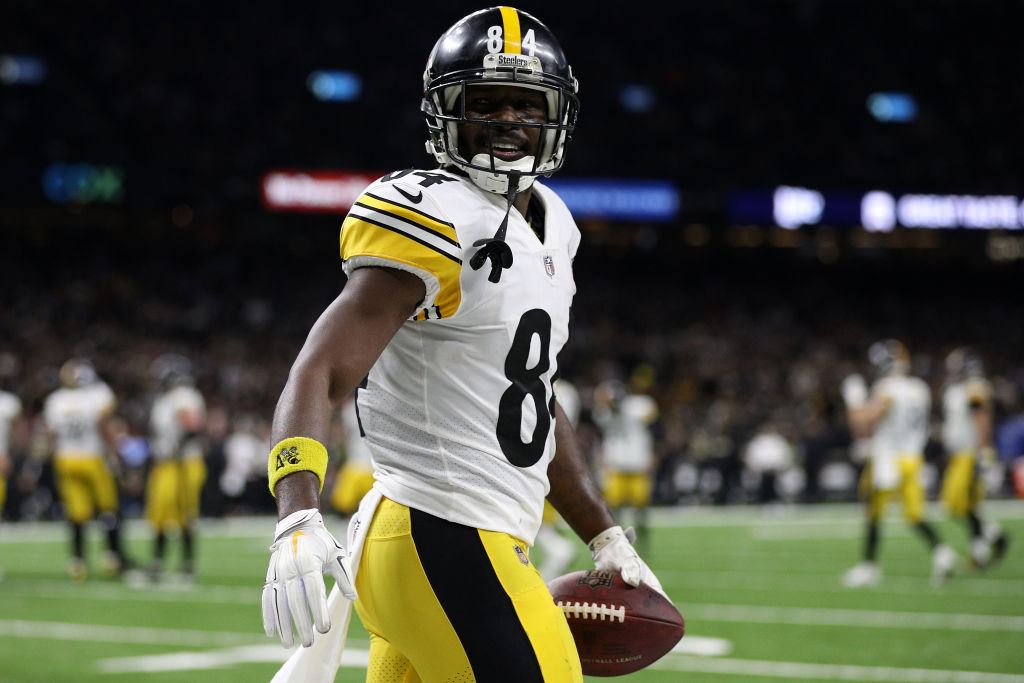 Is Antonio Brown Working Out With Lamar Jackson a Sign They Could Team Up in 2020?
Antonio Brown was just spotted running routes for NFL MVP Lamar Jackson. Could the two be teaming up in Baltimore next season?
Antonio Brown is still looking for a new home in the NFL, and the Baltimore Ravens could be the perfect fit. Brown recently worked out with Lamar Jackson, as well as Marquise Brown and soon-to-be rookie Jerry Jeudy. The Ravens could use another dynamic wide receiver to add to their prolific offense, and Brown would fit that mold well. He's still an excellent route runner and could become Jackson's favorite target quickly.
Brown would also love to stick it to his former team, the Steelers, twice a year in the AFC North. A Jackson-Brown connection could make one of the NFL's most dynamic offenses even scarier.
Antonio Brown was just seen running routes for Lamar Jackson
A video surfaced online Wednesday showing Antonio Brown and Lamar Jackson connecting on some practice routes. Brown looked just like his old self, cutting on a dime and showing off his impressive hands.
Ravens' wide receiver Marquise Brown and former Alabama star Jerry Jeudy joined the duo for the workout. Jeudy went on the Rich Eisen Show Wednesday and said Brown "looks good. He looks like he could play another eight, nine, 10 years."
Brown is still just 31 years old, but he hasn't seen the field since his one-game stint with the New England Patriots last season. In typical Antonio Brown fashion, he scored a touchdown in his first and only game with the Pats.
Brown has expressed interest in joining the Ravens
There are a ton of reasons why a Brown-Ravens marriage makes sense for both sides. For one, Brown could join his cousin, Marquise, on the roster. Marquise was drafted by Baltimore last year and put together an impressive rookie campaign. He was second on the team in receiving yards (584) and receiving touchdowns (7) in 2019.
Aside from Brown, though, the Ravens don't have many reliable receiving options. Mark Andrews led the team in almost every receiving statistic last season as the starting tight end. No other receiver behind Brown had more than 400 yards in 2019. Antonio Brown could come in and immediately become the Ravens' No. 1 wideout.
Joining the Ravens would also give Brown two chances every year to get revenge over his former team. The split between Brown and the Steelers was not an amicable one. He would love nothing more but to show Pittsburgh he's still one of the game's best.
Brown has expressed interest in joining Baltimore in the past. Just last week the former Pro Bowler was asked about teaming up with Jackson. He kept his response on Instagram short and sweet: "Scary site." Obviously, Brown meant "sight," but the point remains.
Would the Ravens risk Jackson's growth to sign Brown?
The one glaring reason Baltimore might be hesitant to sign Brown is his ego. Brown famously caused a multitude of locker room problems in Pittsburgh. Even though he was one of the best offensive weapons in the league in his prime, the Steelers couldn't deal with his ego off the field.
That's why Brown is still searching for a new team. NFL teams are hesitant to bring a locker room cancer into their family and risk him derailing their quarterback's career. The Ravens, especially, have a long history of smart ownership with a team-first mentality. It's what has made them one of the most consistently successful NFL franchises of the century.
Ravens' general manager Eric DeCosta could see the healthy relationship between his MVP quarterback and both Browns and take a chance on Antonio. After all, the team could use some receiving help. It's unlikely, but Brown was right — it would be a scary sight.