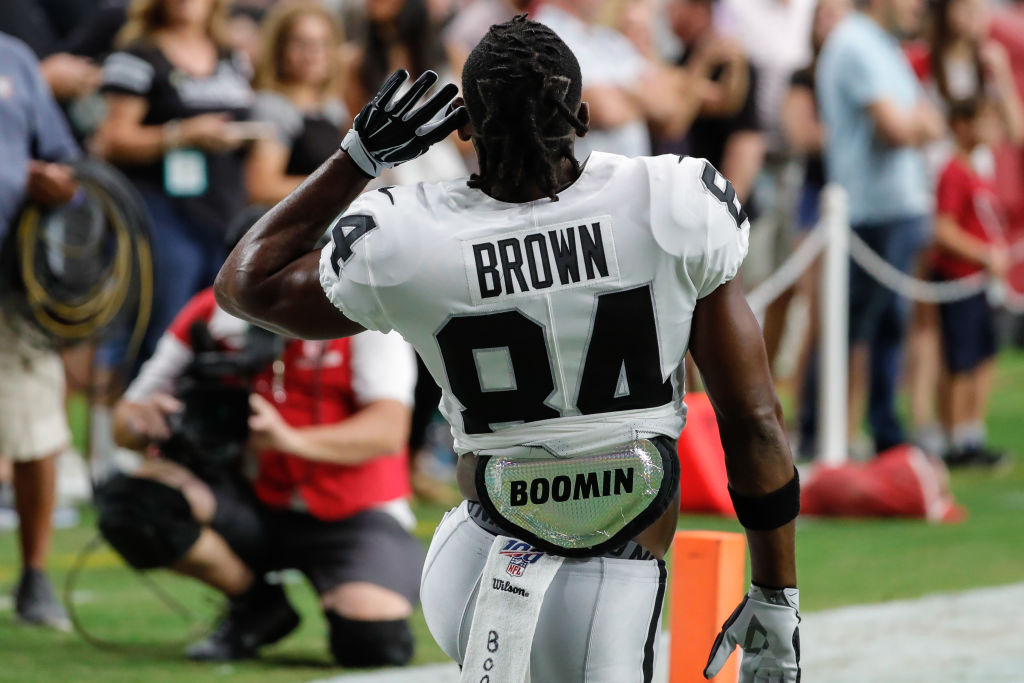 Floyd Mayweather Is the Mentor Antonio Brown Doesn't Need Right Now
If Antonio Brown wants to return to the NFL, he'll need plenty of help. That guidance, however, shouldn't be coming from Floyd Mayweather.
While there were plenty of storylines during the 2019 NFL season, Antonio Brown managed to steal the spotlight. The troubled wide receiver barely took the field, but still found a way into the news each week. Over time, it became clear that Brown needed some guidance; now, he's getting it from the worst possible place: Floyd Mayweather.
Although the boxer has admittedly found plenty of success in the ring, he's not exactly in a position to be mentoring anyone. If Antonio Brown really wants to make an NFL comeback, he should do the opposite of what Mayweather is advising.
Antonio Brown's terrible 2019
On the football field, Antonio Brown was an incredibly talented receiver. In 2019, however, his off-field issues overshadowed everything else.
After forcing his way out of Pittsburgh, Brown began the season with the Oakland Raiders. Things would collapse before Week 1, though.  Brown showed up to camp with frostbitten feet; he also spent most of the preseason threatening to retire because the NFL refused to let him wear his old helmet. Shortly before the start of the regular season, things finally became untenable. Tensions between Brown and Raiders general manager Mike Mayock finally reached a boiling point, and, after a verbal altercation, the receiver was cut.
Brown then landed in New England, where he played one game with Tom Brady. While the two seemed to hit it off, a former trainer, Britney Taylor, came forward and accused the receiver of sexual assault. That news, taken in combination with threatening texts Brown sent to Taylor, forced the Patriots to cut him.
After that, Brown seemed to go off the rails. The receiver has been a constant presence on social media; despite his apparent desire to play football again, he seems more concerned with doing everything except working his way back into the league.
Floyd Mayweather tries to help out
As if Antonio Brown's offseason couldn't get more bizarre, the wide receiver recently appeared on Instagram Live with Floyd Mayweather. "Just stay focused, you'll get back in the NFL," the boxer said. "You'll get back! There's too much talent for them to let go down the drain! We need you with the Raiders, we need something in Vegas!"
While that might sound like a wholesome, motivational speech, Mayweather also made some less than ideal comments. The boxer continues to take home massive purses, despite his history of domestic violence and battery; he clearly feels that Brown should do the same.
"They need to let you play in the NFL, man," Mayweather told Brown. "They need to stop worrying about what you do on the outside. You can get arrested 40 times, 50 times. Do that got something to do with you catching the ball or what you doing on the field?"
Mayweather also advised Brown against paying taxes, saying, "there ain't no law that says you got to pay taxes." It's safe to say the wide out shouldn't follow that strategy, either.
Floy Mayweather is the worst possible mentor for Antonio Brown
In theory, it's good that Antonio Brown is getting advice on how he can put his life back together. Floyd Mayweather, however, isn't the right person to listen to.
While Brown has had plenty of issues up to this point, one thing seems clear: NFL teams have decided that he isn't worth the trouble. Teams like the Raiders and Buccaneers have publically said they aren't interested in having the receiver around. That isn't going to change if Brown himself doesn't change; at this point, his talent isn't enough to get his foot in the door.
If the receiver is actually serious about returning to professional football, he needs to make a legitimate change. Listening to Floyd Mayweather—who has his own share of issues—and not paying taxes aren't going to get Antonio Brown anywhere fast.