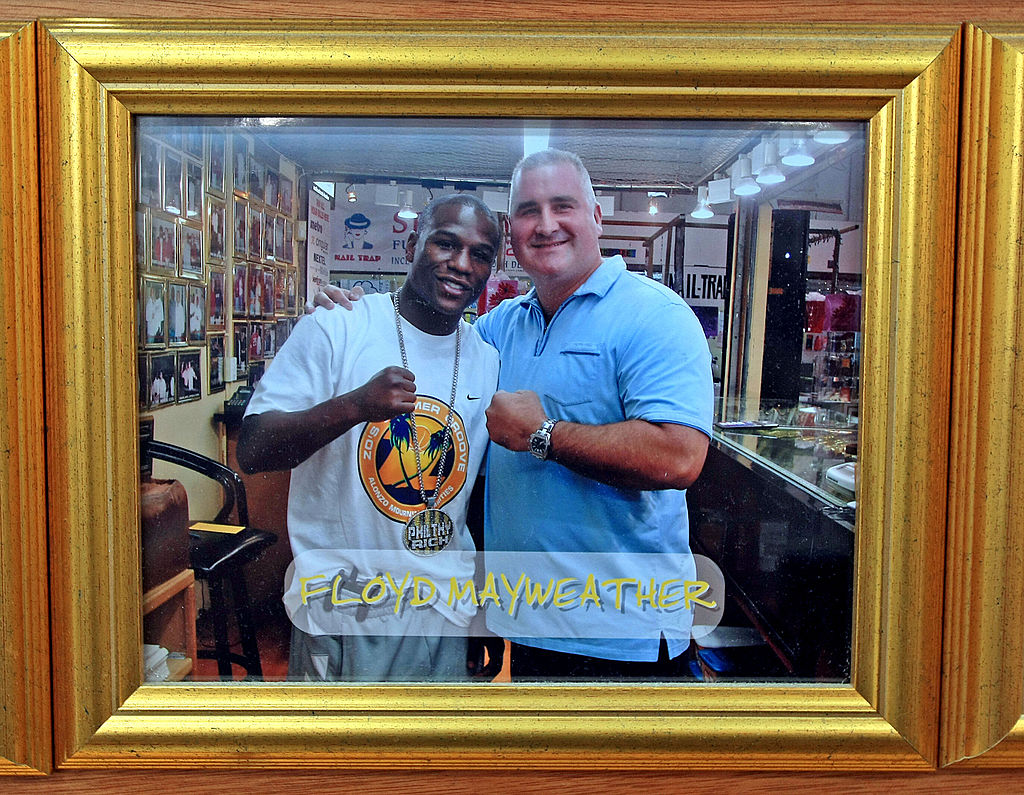 'King of Bling' Designs Custom Jewelry for Top Athletes Including Floyd Mayweather Jr.
Athletes often purchase expensive pieces of custom-made jewelry. Where do they get it? From the King of Bling who designed Miami's famous Turnover Chain.
In the last couple seasons of college football, any highlights with the University of Miami Hurricanes almost always feature a defensive turnover followed by a shot on the sidelines with a player sporting an over-the-top gold necklace known as "The Turnover Chain." The chain is just one piece made by a Florida jeweler who has become known as the "King of Bling" and has adorned more than 900 professional athletes with his custom-made work.
Miami's Turnover Chain
The gigantic piece of gold jewelry first appeared on the sidelines in Miami's 2017 season opener against Bethune-Cookman. After that first game, the chain went viral, and ESPN, Fox Sports, and numerous other media outlets featured stories on the massive piece of jewelry.
The chain's origin started the summer before the 2017 season when the Miami athletic department reached out to A.J. Machado, owner of AJ's Jewelry in Cutler Bay, Florida. Miami officials wanted to replicate something similar to the wrestling belt the University of Alabama displayed on its sidelines after a big play.
Except it was Miami. They wanted something with more swag. Enter Vince Wilfork.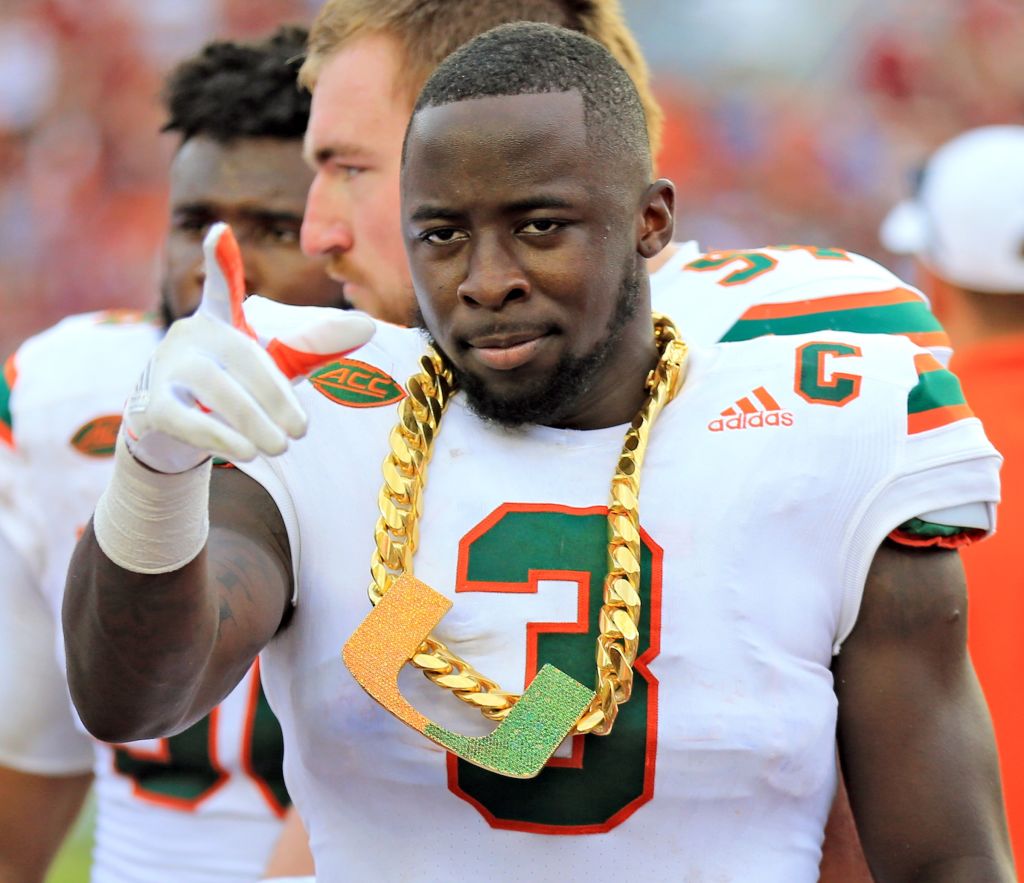 Wilfork, a former Hurricanes and NFL football star with the New England Patriots and Houston Texans, influenced the chain's design. Wilfork insisted Machado go with a Cuban link for the chain style because as he described it, "that is what Miami is all about."
Machado agreed and it took him more than two weeks to create the original chain, which is made of solid gold with a gem-encrusted "U" at the bottom. It weighs 2.5 kilograms. He has designed two new chains each season after including 2019. All costs are undisclosed.
While the chain only makes appearances during Miami football games, it became so popular, and received nationwide attention Adidas came out with a t-shirt design featuring the chain.
Machado's long list of clients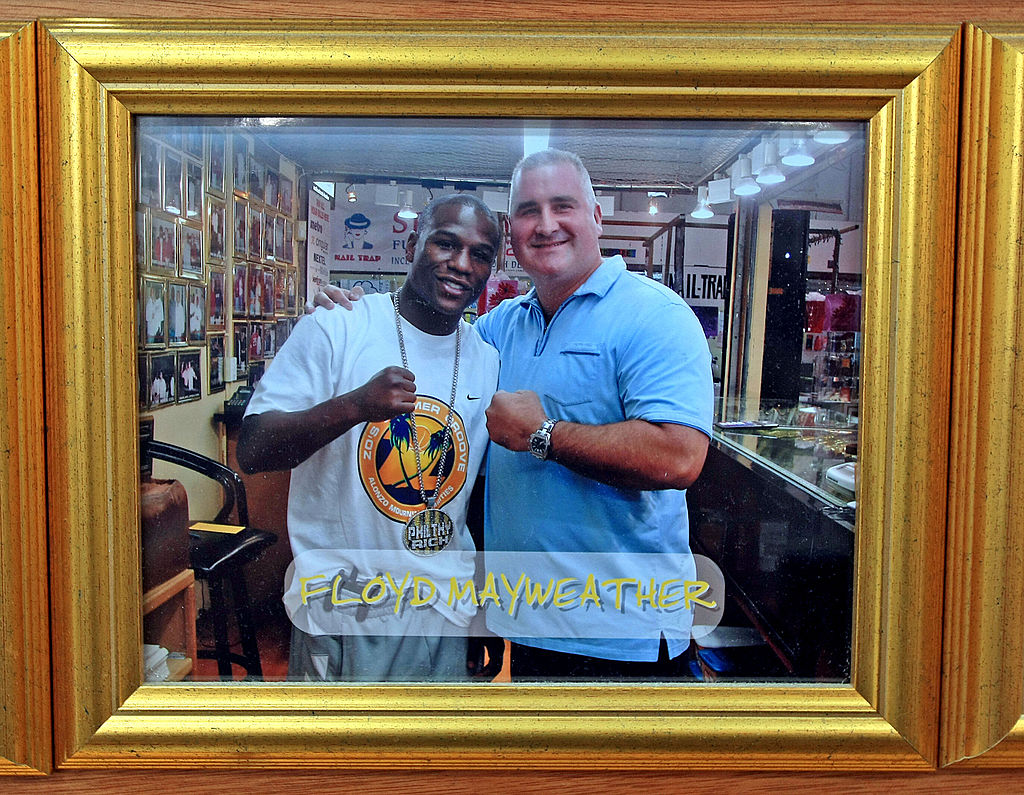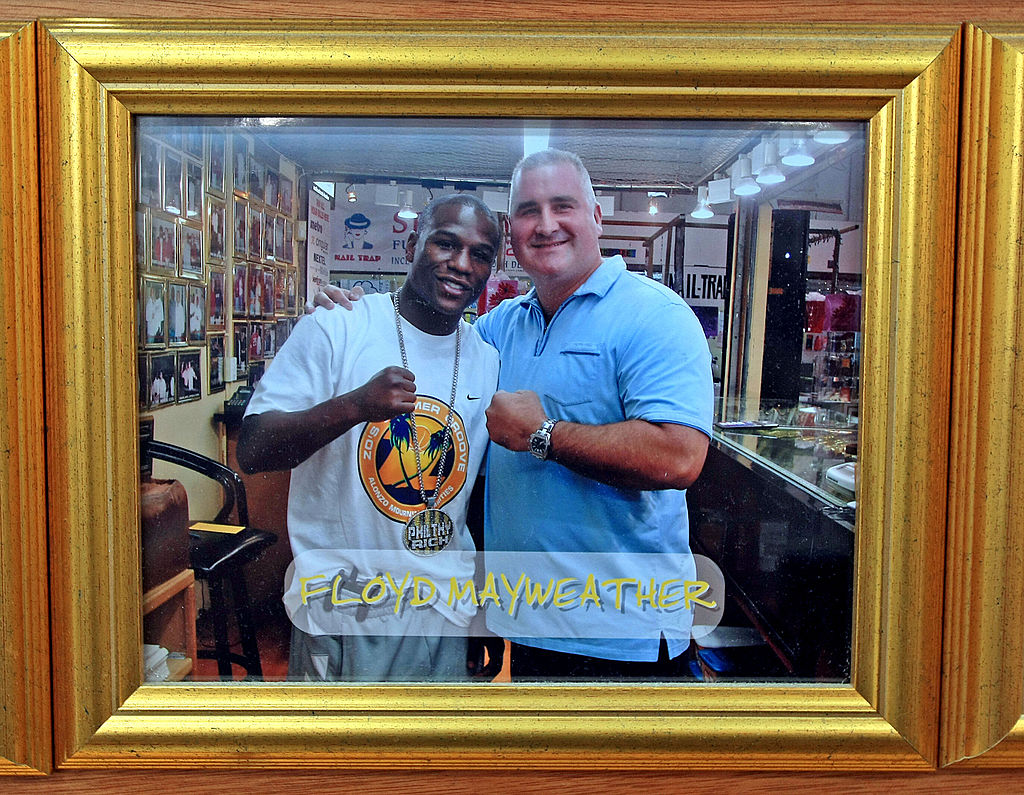 Machado, who is known as the "King of Bling," launched his jewelry business in 1993 at age 22. The first four years, he never worked with any athletes. That all changed in 1997 when former NFL running back Troy Davis, who grew up in the Miami area, came in and made a purchase. 
Davis spoke highly of his experience with Machado to other NFL players, and the business took off from there. Since Davis' first visit, Machado has designed pieces for more than 900 professional athletes, including LeBron James, Floyd Mayweather Jr., Odell Beckham Jr., and Larry Fitzgerald. 
Customers who frequent Machado's shop can see some of the most well-known athletes he has worked with as they are featured on the "Bling of Honor," a wall that includes dozens of pictures of Machado and the athletes.
Maintaining his reputation
In addition to Davis singing Machado's praises, the jeweler has grown his business with the sports industry by fostering strong relationships with his clients offering first-class service athletes can't find anywhere else.
There have been numerous instances where Machado, or one of his employees will fly somewhere in the country and personally deliver the product to the always-appreciative client.

"In 24 hours, I've done wedding rings and bands. Whatever it is, we've gone the extra mile."

A.J. Machado, aka the "King of Bling"
For Machado to have worked with so many high-profile athletes over the last 25 years, he must be doing something right. He's become so popular universities randomly reach out to him for custom-designed products. 
What the future holds only time will tell. One thing is sure—the King of Bling will be creating some of the sharpest pieces for the biggest names in sports one link at a time.