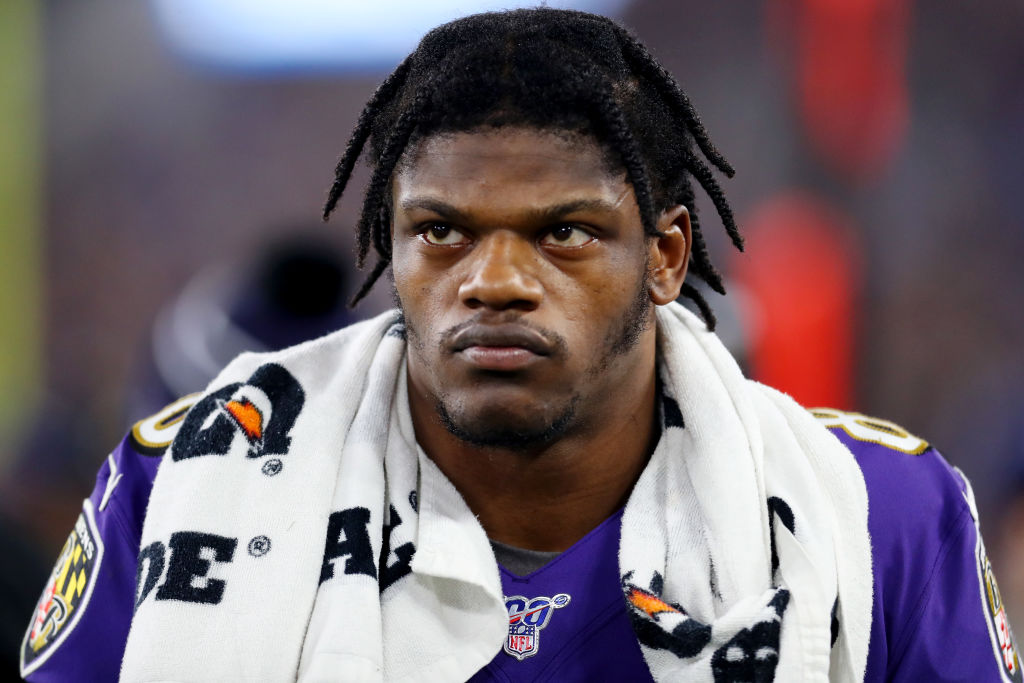 Lamar Jackson Is Suing Amazon to Protect His Brand and Likeness
Lamar Jackson is suing Amazon over the sale of shirts and hoodies that he says have not been licensed by his own company.
Lamar Jackson has shown himself to be fearless against the likes of pro football star defenders Shaq Barrett, T.J. Watt, and Chandler Jones. So why would the Baltimore Ravens quarterback be afraid of Amazon.com?
The answer is that Jackson apparently doesn't fear the mammoth online retailer. In fact, the reigning NFL Most Valuable Player is going after that company in court.
Lamar Jackson argues Amazon is hurting his company's sales
Lamar Jackson filed a lawsuit Wednesday in a Fort Lauderdale, Florida, federal court in which he contends Amazon is allowing third-party sellers to profit from his likeness and catchphrases such as "Lamarvelous," "Action Jackson," and "Not bad for a running back" without his permission.
He wants Amazon to stop selling the shirts and hoodies and to compensate his Era8 Apparel company for lost sales and pay damages. The suit takes exception to the products being advertised as "from and sold by Amazon.com" because that may lead consumers to believe that the company has a business agreement with the player. He also contends that the wording makes Amazon as well as the manufacturers directly liable.
Sports Illustrated reported that the merchandise in question has been removed from Amazon's website but can still be seen through caches.
Amazon is a huge company
Most high-profile athletes would not have to wage the fight against Amazon themselves because another company would be looking out for him. But Lamar Jackson has thus far not agreed to an endorsement deal with a major player like Nike or Adidas.
Given that the 23-year-old quarterback's jersey was one of the best-selling items on the NFL's website in the second half of the 2019 season, Jackson can argue the damage done by unlicensed sellers has been substantial.
Filing the lawsuit in Florida was not a random decision. Laws in that state bar commercial use of a person's name, likeness, and related identifying traits without permission and have survived previous challenges.
Amazon is the country's biggest online seller of merchandise. With a market cap of more than $900 billion, it battles Apple, Microsoft, and Alphabet (Google) for the label of most valuable American company.
Amazon grossed $280.5 billion and made a profit of nearly $74.75 billion last year.
Lamar Jackson has proven himself on the field
Though Patrick Mahomes led the Kansas City Chiefs to a victory in Super Bowl LIV, it was Lamar Jackson who earned the NFL's Most Valuable Player Award.
The Heisman Trophy winner from the University of Louisville was taken with the last pick of the first round in the 2018 draft and quickly fit it by going 6-1 as a rookie starter while demonstrating that he was a premier dual-threat quarterback.
Last season, Jackson shattered the single-season NFL record for a quarterback with 1,206 rushing yards. He also threw for 3,127 yards and 36 touchdowns with just six interceptions.
The numbers support a portion of the lawsuit describing Jackson's ability to "run like a running back" yet also "throw touchdown passes with the accuracy and acumen of elite quarterbacks." The suit further states that Jackson "has changed the quarterback position at every level of the game."