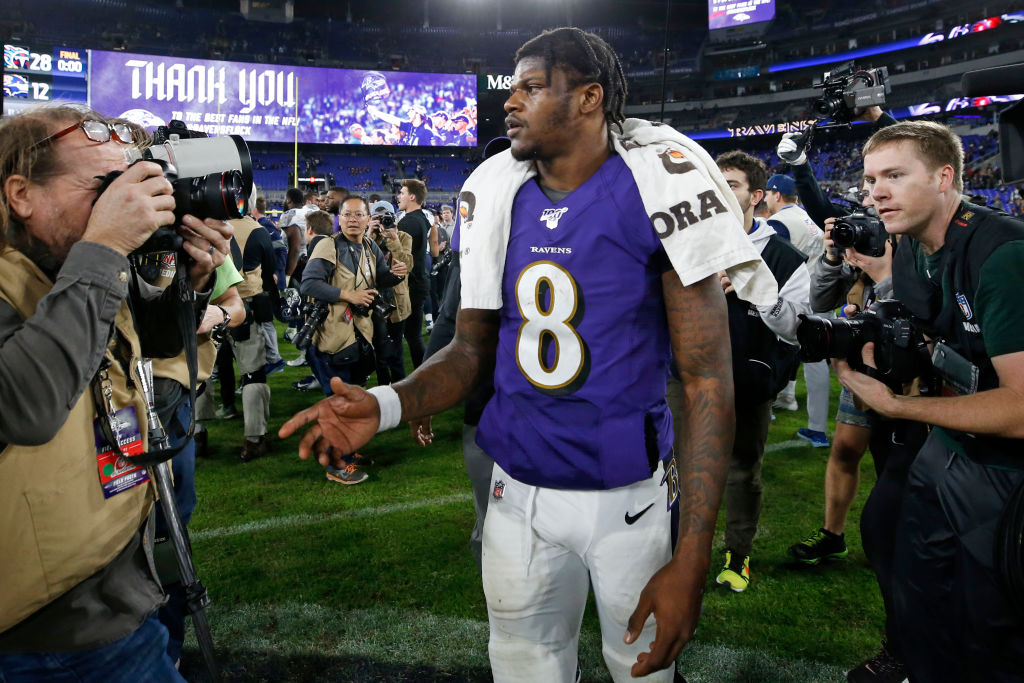 Lamar Jackson Says the Ravens Can't Play 'Like We Already Lost'
Despite their strong regular season, the Baltimore Ravens crashed out of the 2019 NFL playoffs. Quarterback Lamar Jackson wants 2020 to be different.
In professional sports, you're only as good as your last postseason. Just ask Baltimore Ravens quarterback Lamar Jackson about that harsh reality. Despite having an MVP-caliber season, a playoff upset at the hands of the Tennessee Titans rendered the entire year a failure. While regular season accolades might be nice, they pale in comparison to the Lombardi Trophy.
While he established himself as an NFL star, Lamar Jackson isn't taking anything for granted. In fact, he has some ideas for how he and his Baltimore Ravens can end the 2020 campaign on a much happier note.
Lamar Jackson's breakout season falls short
Despite winning the Heisman Trophy, Lamar Jackson didn't enter the NFL as a highly-rated quarterback. He fell to the bottom of the first round and ended up going to Baltimore, where he started out as Joe Flacco's back-up. Within two years, however, everything would change.
After filling in for an injured Flacco in 2018, Jackson took over the Baltimore offense for the 2019 campaign. While the quarterback had shown flashes of potential, even the most optimistic Ravens fan couldn't have predicted what followed. The quarterback emerged as one of the NFL's most dynamic players, capable of running or throwing with equal success. When the regular season wrapped up, Jackson had thrown for 3,127 yards and 36 touchdowns, while adding 1,206 yards and seven more scores on the ground.
Behind that dual-threat offense, the Ravens went 14-2 and clinched the top seed in the AFC. While they seemed destined for a trip to the Super Bowl, they fell at the first hurdle and crashed out of the playoffs at the hands of the Tennessee Titans.
Learning a lesson from playoff disappointment
NFL fans everywhere were shocked to see the Baltimore Ravens fall to the Titans in the Divisional Round of the playoffs. The players on the team, it seems, were just as surprised.
"I [still am] puzzled, like, just looking at highlights and stuff," Lamar Jackson told Alex Marvez and Gil Brandt of SiriusXM NFL Radio at the 101 Awards. "I'm like, 'I don't know what happened.' Like, we had good plays. We had good drives. We'll hit a hump one play. They steal the momentum, and it's, you know, the NFL is like a momentum game. Like, whoever's got momentum, they're going to score points. They might come out with a victory, and that's what it was. We was flat the whole night. That game was not on our defense. I feel like we just didn't execute on offense. [If] we put more points up, it'd be a great game."
Despite the shocking nature of the loss, Jackson believes that the Ravens can still learn a lesson from that fateful game. When they get punched in the mouth in 2020, they'll do a better job of responding in kind.
"We've got to elevate at some point in the game," Jackson continued. "I don't feel we did that, even though we scored one in the third quarter or something. But it was like when we scored, we didn't get excited. It was like we already lost. We can't do that no more. That's what I've seen, including myself."
Lamar Jackson also has a plan for personal improvement
While Lamar Jackson was the NFL's MVP, the quarterback isn't resting on his laurels. If anything, he wants to avoid another painful postseason defeat.
"I want to work on my timing, getting the ball out even faster, you know, because those guys in the league, they're coming," the quarterback explained. "Defensive guys, they're running 4.4s, 4.5s. It's like, 'Man, we've got to get this ball out of your hand and put it in a dynamic playmaker's hands faster.' I want to work on everything, though, even the running. I just want to be a great player."
While it can be tough to follow-up a breakout campaign—no defense will be surprised by Baltimore's offense this season—Lamar Jackson certainly has the skillset to do so. If you combine that talent with the right mindset, the Ravens will be a threat in the AFC for years to come.