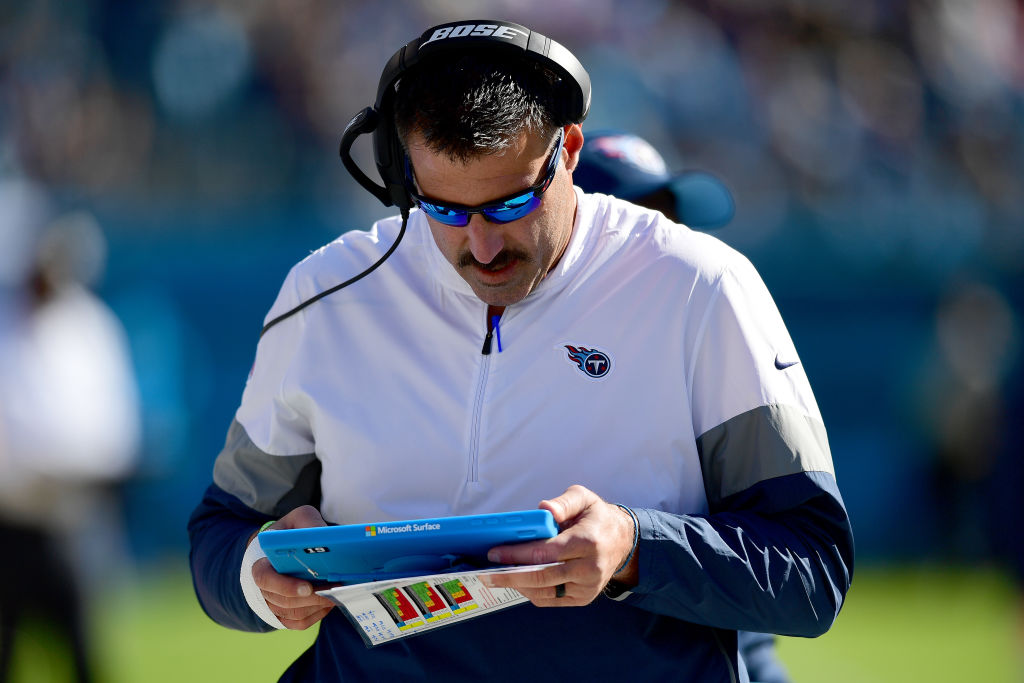 Mike Vrabel Reveals How the Tennesse Titans Are Preparing for Lamar Jackson
Lamar Jackson has been unstoppable this season. Can Mike Vrabel cook up a scheme to help his Tennessee Titans stop the Ravens quarterback?
As the old sporting cliche says, defense wins championships. Actually playing defense, however, is easier said than done, especially when you're facing off against Lamar Jackson. On Saturday, the Tennesse Titans will try to do the impossible and keep the Baltimore Ravens' quarterback quiet.
As a former defensive player, Mike Vrabel has undoubtedly spent the week cooking up the perfect game plan. In fact, the Titans coach revealed that he's been preparing his players in one specific way.
Lamar Jackson's dominant 2019 campaign
While some football purists might not think he's playing the position in the right way, Lamar Jackson dominated the NFL this season. Even when opposing defenses knew what he wanted to do, the Baltimore Ravens' quarterback seemed unstoppable.
Although it's impossible to overlook Jackson's rushing ability, he's a legitimate dual-threat under center. While he piled up over 1,200 rushing yards and seven touchdowns, he also threw for 3,127 yards and 36 additional scores. That reality forces opposing teams to pick their poison; if you sell out trying to keep Jackson in the pocket, he's talented enough to pick apart a secondary in single-coverage.
The young quarterback isn't a one-man show, though. Offensive coordinator Greg Roman's play-calling and unique blocking schemes have turned the Ravens into the league's leading ground attack. With Jackson, Mark Ingram, and Gus Edwards all capable of breaking off a massive run, opposing teams simply have their hands full.
How is Mike Vrabel preparing to face Lamar Jackson?
While Mike Vrabel faced plenty of challenges during his playing career, few will compare to his task on Saturday. The Tennesee Titans coach will have to prepare his squad to stop one of the NFL's most dynamic players.
During the build-up to the game, Vrabel joked that the only way he could slow down Lamar Jackson was "[trying] to tie his shoelaces together." The Titans are doing one tangible thing to prepare for the Ravens, though.
Tennessee's defense has been practicing against a scout team led by Marcus Mariota. While that might sound like an insignificant detail, it could help the club be prepared for Jackson's mobility. During the regular season, Rams head coach Sean McVay said one of the biggest challenges he faced was simply simulating the Ravens' offense in practice situations. Marcus Mariota might not be Lamar Jackson—he's not even a starter on his own team anymore—but he's certainly more capable of imitating the Ravens' QB than your average scout team player.
Can Mike Vrabel and the Tennessee Titans pull off the upset?
On paper, stopping the Baltimore Ravens won't be an easy task. There's a reason they're the top seed in the AFC; when a team is in the top-five in both overall offense and defense, there aren't many weaknesses to exploit.
One thing that might work in Mike Vrabel's favor, though, is his own ground game. Derrick Henry is more than capable of running over even the toughest defense; if the Titans ride their star running back and chew up some clock, they should be able to stay in the game. As talented as Lamar Jackson is, he can't score from the sidelines.
Slowing down Lamar Jackson won't be easy, but it's the first step to beating the Baltimore Ravens. If Mike Vrabel can figure out a way to pull it off, he'll be doing Bill Belichick proud.