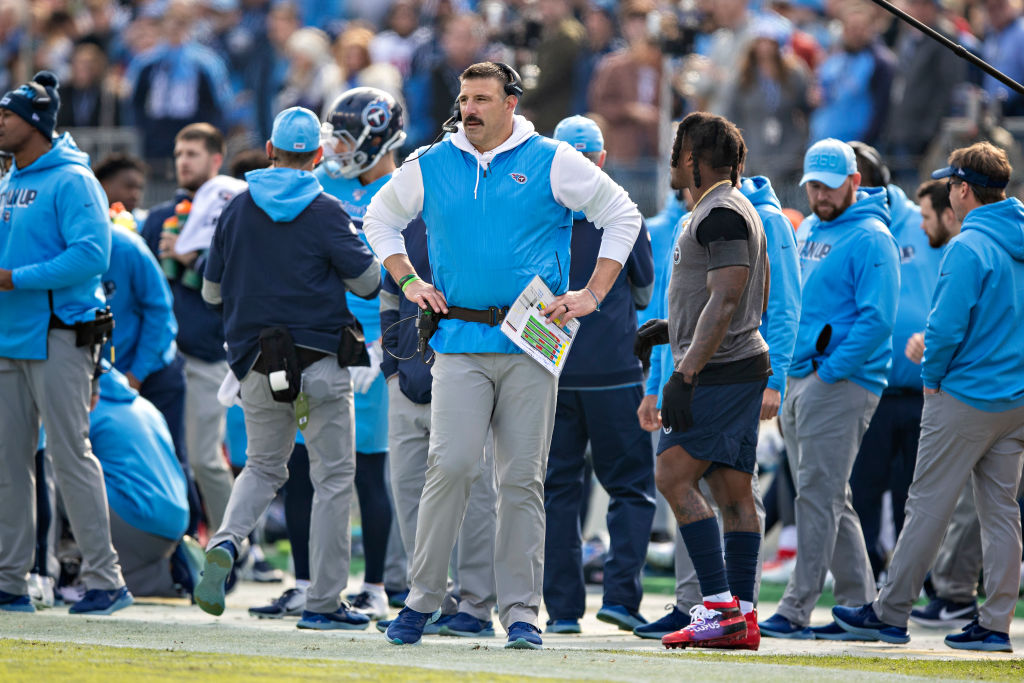 Does Mike Vrabel Have a Chance to Beat Bill Belichick and the Patriots?
Mike Vrabel spent eight seasons for Bill Belichick. On Saturday, though, the Titans head coach will be hoping to defeat the New England Patriots.
While every NFL game is chock full of storylines, the playoffs take things to the next level. Saturday's game between the Tennessee Titans and New England Patriots, however, will take things to the next level. Beyond the usual talking points, Mike Vrabel will be trying to out coach his former boss, Bill Belichick, and knock his former club out of the postseason.
Winning in New England is never easy, however, and no one makes postseason adjustments like Bill Belichick. But does Vrabel have what it takes to pull off the upset?
Mike Vrabel's time with the New England Patriots
Mike Vrabel might have made his name with the Patriots, but he actually began his NFL career with another club. The Pittsburgh Steelers selected the linebacker in the third round of the 1997 NFL draft; he spent four seasons in Pennsylvania before hitting free agency.
Prior to the 2001 NFL season, Vrabel signed with the New England Patriots; the linebacker's playing time and production both increased, and he finished the season as a Super Bowl champion. Before long, Bill Belichick came to rely upon Vrabel's versatility. The coach used the linebacker as a tight end in goal line packages; he also moved Vrabel from outside linebacker to inside linebacker as the situation required.
While Vrabel finished his career playing two seasons with the Kansas City Chiefs, his greatest successes came with the Patriots. In addition to winning three Super Bowls, he also recorded 48 of his 57 total sacks and 606 of his 762 total tackles in New England.
Another branch of Bill Belichick's coaching tree
While almost every big-name NFL coach has his own coaching tree, few can compare to the pure size Bill Belichick's. When you've been around the game since the 1970s, you're bound to have worked with some big names.
So far, nine of Belichick's former assistants—including Eric Mangini, Nick Saban, Brian Flores, and Matt Patricia—have gotten a shot at running their own NFL team. Seven assistants have served as NCAA head coaches, and some men, like Urban Meyer and Greg Schiano, have developed a relationship with Belichick, despite never formally working together.
Two of Belichick's players, Vrabel and Kliff Kingsbury, both currently serve as NFL head coaches. On Saturday, the former coach will look to outdo his former boss.
Can Mike Vrabel's Tennesse Titans upset Bill Belichick's New England Patriots?
While it's never a good idea to be against Bill Belichick in the postseason, Mike Vrabel might have a decent chance at pulling off an upset.
According to CBS Sports Research, Belichick has a 14-13 record against his former assistants and players; while it's hard to complain about a winning record, being one game over .500 isn't dominant. Things get even worse, however, when you reduce the time frame. The Patriots are actually 2-4 against Belichick's former assistants and players since the start of the 2018 campaign. That record includes a 34-10 drubbing at the hands of Vrabel's Titans last season.
Moving beyond history, the Titans offense seems to be in good shape coming into Saturday. Ryan Tannehill is playing the best football of his career, and, as a former AFC East player, he shouldn't be intimidated by a trip to Foxboro. Derrick Henry is also capable of breaking any game wide open. Given the weather forecast, he could see a great deal of the ball; even a tough defensive team, like the Patriots, won't want to see the league's rushing leader getting 20 or more carries. If the Titans can score early and control the clock, the current New England offense simply doesn't have the quick-strike potential to mount a massive comeback.
It's going to be an uphill climb for the Tennessee Titans to knock off Bill Belichick's New England Patriots on Saturday but, if they do, the victory will be even sweeter for Mike Vrabel.