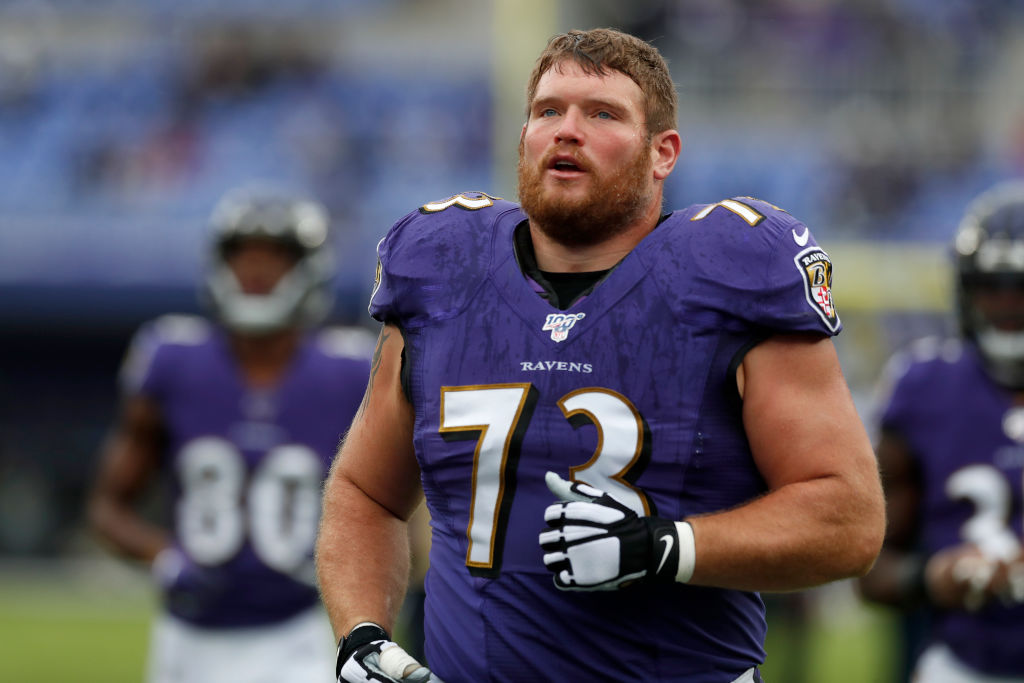 Former Ravens Star Marshal Yanda Looks Unrecognizable After Eating a 270-Pound Tuna
Marshal Yanda just retired from the Ravens. His dramatic weight loss has been fueled by a 270-pound tuna he caught on a fishing trip.
Marshal Yanda had to keep his weight up to remain an elite offensive lineman. But since retiring from the Baltimore Ravens, he's managed to totally transform his physique. Once tipping the scales at well over 300 pounds, he looks more like a receiver these days than a Hall of Fame guard. At first glance, it's almost impossible to believe that just a few months ago, Yanda lined up in the trenches. But thanks to a 270-pound tuna, he's managed to drop an insane amount of weight.
Marshal Yanda became an elite offensive lineman
Playing in the trenches is a dirty business. After all, receivers and quarterbacks get all of the attention. But without players like Marshal Yanda, those highly-paid stars wouldn't be able to function, let alone succeed. For 13 years, Yanda dominated opposing defensive lineman as a key cog for the Ravens. During that time, he played multiple positions and established a reputation as one of the toughest and most intelligent linemen in the NFL.
Of course, he got a great head start by suiting up for the Iowa Hawkeyes. That program annually produces NFL-caliber offensive linemen. Baltimore snagged its stalwart blocker with the 87th overall pick in the 2007 NFL draft. Yanda turned out to be a major steal. Once he settled in as a full-time starter in 2010, he became a perennial Pro Bowler. Arguably the best guard of his era, the burly run-blocker earned first-team All-Pro honors in 2014 and 2015. He followed up with three second-team All-Pro selections in 2016, 2018 and 2019.
Yanda didn't just experience individual success, either. The Ravens took home a Super Bowl title in 2012 thanks in large part to their strong running game. Last season, Baltimore earned the No. 1 seed in the AFC by unleashing Lamar Jackson and his dual-threat capabilities. With Yanda still playing at a high level, the Ravens boasted the best rushing offense in the NFL by averaging 206 yards per game. San Francisco finished a distant second with an average of 144.1 yards. Baltimore also scored a league-high 531 points—easily the highest total in franchise history.
Ravens star earned $70 million in his 13-year career
RELATED: 49ers Rewarded Joe Staley's Rare 13-Year Loyalty with $88 Million
Like fellow retiree Joe Staley, Marshal Yanda spent his entire NFL career with the same organization that drafted him. His durability and consistency helped him become wealthy in the process. According to Over the Cap, Yanda earned $70.2 million in his 13-year Ravens career. His rookie contract totaled just $1.6 million, but he eventually got a huge raise in 2011 when he signed a five-year, $32 million deal with $10 million guaranteed.
Baltimore kept the star offensive lineman around by signing Yanda to another lucrative extension in 2015. This time, the All-Pro guard inked a four-year, $31.9 million deal that featured $15.8 million guaranteed. Yanda made $10 million in 2019, which turned out to be the final year of his storied career. Due to his retirement, the Ravens will be stuck with $4 million in dead money on their 2020 salary cap.
Yanda's dramatic weight loss fueled by massive tuna
To stick around for more than a decade as an NFL offensive lineman, you have to learn tricks to maintain (or add to) your weight. It can be easy to develop unhealthy habits that compromise your longevity. Luckily for Marshal Yanda, he's managed to undo years of physical abuse to his body by dropping 60 pounds since retiring. According to ESPN, he used to eat 6,000 calories a day during his playing days. However, the former Ravens star has managed to transform his previously gigantic frame thanks to a 270-pound tuna.
For Yanda, he combined a couple of passions with his free time, using his first big fishing trip in retirement to help him with his weight loss. He went to Puerto Vallarta, Mexico, and left with one of his primary sources of lean protein. Yanda caught his biggest fish ever — a 270-pound yellowfin tuna — which he proudly made his first (and currently only) post on Instagram. It's quite an achievement considering he had never brought in a fish larger than 100 pounds.
Yanda froze the tuna and checked it into two massive bags on his flight home. He has been munching on the protein-packed fish for more than two months during his weight-loss journey. By dropping 60 pounds, it's given the future Hall of Famer a new look on life, both literally and figuratively.
"I actually have a chin line," Yanda said. "I like to feel the wind on my chin and my face. It's nice to have a change."