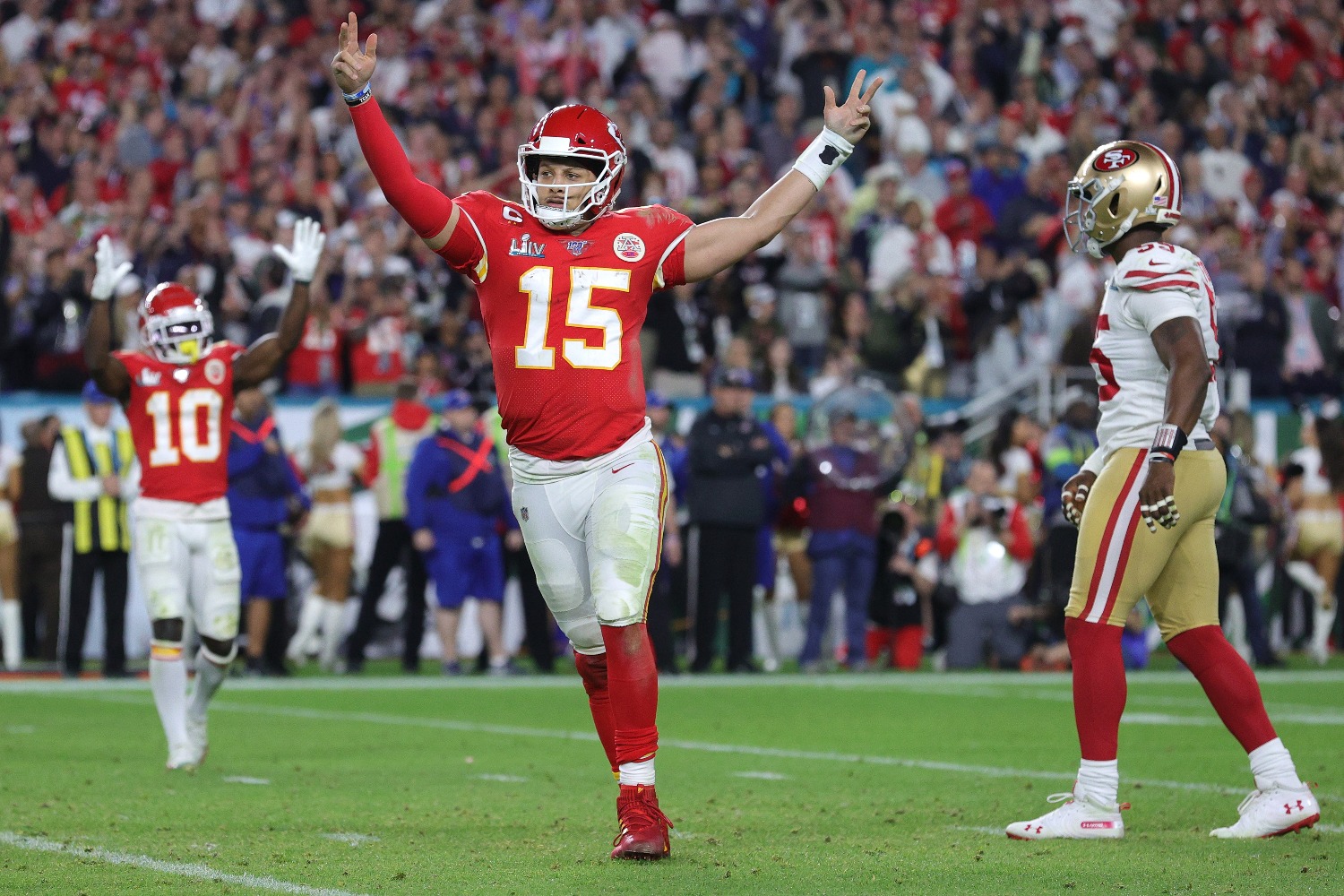 Patrick Mahomes Just Made a $503 Million Financial Mistake
Patrick Mahomes just made the same mistake as Tyron Smith by signing a lengthy contract extension that will lock him up for 10 years.
Patrick Mahomes deserves to be the highest-paid player in football. Nobody doubts that. After all, he's already won a Super Bowl and been named NFL MVP well before his 25th birthday. But by locking himself into a 10-year, $503 million deal with the Kansas City Chiefs, he just made the same financial mistake that Dallas Cowboys left tackle Tyron Smith did back in 2014.
Patrick Mahomes just signed a record-setting 10-year contract
It certainly didn't take Patrick Mahomes long to establish himself as the face of the NFL. After spending his rookie season backing up Alex Smith, he took over starting duties in 2018 and won the NFL MVP award. In February, he led the Chiefs to their first Super Bowl championship in 50 years.
As the league's biggest, brightest star, Mahomes carries tremendous influence. And as it turns out, he got the Chiefs to completely obliterate conventional wisdom at the negotiating table. On Monday, Adam Schefter reported that Mahomes and the Chiefs came to terms on a 10-year, $503 million contract extension.
Later, we learned there are $477 million in guarantee mechanisms, though the specifics have not been made clear. In addition, Mahomes has outs if the Chiefs don't exercise those guarantee mechanisms. While that suggests Mahomes has flexibility in the deal, it's impossible to imagine general manager Brett Veach ever refusing to exercise those guarantee mechanisms.
While $503 million looks great on paper, it also comes with the caveat of a 10-year commitment. And if Patrick Mahomes had given Tyron Smith a call, he probably would have realized that agreeing to such a lengthy deal is a huge financial mistake.
Tyron Smith locked himself into a bad deal in Dallas
Like Mahomes, Smith started his NFL career with a bang. Despite entering the league at just 20 years old, the former USC standout immediately started up front for the Cowboys. A dominant pass-blocker, the 6-foot-5, 325-pounder started his career at right tackle before shifting to the blindside.
In just his third season, Smith earned his first of seven straight Pro Bowl selections. That offseason, Jerry Jones locked up his promising left tackle to an eight-year, $109 million contract extension. At the time, the deal made Smith the highest-paid offensive lineman in the league. Who could complain about securing a $100 million contract before the age of 24?
While the deal initially seemed like a smart move for Smith, ultimately it has proven otherwise. He continued to play at an extremely high level. Yet, by signing away so many years of financial freedom, he sacrificed the opportunity to land a new deal in free agency or on another contract extension.
According to Spotrac, Tyron Smith's $12.2 million annual salary now ranks just 11th among left tackles. That's a sharp drop from his days as the highest-earner at his position. Now, Laremy Tunsil tops the group with a staggering salary of $22 million per year. Though Smith's play has declined in recent years due to injury, he sold himself short by agreeing to such a lengthy deal.
Why Mahomes just made a massive financial mistake
While nobody should shed tears over Patrick Mahomes and his $503 million contract, it is fair to question whether he made a financial mistake. Like Tyron Smith, Mahomes appears to have locked himself up on an extraordinarily long contract that will pay him at a premium rate…today.
However, what will the financial landscape of the league look like three years from now? What about in five years? Certainly, a decade from now the NFL's salary cap will look silly compared to today.
It seems like every year, another quarterback signs another record-setting contract. This summer, Patrick Mahomes accomplished the feat of scoring the largest contract in sports history. But what's stopping Lamar Jackson from one-upping his contemporary a year from now?
What will Deshaun Watson sign for whenever Bill O'Brien decides to lock up his franchise player? Better yet, what about when Joe Burrow comes up for his contract extension in a few years? If he lives up to the hype, he will certainly have every right to command a contract that will put Mahomes to shame.
Ultimately, Mahomes made the same financial mistake as Smith in sacrificing his ability to hit the market again during his prime. Perhaps the details of his contract will reflect otherwise. But for now, it looks like he left money on the table by committing so long to the Chiefs. Then again, he has $503 million reasons to smile today.